Players help clear home damaged from hurricane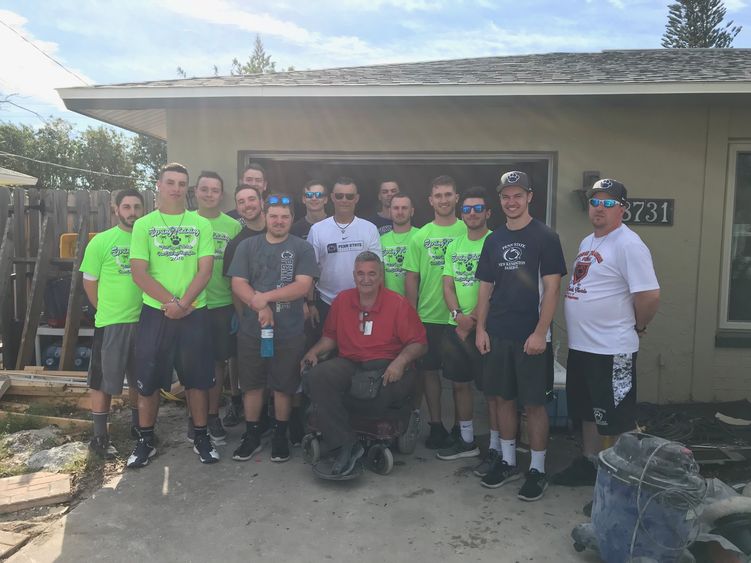 NEW KENSINGTON, Pa. – Hurricane Irma, the 2017 catastrophic storm that stretched more than 650 miles, affected at least nine U.S. states, including Florida. Dwight Popovic, a resident of Ft. Myers, Florida, and his wife lost their dog and were forced from their home of 20 years because of the storm.
The family has since been living at a hotel, the same location that would be host to a chance meeting between Popovic and the Penn State New Kensington baseball team, which was in town for training and games during the recent spring break.
"He started to tear up because he was up against a deadline, and he knew our paths crossed for a reason," explained Jim Perry, coach, of his meeting with Popovic at the hotel. "I always talk to the team about how it is bigger than baseball. I try to teach them more than just baseball."
Popovic, a Navy veteran who is bound to a wheelchair, was faced with a deadline to clear his house of items so that contractors could finally begin work on drywall. Unable to do all the moving with his wife, Popovic was prepared to let his faith guide him through a potential disappointment of not meeting the contractor's deadline.
"This is kind of like nothing compared to my health issues, so my wife and I were just like, 'Oh well, we'll just have to tackle this,' said Popovic.
Members of New Kensington's team spent their downtime helping Popovic clear out his home on March 8. Their trip, spanning March 4-10, also consisted of training, playing three games and three exhibitions.
"I'm incredibly proud of the team for taking the time while they were in Florida to help someone that needed it," said Megan Bratkovich, athletic director at the New Kensington campus. "There are many other things they could have chosen to do during their down time, but they chose to give their time to Dwight. These life lessons of humility and serving others will stay with them long after they leave Penn State New Kensington."
If Perry and the team had not met Popovic, who played high school baseball and was a former groundskeeper for a ballpark in Florida, the home would not have been cleared for work to progress.
"There are no words," said a thankful Popovic. "Thanks isn't enough. It's overwhelming. It's terrific."
After a winless 2017 season, the team made great strides on the field during the trip earning its first victory on its first day against Rivier University, but it was what happened off the field that made the trip rewarding.
Shane Molyneaux, sophomore centerfielder, said, "It is always important to help others, especially when they are in need. I'm glad the team made a new friend in Dwight."
"Growing up, my grandfather taught me how to play ball, and while that was fun, he also taught me to help out those in need, which is way more important," said Tyler Kline, junior pitcher. "I was very pleased to be able to use the knowledge I gained working with my grandfather to help out someone in need. While working alongside Dwight, I got to know a little bit about him. He, too, was a hard working construction worker, and like my grandfather, he probably had way more tools than anyone could imagine. The trip was so much more rewarding knowing we helped out a neighbor in need."