Virtual recognition coincides with athletics website redesign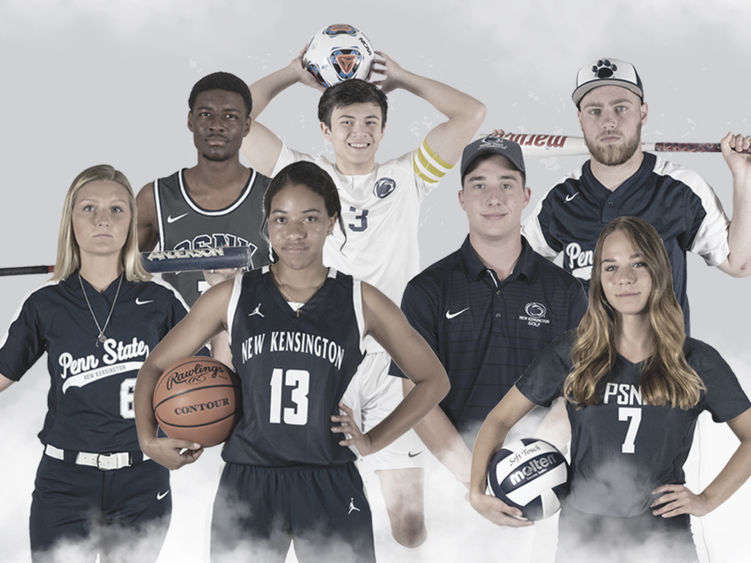 NEW KENSINGTON, Pa. — Penn State New Kensington student-athletes from seven varsity sports teams were recognized virtually for academic and athletic performance during the 2019-20 academic year. Honors bestowed from the Penn State University Athletic Conference (PSUAC), United States Collegiate Athletic Association (USCAA) and team coaches can be viewed at newkensington.psu.edu/2020AthleticsAwards.
Due to the COVID-19 pandemic and the University's transition to a remote learning environment in March, as well as the spring athletic season cancellation, an in-person awards dinner originally planned was not feasible. However, the campus' athletics leadership team, led by Megan Bratkovich, athletics director, wanted to make sure student-athletes were celebrated. The team worked with the Office of Strategic Communications and Marketing at the campus to develop the virtual recognition web page, which features videos from coaches, as well as photos and a tribute to seniors and graduates.
"It was with great sadness that we have to cut short our spring sports seasons," said Bratkovich in a video message for the page.
As she continued and mentioned USCAA and PSUAC highlights for the year, she reminded viewers that, "We have so much to celebrate this year."
The highlights included adding five names to the campus' USCAA All-Americans list, eight names to the USCAA All-Academic Team, as well as having Kaylea Flick and Benjamin Midlik named the national UCAA Division II Student-Athletes of the Year in women's volleyball and men's soccer, respectively.
The online celebration also coincided with the debut of Penn State New Kensington Athletics' redesigned website, which can be found at psnkathletics.com. The department partnered with Presto Sports to develop the updated site so that it can continue to showcase photos, news, game stories, player highlights and statistics for each of the campus' eight intercollegiate athletics programs.
"Our student-athletes work incredibly hard, and I'm so happy to be able to showcase them on our new site," said Bratkovich.
For more information about Penn State New Kensington Athletics, visit www.psnkathletics.com, and follow them on Instagram, Twitter and Facebook.