New Kensington Inc.U finalist team, EMET coordinator share similar beginnings at campus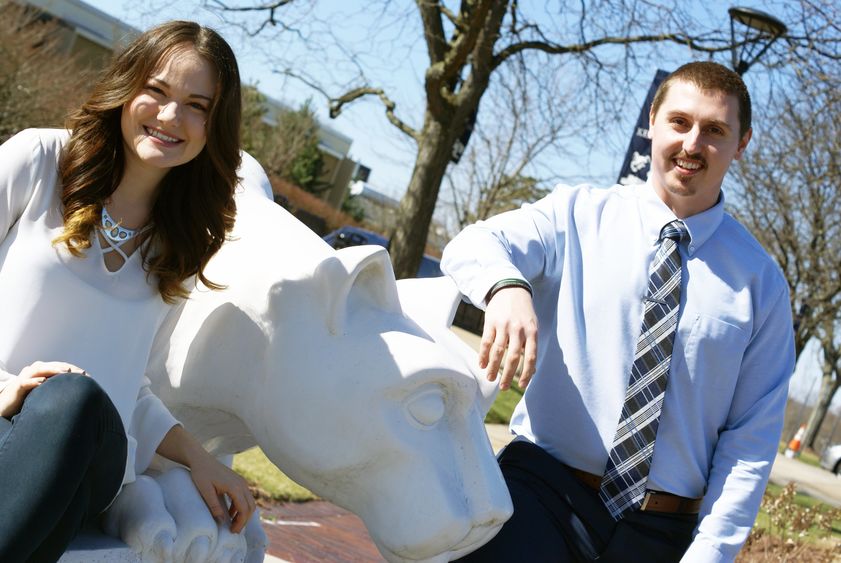 NEW KENSINGTON, Pa. — Two Penn State New Kensington seniors are preparing their pitch as a finalist team in the upcoming Penn State Inc.U entrepreneurship competition. While learning some skills from the business realm has become important these past few months as they prepare, it has been their full-time major, electro-mechanical engineering technology (EMET), and the campus itself that has provided the foundation for their current and future success.
Penn State New Kensington is one of just four Penn State campuses, and the only one in western Pennsylvania, to offer the four-year bachelor's degree in electro-mechanical engineering technology through the University's College of Engineering. Graduates of the program learn the skills necessary to apply current methods and technology to the development, design, operation and management of electro-mechanical systems.
"I like to call it automation robotics because robotics covers everything from electrical, mechanical and so on," explains Joe Cuiffi, assistant teaching professor and program coordinator of EMET at the campus. "We teach it at a technology level, which simply means that you have a little less theory and more hands-on experience than you would if you took regular electrical or mechanical engineering programs."
Anthony Gyke and Olivia Sribniak, two senior EMET students at the campus, took their required senior design project for the major to another level when they became budding entrepreneurs because of their idea. The project must incorporate electrical and mechanical engineering, as well as automation.
Their idea, now formally called Steer Logic, is an automated team-roping robot. Steer Logic was not only perfect for the design project, but also Penn State's Inc.U competition, which is a competition for student-led businesses throughout Penn State. Gyke and Sribniak's company is one of just six finalists in the 2018 competition and will compete and be featured on WPSU's "The Investment" television show for a chance to win significant investment dollars for their company.
It was the hands-on aspect of the EMET program noted by Cuiffi and the small campus environment that appealed to Gyke, a veteran of the U.S. Navy.
"For me, a sticking point was having small classes, which I really enjoy because if you actually have a questions, you can go up to the professor and they'll spend one-on-one time with you, whereas if you go to a larger campus, it's hard to get that experience," said Gyke.
"It's not just theory work," continued Gyke. "There's a lot of labs, and for someone like me who learns better doing hands-on work, it's a tremendous help."
Sribniak admits she only applied to Penn State New Kensington as a senior in high school. She cited the supportive faculty of the EMET program and staff at the New Kensington campus as being one of the reasons why she already has a job at Siemens waiting for her upon graduation and why Steer Logic has gained momentum.
"The help that we've received the most was from our classmates and our professors," said Sribniak. "If we have any questions on anything, we can just go and ask him (Cuiffi), and he will always give us the best advice he can."
Both students say that their family and the New Kensington campus, particularly Cuiffi, has helped keep them grounded.
"He'll (Cuiffi) see me running through the hallways and he'll ask if I did my homework and say, 'Quit spreading yourself so thin and concentrate on graduating," said Sribniak.
Cuiffi, who recommended the Inc.U competition to Gyke and Sribniak after hearing about it from New Kensington Chancellor Kevin Snider, and who has been involved with two startups himself, understands their workload, but is also confident in their capabilities.
"They're very good students, so I know what their load looks like, but it doesn't matter for them and students like them — they're going to do a good job period," said Cuiffi.
Cuiffi also understands the journey his students are taking, not only with experience in the entrepreneurial realm, but also as a proud graduate of Penn State, who also started his Penn State story at the New Kensington campus and holds both a bachelor of science degree and a doctorate in engineering science and mechanics from the University.
The Penn Hills graduate was a first-generation college student who found his niche in engineering at New Kensington before finishing his degrees at the University Park campus, where he also started working at a nanofabrication facility and started a company. In 2008, he moved to Florida to assist with starting a biomedical engineering lab and later moved into teaching.
While his foray into college-level teaching began just four years ago, he has enjoyed returning as a faculty member to the very place his college career started.
"I didn't go to school to be in academia," said Cuiffi. "I liked research, but not like a research professor. I liked doing research for companies and developing the final end of a product. I figured when I would go to teach, I want to teach. When I started teaching in Florida, they had a commitment to student-oriented, modern teaching methods. I was very impressed by it, and it all made sense. Coming here as a nonresearch professor and just teaching and being able to be student-focused is what I think is appropriate."
The opportunities presented to Gyke and Sribniak, as well as many other students and Pennsylvanians, have been made possible and strengthened by Penn State President Eric Barron's Invent Penn State initiative, which launched in 2015 to encourage and foster entrepreneurship across Pennsylvania.
Penn State New Kensington has been solidifying its foray into entrepreneurship and innovation through its entrepreneurial center, The Corner, in downtown New Kensington, and promoting entrepreneurial events such as Inc.U. The Corner is one of 21 innovation hubs throughout Pennsylvania made possible through Invent Penn State. Students, including Sribniak and Gyke, as well as community members, can take advantage of Corner Launchbox programming, co-working and more thanks to support from the campus and Invent Penn State.
The campus also boasts its first-year experiential program, Growing Regional Excellence through Experience, Academics and Training, known simply as the G.R.E.A.T. Program. The initiative is designed to match promising engineering and information sciences and technology students with professional opportunities, such as paid internships, with regional companies. Penn State New Kensington is the only campus with the G.R.E.A.T. Program and has corporate partnerships with companies such as Alcoa, Siemens, R.J. Lee Group, Premier Automation, Kennametal, and the Penn State Electro-Optics Center, among others.
As for Gyke and Sribniak, they will be busy in the days leading up to their May graduation. They'll be taking part in Penn State's Startup Week events, filming their spot for "The Investment" television show on April 7, pitching their idea at the Penn State Venture and IP Conference on April 19, and completing their final senior design project on April 23.