John Siciliano to serve as keynote speaker during 2018 New Student Days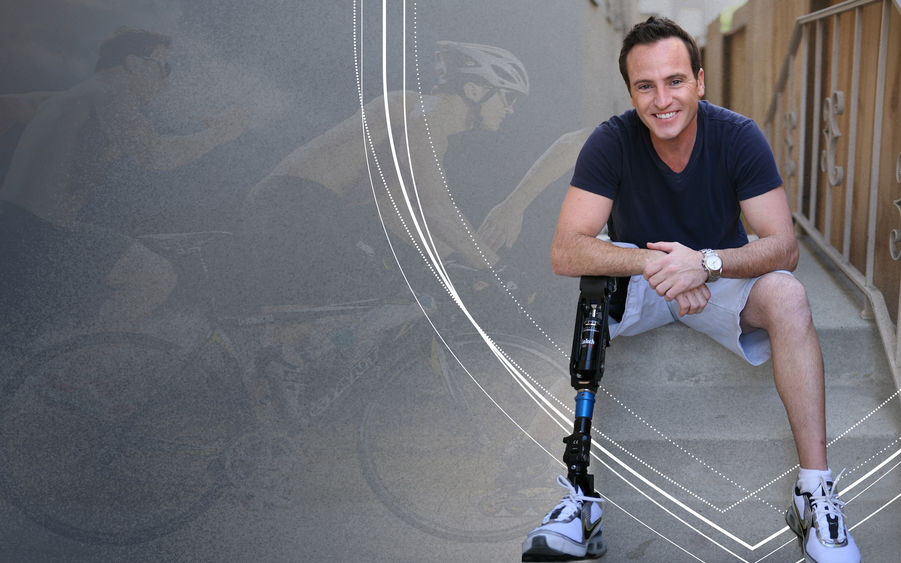 NEW KENSINGTON, Pa. — An estimated 200 new students, orientation leaders, faculty and staff will be in attendance during Penn State New Kensington's New Student Days on Aug. 15 and 16. For actor and amputee John Siciliano, this won't be his largest audience, but it will be an important stage for him to share his story.
"When you're a kid, you have dreams, and my dream was to become an actor," said Siciliano.
Siciliano's address is scheduled for Aug. 15 at 10:35 a.m. in the campus' Forum Theatre. The event is open to incoming new students of the campus as well as faculty and staff.
Siciliano, who has been featured in such television series such as "ER," NCIS," "Grey's Anatomy," "Scrubs," "The Young and the Restless," "Blue Bloods," and most recently, a recurring role in the CBS drama series "Bull," had to overcome a life-changing car accident the summer after his freshman year in college in 1993. Doctors were forced to amputate his leg above the knee.
"Life can change at the drop of a hat," said Siciliano. "Tomorrow, who knows? I'm living proof that just on a Tuesday night, my life changed like that."
Before the accident, Siciliano was a theater and journalism student at Point Park University in Pittsburgh. He was also a member of the soccer team. Although there were tough days, inspiration came from a brochure given to the actor by a physical therapist during his recovery.
"It was that brochure of Todd [Schaffhauser] running track that changed my life," remembered Siciliano. Schaffhauser, a track and field Paralympian, also suffered from a leg amputation.
Being inspired and wanting to emulate his new mentor, the actor went on to compete in the Paralympics in Atlanta for the U.S. and broke the games' 200 meter track record during trials in 1996.
Siciliano also went on to earn his master of fine arts degree at the University of Southern California on a "Swim with Mike" scholarship and was cast in his first television spots. In the beginning of his professional career, he learned to overcome stereotypes faced by disabled actors, leading him to become a member of the diversity committee of the Screen Actors Guild/American Federation of Television and Radio Artists.
"Dream big, and life's a rollercoaster, and there's going to be bumps along the ride," said Siciliano. "You never quit dreaming. It's how you handle diversity and the obstacles. You find out what you're made of."
The actor, who has returned to Western Pennsylvania after living in Los Angeles for 20 years, is currently a representative for Union Prosthetics, teaching acting for Pittsburgh's Civic Light Opera in the fall, and will be featured in an upcoming commercial for UPMC. John is looking forward to sharing his story with more groups, including the incoming fall students at Penn State New Kensington. He hopes his talk will motivate students to keep following their dreams and always be on the lookout for those who can help along the way.
"If I can inspire people to never give up on their dreams no matter what happens, then that's what I want to do," said Siciliano. "Things are going to happen, but how you handle it determines if you're going to go up or down. It's not going to be easy, but you have to overcome, recognize and learn from obstacles."
A Springdale High School graduate, Siciliano grew up not far from the New Kensington campus. The campus and the actor share a common connection in Bill Mitas, one of the campus' retired theater directors and also Siciliano's former high school drama teacher.
"The teachers you have will make an impact on the rest of your life," said Siciliano.
Siciliano has been able to reconnect with Mitas through acting in the Pittsburgh region credited the teacher with being someone who continues to inspire and help him. It was also Mitas who connected Siciliano with the campus for his upcoming keynote talk.
"Life's not over when you become disabled," said Siciliano. "There's resources, organizations and people who can help. There's no excuses. I want to show people that you can do anything you want to, and you don't have to do it by yourself. Good people will help you."
Siciliano's keynote address to the new students is part of the campus' annual orientation events leading up to the start of classes on Aug. 20. All incoming students to the campus take part in a three-day orientation process beginning with New Student Orientation (NSO) earlier in the summer to learn about the campus and University and meet with their academic advisors to schedule classes for their first semester.
The last two days of events on Aug. 15 and 16 are known as New Student Days (NSD). All incoming students are assigned to lion "prides" to facilitate meeting other new students and their student orientation leaders. The groups spend their days on campus completing such activities as Siciliano's keynote address, small group discussions, friendly team-building activities, academic convocation, meeting faculty members in their academic areas and the annual all-campus picnic.