Three-day orientation helps freshmen and parents become acclimated to campus life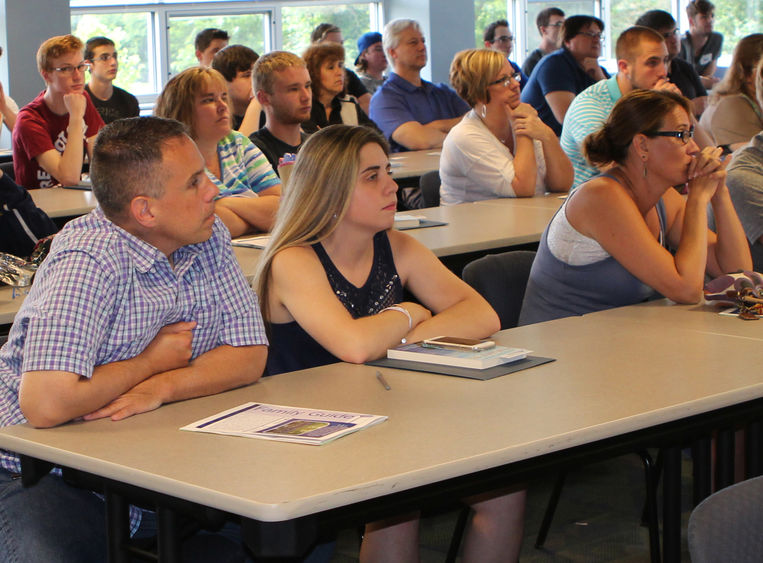 NEW KENSINGTON, Pa -- As they step on campus for the first time as Penn Staters, incoming students are usually out of their comfort zones and in unfamiliar surroundings. Penn State New Kensington's three-day New Student Orientation (NSO) program is designed to assuage that angst.
Day One of NSO is actually a series of six days in June, July and August. Limited to 30-40 newcomers, each day provides an opportunity for new students to find their way around the campus and familiarize themselves with the educational process.
"New Student Orientation is the perfect time for incoming students to get acquainted with others and make new friends," said Lauren Blum, assistant to the director of student affairs. "It makes it much easier for them to get used to Penn State and the campus. We want them to feel welcomed walking into our campus."
Hosted by faculty and staff, special sessions help the students with a variety of essential tasks, such as talking with an academic adviser and scheduling fall classes. Students learn how to access financial aid and prepare for the first day of class. Presenters also are there to answer questions and address concerns of the students and families.
Parents and guardians are special guests for first-day activities. "Parents Only" sessions cover academic expectations, general education requirements and student support services. A tour of the campus is a part of the experience.
Faculty and staff presentations are augmented by orientation leaders' discussions. Upperclassmen who are among the campus' most active students, orientation leaders provide newcomers with a basic understanding of what will be expected of them at Penn State. Throughout the day, they hold panel discussions on managing time, student resources and campus life outside the classroom.
"Students coming in don't always realize the amount of work and the importance of these things in college that they will need," said Ben Lesko, a third-year orientation leader and a senior in the information sciences and technology program. "NSO is the best way to get these students to understand that importance of learning the steps into college."
Savannah Smith is a first-time orientation leader. She sees orientation as a social event that provides a positive experience for newcomers and upperclassmen.
"Orientation is a great way for new students to make friends along the way," said Smith, a member of "Who's Who Among Students in American Junior Colleges and American Universities."
"We have a great group of leaders this year, and I have enjoyed getting to know each one of them better," Smith said.
Incoming students Hunter Mellinger, from Apollo Ridge High School, and Marshall Utiss, from Springdale High School, attended the third Day One session on June 29. The quality of the academic programs and the campus' proximity to their hometowns was a major draw for them to enroll at New Kensington.
"I've heard many good things about the campus," said Utiss, who will major in information sciences and technology. "I like the fact that I can commute to the campus."
Mellinger and Utiss, along with all first-year students, will return to campus in August for the last phases of NSO. While the first day highlighted pockets of students at each event, days two and three will feature the class of 2020 on campus en masse.
The final orientation sessions -- All Prides Day, Aug. 18 and Pride Day, Aug. 19 -- are set for the week before classes begin. All Prides Day brings together all new students for the campus tradition of orientation prides. Each student is assigned to one of eight pride groups, headed by orientation leaders. As a pride, students attend interactive workshops to learn about academic procedures, electronic resources and extracurricular activities.
The day's agenda includes the Academic Convocation, a formal ceremony led by Chancellor Kevin Snider. Faculty and staff, replete in their academic robes, officially welcome students to the campus.
Delivering the keynote address, "Live a Fearless #FrontRowLife," will be Jon Vroman, a nationally-renowned motivational speaker. Vroman specializes in helping people engage in their life's calling. Vroman describes himself as "the head usher for those that want to be in the front row of their lives, so they can solve important challenges and elevate humanity."
A regular on the college circuit, Vroman was twice named Campus Speaker of the Year by the Association for the Promotion of Campus Activities. He was selected to share his insights with New Kensington's first-year students by a team of student leaders.
"Our student leaders heard Jon speak at a variety of events and he never disappointed them," Blum said. "Jon is a skilled storyteller and speaker, who motivates students to get engaged, involved and actively participate in their college experience. His mission is to encourage individuals to find and develop their unique talents so that they will make the biggest impact within their campus and community."
Pride Day is the final preparation session for new students before they begin their college careers. Faculty members will lead discussions on the summer reading assignment, "Flight 93: The Story, the Aftermath, and the Legacy of American Courage on 9/11," by Tom McMillan. All incoming students participate in the summer reading program. Students were given a free copy of the book to read over the summer and to discuss during orientation. In addition, a colloquium related to the book is held during the fall semester.
With the reunion of the previous day's prides, the Olympics gives students the opportunity to compete in a variety of challenges that encourage teamwork and leadership. It also gives the newcomers another opportunity to mingle with fellow freshmen and make new friends.
As the new semester approaches, the class of 2020 will join upperclassmen Aug. 22 to begin working toward their bachelor's and associate degrees.
For more information, visit New Student Orientation
(Katie Miskanic and Ryan Long, senior communications majors and interns in the Alumni and Public Relations office, conducted the interviews and contributed to the story.)

Contact
Bill Woodard
Alumni and Public Relations Specialist