Annual stage production runs Nov. 2-4 in campus Forum Theatre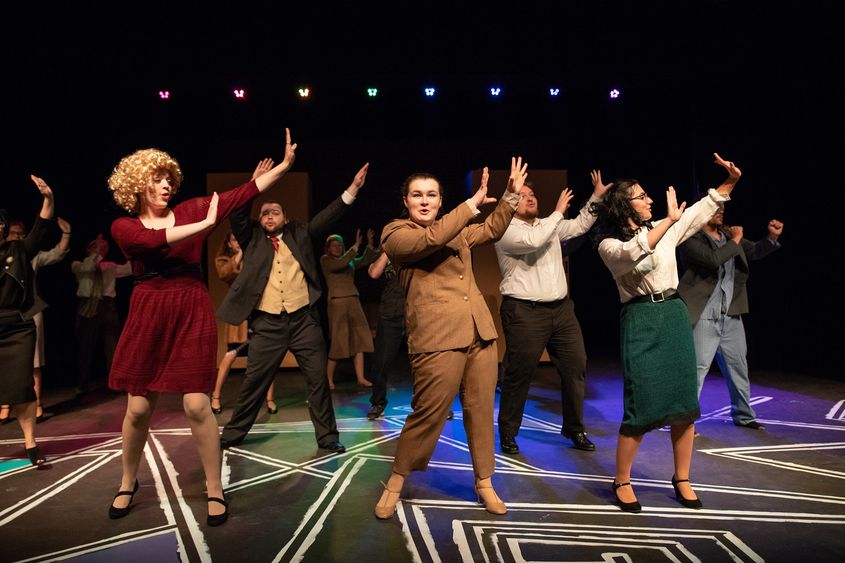 NEW KENSINGTON, Pa. – While Dolly Parton originally sang "9 to 5" in the 1980 hit movie by the same name, a new cast, comprised of Penn State New Kensington students and local community members, will bring the hit to Penn State New Kensington's Forum Theatre. The show's three-day run begins at 7 p.m. Friday, Nov. 2, followed by an evening performance at the same time on Saturday, Nov. 3 and a matinee showing at 1 p.m. Sunday, Nov. 4.
"There are so many exciting components of the production," said James Baker a 2012 graduate of the campus and musical director. "From the stellar acting and vocals to the lighting and the projections, audience members are sure to walk away from this production with a smile."
The musical, with music and lyrics by Parton, is based on the movie, which is set in the late 1970s. Its story revolves around the themes of friendship and revenge through the eyes of three female coworkers: Violet, Judy and Doralee. Audiences are promised doses of hilarity and a little romance, while also being provoked in thought.
Baker, who has been involved in campus productions since 2008, continues to be pleased by the campus and its commitment to the arts.
"I love directing shows on campus and to providing opportunities for our students to work with local actors and actresses to produce a quality production," said Baker, who made his directorial debut in 2016. "The Penn State community has been so welcoming and generous to allow these productions to take place. The arts are alive a Penn State New Kensington, and it is a pleasure to help the program thrive."
Tickets are $10 for the general public and $8 for students and those aged 55 or older with valid identification. The box office opens for ticket sales one hour prior to each performance. Tickets can also be reserved by calling 412-848-5778 or emailing [email protected].
Cast listing
Violet Newstead: Anna Gergerich
Doralee Rhodes: Cassidy Milberger
Judy Bernly: Kayleigh Ventrone
Franklin Hart, Jr.: Rory Farester-Hohl
Roz Keith: Ashley Zastawniak
Joe: Anthony Fellows
Dwayne/Tinsworthy: William Wilmoth
Josh/Detective/Bob Enright: Nicholas Hill
Missy: Hailey Dikun
Maria: Julia Singleton
Dick/Doc: Colin Bibza
Kathy: Kelsey Armstrong
Margaret: Kylee Danko
Doctor: Hannah Laskowski
Candy Striper: Angelina Bucci
New Employee: Cailin Dumas