Annual fall stage production runs Nov. 4-6 in renovated Forum Theatre at Penn State New Kensington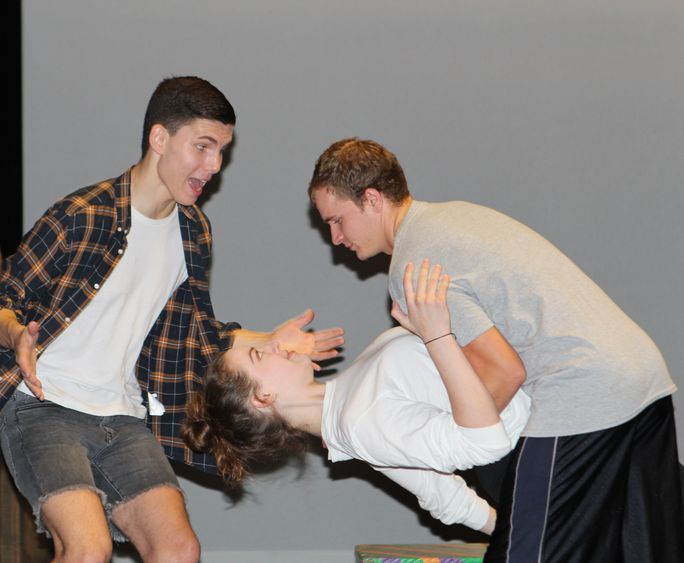 "From the oldest of times, people danced for a number of reasons. They danced in prayer ... or so that their crops would be plentiful ... or so their hunt would be good. And they danced to stay physically fit ... and show their community spirit. And they danced to celebrate. And that is the dancing we're talking about."
-- Ren McCormack, addressing the town council in "Footloose" the movie
NEW KENSINGTON, Pa. — After rehearsing for two months, cast members have nailed their lines, cultivated a stage presence and perfected the timing for the opening of Penn State New Kensington's fall stage production of "Footloose: The Musical." The play begins a three-day run at 7 p.m. Friday, Nov. 4, in the Forum Theatre. Following the first night is an evening performance at 7 p.m. on Saturday and a matinee at 1 p.m. on Sunday.
James Baker, a 2012 graduate from the campus, makes his directorial debut. The choreographer is Julianne Motosicky, who graduated with Baker and served as the choreographer under retired director Bill Mitas. The musical director is Paul Yeater.
The cast features Alex Conte as Ren McCormack; Kaylyn Farneth as Ethel McCormack; Jake Grantz as Reverend Shaw Moore; Beth Minda as Vi Moore; Cassidy Milberger as Ariel Moore; Phoenix Izzo as Lulu Warnicker; Sam Horgan as Wes Warnicker; Jakob Hayes as Willard Hewitt; and Becky Minda as Rusty.
Tickets are $10 for the general public and $8 for students with ID. For more information, contact Baker at 412-848-5778 or [email protected]
In conjunction with the stage production, the Office of Development is sponsoring a "Meet and Greet" before Friday's opening night. The 6 p.m. reception features light refreshments and members of the cast and crew, including Baker, Motosicky and Yeater. Reservations are required for the reception. To RSVP for the reception and reserved seating for the show, contact Tina Sluss at 724-334-6056 or [email protected].
For more about the play and a cast list, visit Footloose: The Musical online.
Contact
Bill Woodard
Alumni and Public Relations Specialist