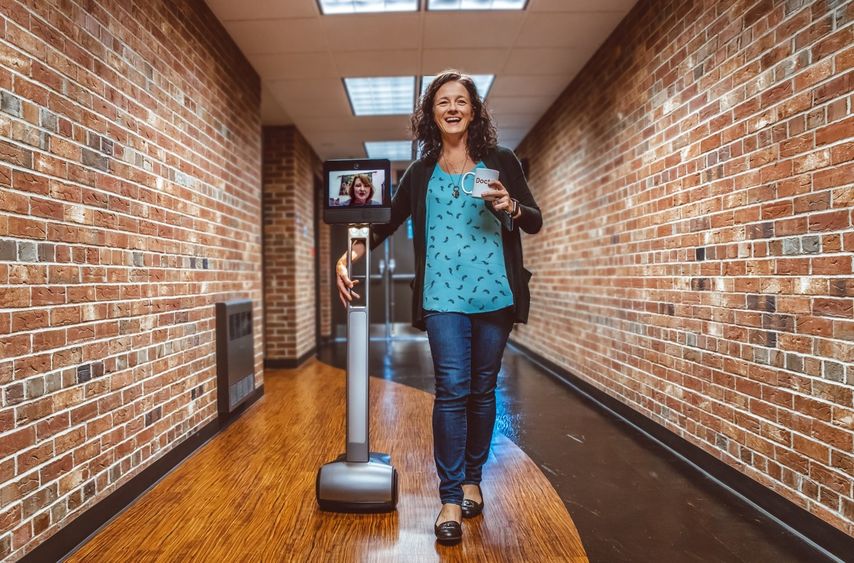 UNIVERSITY PARK, Pa. — Telepresence robots are helping students engage in meaningful ways with their instructors and remote classmates while bridging the distance between two locations — Penn State Greater Allegheny and Penn State New Kensington.
This fall, students in the shared biobehavioral health program are interacting with a couple of robots known by the name of Beam. The robots, one at Greater Allegheny and the other at New Kensington, allow students and faculty who cannot be present in person to participate and interact, virtually. The student or instructor logs into the Beam app on a computer or mobile device and beams, or projects, themselves onto the robot's display screen. From there, they can move the robot around and interact practically with others in the room.
The Beam robots support the REACH (Re-Imagine, Engage, Align, CHange) initiative maintained by Teaching and Learning with Technology, part of Penn State IT. This initiative provided Penelope Morrison, assistant professor of biobehavioral health at New Kensington, and Kristal Tucker, assistant professor of biology at Greater Allegheny, with technology as the solution to provide a cohesive learning experience for their shared program in two locations.
Having the robots as part of the program has attracted all types of students, including undergraduates who would typically choose an online course as their first preference.
"The Beam has been bringing those students back into the classroom and encouraging them to participate," said Tucker.
When Morrison would meet with her students via traditional video conferencing, they would rarely participate. Now, the hands raise.
"'I'm happy they are engaged and paying attention. My students now perceive they are part of the classroom," Morrison said.
For in-class assignments, a student from Greater Allegheny will pair with a student from New Kensington. The student from New Kensington beams in to share ideas with their partner.
Students at both campuses are already experiencing a deeper connection.
"Enabling the students and instructor to interact face-to-face makes it easier to ask questions and be engaged during lectures and in-class activities," said Cora Rejniak, a junior.
Another student, junior Alyssa Stewart, shares her viewpoint that the technology creates a substantial learning experience.
"Using the Beam allows us to connect with our professor and colleagues in a way which ensures we're all on the same page. It is easier to hear the perspectives of the students at another location," said Stewart.
The Beam robots will afford the biobehavioral health program additional opportunities. Since many guest speakers are doctors and physician assistants with busy schedules, the technology will provide opportunities for speakers to meet with the students in a convenient way.
The robot also will enhance learning and engagement across other programs.
"People are working in fields such as engineering and radiological sciences and using robots to enter places not safe for humans," said Tucker. "Making students familiar with these tools is important because many people work remotely from home and use teleconferencing every day."