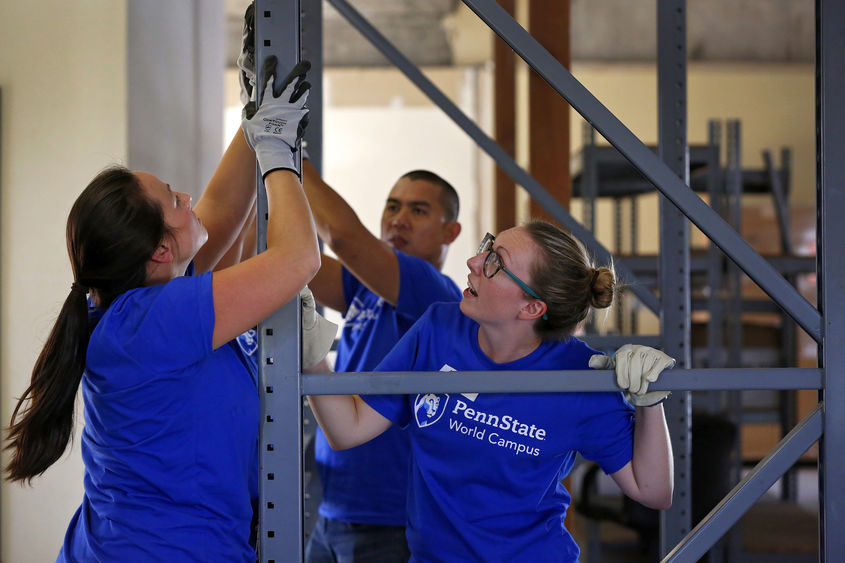 Francis Penalba says his goal in life has always been to make a difference, so signing up to volunteer with other Penn State World Campus students in honor of the Martin Luther King Jr. Day of Service was an easy decision.
"I always want to help out if I can," he said. "I always want to volunteer."
The national Day of Service takes place each year on Martin Luther King Jr. Day, which this year falls on Monday, Jan. 21. 
More than a dozen World Campus students are joining other Penn State students to take part in service projects on the University Park and New Kensington campuses on Monday, and are also volunteering at a Habitat for Humanity ReStore in Silver Spring, Maryland.
Penalba and three other World Campus students got a head start Saturday, helping build shelving units at a Habitat for Humanity ReStore in San Diego.
Penalba, who expects to graduate with a bachelor's degree in business in 2019, lives in San Francisco, but made the trip to San Diego to join other World Campus volunteers. Penalba said he appreciated the opportunity to connect with other students, which can be a challenge for World Campus students who are scattered geographically and busy with families and jobs. 
For the past two years, Penn State World Campus students have taken part in service projects organized at the University Park campus, said Ashley Adams, director of student affairs. This year, Adams and graduate assistant Shannon Dory brainstormed about ways to expand opportunities for students to serve.
"We have students all over the world, so while we can't organize service projects everywhere, we can in some of our major metro areas," Adams said.
""Penn State has a long tradition of students serving the community around them. We wanted to provide service opportunities and to encourage World Campus students and Penn State alumni to serve their communities wherever they are."
Students who signed up to volunteer at the four locations, or who let organizers know about their participation in other service projects in in their home communities, received Penn State T-shirts and were asked to share pictures on social media.
In addition to serving the community, the projects help build relationships among World Campus students, Adams said.
"Students are often looking to connect with their peers, and serving is a great way to do that," she said. "For students who feel a duty to serve, or just want to connect with other Penn State students – this is a great opportunity."
Visit the Penn State World Campus website for more information about learning online.