Panelists encourage Penn State community to share ideas, get involved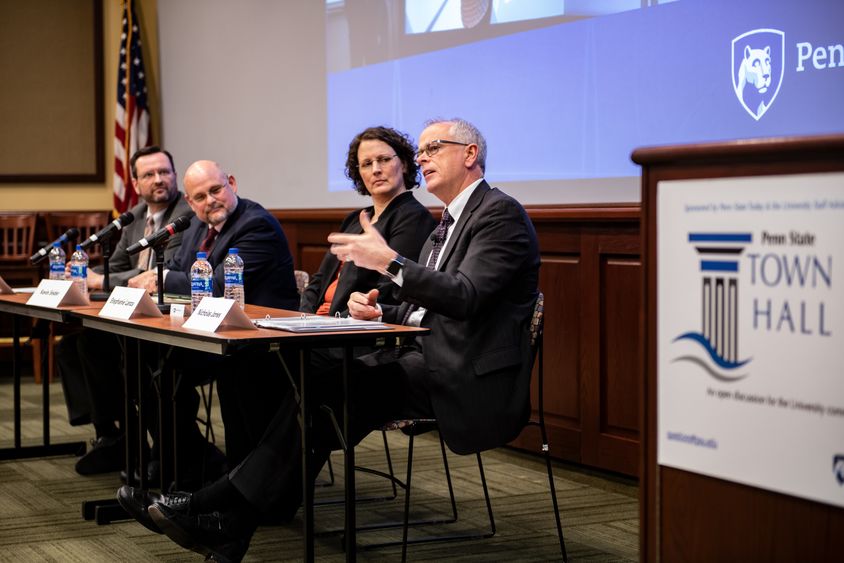 UNIVERSITY PARK, Pa. — Why is it important for a university to have a strategic plan? What does it mean for the University community? What have been the outcomes of Penn State's current approach to strategic planning? These questions and more were the subject of conversation at a town hall discussion with Penn State leaders held Jan. 23, focusing on the University's 2016-2020 Strategic Plan, "Our Commitment to Impact."
The event took place in the University Libraries' Foster Auditorium and also was streamed online. The session also is archived and available to watch online.
Related content: Watch the Town Hall online
Nick Jones, executive vice president and provost, hosted the town hall, joined by Stephanie Lanza, director of the Edna Bennett Pierce Prevention Research Center; Andrew Sears, dean of the College of Information Sciences and Technology; and Kevin Snider, chancellor of Penn State New Kensington.
Providing context and focus
In his introduction, Jones talked about the importance of having a strategic plan and the progress that has been made as the plan has reached the mid-point of its implementation. He explained that the overall University plan was developed with significant input from faculty, staff and other stakeholders, and that this input was and continues to be essential to the strategic planning development process.
"For many decades, strategic planning has been an essential endeavor to the way Penn State does business," said Jones. "Today, however, institutions of higher learning face many new and evolving issues, from financial to political. To address these challenges – and for Penn State to continue to thrive – we can't be complacent. Periods of rapid, transformational change require transformational responses, and that makes visionary but pragmatic strategic planning even more important. The process provides guiding context and focus."
Penn State's vision, mission and institutional values are interwoven throughout the plan, and ultimately drive its success. Five foundations underpin all University endeavors and are considered fundamental to implementing the plan: Enabling Access to Education, Engaging Our Students, Fostering and Embracing a Diverse World, Enhancing Global Engagement, Driving Economic Development, and Ensuring a Sustainable Future.
Progress across the University — and beyond
The panelists answered questions submitted by the live audience and by the University community in advance, addressing a wide variety of topics ranging from how the plan affects individual members of the University community to how it impacts Pennsylvania as a whole; how to benchmark progress and qualitative impacts in a way that informs ongoing implementation; and delving into the plan's supporting elements, including access to a Penn State education and investing in people through prioritizing diversity and inclusion.
Lanza also is the interim director for the Consortium to Combat Substance Abuse, which was formed directly as a result of the strategic plan. Lanza talked about the consortium's work and how since forming in October 2018 it has advanced several initiatives, including hiring new faculty, providing seed grant opportunities, establishing a community fellows program, and developing a conference to be held this April.
Lanza talked about Penn State's strengths in this area, and said the consortium is an example of the kind of program for which seed grants are perfect. The consortium touches on a serious issue that affects people and government on a local, statewide and federal level, and it draws on existing expertise in residence at Penn State.
Snider discussed the particular challenges of strategic planning for a Penn State campus like New Kensington, and how the process of developing a plan helped the campus realize that the impact it could make could go far beyond just the campus, and have a positive influence in the surrounding communities.
"It's bringing Penn State into the communities that has been a success for us," Snider said.
Projects include New Kensington initiatives like Entrepreneurial Eco-System, which helps foster entrepreneurial and small business development in the region. The Corner LaunchBox at New Kensington is part of Invent Penn State, a Commonwealth-wide initiative that has included the opening of 21 innovation hubs across Pennsylvania to provide early-stage startups with the support and resources needed to build a sustainable and scalable business and a viable plan for growth in their own communities.
"The strategic plan has allowed us to have an impact already, far beyond our campus. We were able to see, because of strategic planning, that we might be able to really change the future for New Kensington, and help build a future for others."
Sears is co-chair of the executive committee for Driving Digital Innovation (DDI), one of the thematic priorities of the strategic plan; Snider also is a member of the committee. They discussed among other things the various ways that driving digital innovation permeates the other strategic plan themes University-wide, and encouraged people to think of ways to connect their ideas across themes.
"DDI is so central to what IST is all about and it is connected to every other theme in the strategic plan," said Sears. "So for DDI we focused on the question: What do we want? To have impact on education, to have impact on research, and to impact outreach, to enhance economic development."
For example, Sears said, DDI is interested in how new technologies can be leveraged to support education — like virtual reality technologies, which have the potential to affect every discipline.
"Within the educational realm there's interest in immersive experiences, with the main focus on how to expose students to environments and experiences they would not otherwise be engaged in – anthropology, geography, geology, for example," said Sears. "There's tremendous expertise across Penn State in this area."
Seed grant opportunities for faculty, staff and students
Jones explained that, since fall 2017, Penn State has offered a rolling request-for-proposal process through which faculty, staff and students can recommend projects to support the plan's five thematic priorities: Transforming Education, Enhancing Health, Stewarding our Planet's Resources, Advancing the Arts and Humanities, and Driving Digital Innovation.
"I'm thrilled to say the response to that has been tremendous," said Jones. "In the past year-and-a-half, we have received nearly 200 RFPs for consideration. Of those, we have approved funding for 31 initiatives, many of which are already underway. Projects range from building a Digital Collaboratory for Precision Health Research, to launching a Campus Arts Initiative, to creating a new Penn State Center for Ecology and Design."
Readers may visit the Strategic Plan website to learn about all of the funded projects, how to submit a proposal, and more. RFP submissions for the fourth cycle of seed grants are due by Jan. 31.
Get involved, not discouraged
The panelists encouraged all Penn State faculty, staff and students who have ideas to contribute, that align with the strategic plan themes and priorities, to do so. Jones, in a recent Q&A about the Strategic Plan, urged University community members to get involved.
"I believe that there is a tremendous opportunity for Penn State to achieve even more by exceeding the sum of its parts," Jones said. "There is so much to be gained from collaboration, and I believe that people are motivated to come together when they feel that they can make a positive difference.
"We need everyone to roll up their sleeves and help push the University to greater heights. If you want to see the University be more impactful, lean in!"
The panelists encouraged people to bring their ideas to the table, even if they submitted proposals that were not supported in past RFP processes.
"Out of 200 proposals' worth of really innovative thinking, 31 reached the support threshold, but that means there's a lot of innovative thinking going on here — so keep that coming," said Jones. "People who didn't get support through this process should not get discouraged. There are other opportunities and vehicles for funding available. Many of those ideas have the potential to blossom in other ways."
For those who either viewed the Town Hall in person or online, organizers are asking for your input through a survey.
University community members who have additional questions about the strategic plan can send them to [email protected].
Since 2015, Town Hall meetings have provided opportunities for members of the Penn State community to receive updates on University initiatives, hear from administrative leaders about key issues, ask questions and provide feedback. Archives of previous town halls and other related content are available at LiveEvents.psu.edu.