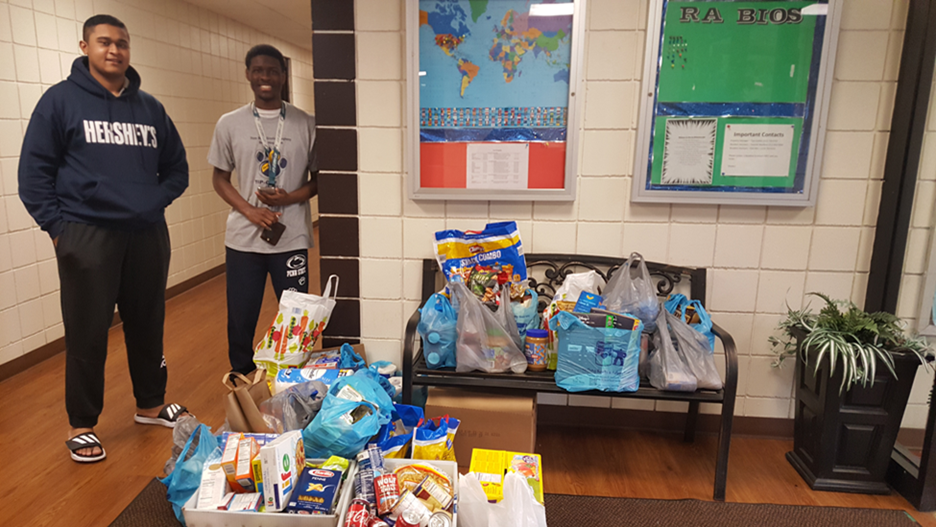 NEW KENSINGTON, Pa. – Fred Rogers, the famed television personality and Western Pennsylvania native, once said: "All of us, at some time or other, need help. Whether we're giving or receiving help, each one of us has something valuable to bring to this world. That's one of the things that connects us as neighbors -- in our own way, each one of us is a giver and a receiver."
Students, faculty and staff at Penn State New Kensington have not only embodied Rogers' neighborly advice, but also the Penn State value of community as they've found ways to support each other and the region during the novel coronavirus pandemic.
"I've been getting emotional thinking about it," said Theresa Bonk, director of student affairs at the campus. "It has made me so grateful and lightened my day just knowing that whatever we need or whatever needs to be done, we have people ready to help."
Campus leadership, faculty and staff quickly mobilized to support students and the campus as the University moved to follow federal and state recommendations to join global efforts and mitigation plans to slow and stop the spread of the virus. Numerous actions have been implemented since early March, including self-quarantine guidelines, remote learning and telecommuting, cancellation of events and other physical distancing strategies.
"The thing I love most about working at Penn State New Kensington is that for most of us, students aren't a 'job,' they are a calling."

-- Kevin Snider, chancellor
In addition to health and safety being a top priority, the campus, known for its personalized environment, wanted to make sure student support would be readily available, even in a remote, virtual space.
"Every person on campus is working very hard to see that any student that shares a concern is answered," explained Bonk.
Kevin Snider, chancellor at the campus, echoed the sentiment of wanting to continue to provide the caring environment of campus for the students, even in the remote environment. He credits the campus staff and faculty for making sure that has happened.
"The thing I love most about working at Penn State New Kensington is that for most of us, students aren't a 'job,' they are a calling," said Snider.
"Nittany Neighbors" initiative
While many students at the campus commute, some reside at the privately owned Nittany Highlands Apartments just across the street from campus. Of those students, a small percentage continue to reside there for the duration of the spring semester due to travel restrictions or because it is the best option for them during the pandemic.
Bonk and the Student Affairs staff members wanted to make sure that the student residents were taken care of, especially with the campus recreational facilities and food services closed. Each student at the apartments was matched with a volunteer Nittany Neighbor mentor who regularly emails, calls and checks on them to make sure they are well, have their basic needs met and stay motivated. The mentors are all staff and faculty members from the campus.
"Just like any other day on campus, we are a family, and like any family, we take care of our own," said Bonk.
In addition to monitoring the status of the student residents, faculty and staff donated a large amount of food, cleaning supplies and paper products in early March, which were safely delivered to the students with the help of the campus' facilities staff, who took the items by a utility vehicle to the apartments.
Of the donations, Bonk said the students were "forever grateful."
"Just like any other day on campus, we are a family, and like any family, we take care of our own."

-Theresa Bonk, Penn State New Kensington director of student affairs
Snider also coordinated a virtual pizza party for the students, where pizza delivery to the apartments was arranged and students met with Snider, as well as student affairs staff and the campus nurse, via Zoom. Students were able to ask questions, share concerns and learn about recommended best practices to keep themselves and the other students healthy and safe.
"It was a little bittersweet to see our students during the virtual pizza meeting, particularly the seniors," shared Snider. "Spring is a time of promise and anticipation for our students and sharing that time with them is one of the joys of our work, particularly for those graduating. Yet, I was amazed hearing our students talk about their campus. They realize that we are trying to make the best experience we can for them, and they are appreciative."
Staff and faculty members who are Nittany Neighbor mentors have also coordinated and arranged pick-up and delivery of hot meals from local restaurants to the residents at least twice a week. Bonk also recognized two student residents at the apartments, Tavaski Wardlow and Vedanthi Santrupth Gowdgere Ramakrishna, for helping to make sure that the donated meals and items are distributed to the residents safely.
Parents have also expressed gratitude, including a parent of an international student at the apartments who said, "I wanted to thank everyone in the Penn State family for supporting the students and making them strong and giving them care during this pandemic period."
Radiological sciences students support campus food securities fund
After seeing an email from Bonk about making sure all campus students' basic needs were met, Debra Majetic, program coordinator and assistant teaching professor of radiological sciences, put a call out to her program's students.
"Empathy for others is a huge part of heath care," said Majetic. "Taking care of the patients' needs is what the students do with every clinical rotation. It warmed my heart that without hesitation most agreed to help other students in any way we could."
Radiological sciences students in the program, which also includes an opportunity to be part of the RadSci Club, decided to make a $500 donation to the campus' Food Securities Fund.
"Students who have identified that they are in need of food or other personal items/necessities are referred to this fund," explained Bonk.
While students in the program have been adapting to the changes created by moving to a remote learning environment, Majetic said she has been amazed at how they have stayed positive and engaged, including wanting to help their peers.
"Healthcare workers have an inherent quality to nurture and help others," said Majetic. "This donation is just an extension of what it means to be a radiologic technologist."
Bonk added, "At a time when we have so many things to think about to keep each other safe and well, it doesn't surprise me that our students stepped up and thought about others and what their needs are and how they can help. I'm so proud to know these students and truly appreciate their support."
Student resources
Students are reminded of resources available to them related to emergency funding, health care and counseling.
Student emergency fund request – Students facing personal crisis, hardship or other financial emergency can apply for short-term financial assistance through one-time emergency fund requests. Requests are reviewed, and the value of awards range in response to a student's specific needs. Students can submit a request via an online form.
Health care – New Kensington campus students can contact campus Health Services between 8 a.m. and 5 p.m. by calling 724-334-6066 or 724-681-3978 to speak with Nurse Stella Milburn. If Milburn is unavailable, or a student needs assistance after hours, students can contact the University's Advice Nurse line at 814-863-4463.
Student insurance and advocacy – Students in need of assistance with or access to affordable health care can contact University Health Services' Student Insurance Advocate, Natasha Gates, at

[email protected]

and 814-865-7467. Gates can also assist students with learning more about and applying for other types of assistance such as the Supplemental Nutrition Assistance Program (SNAP).
Couseling services – Students in need of counseling services can make arrangements for virtual appointments and discussions by reaching out to Kendra Kitko, licensed counselor, at 724-334-6744 or

[email protected]

. Students can also access the University's 24/7 Crisis Line at 877-229-6400 and the Crisis Text Line by texting "LIONS" to 741741.
For updated information on the University-wide response to the COVID-19 pandemic, visit psu.edu/virusinfo. New Kensington campus-specific information can be found at newkensington.psu.edu/coronavirus-information.
'We Are' stories
The "We Are" spirit is perhaps more important than ever before, and Penn Staters everywhere are coming together in new and amazing ways. During these challenging times, our community is continuing to realize Penn State's commitment to excellence through acts of collaboration, thoughtfulness and kindness. As President Eric Barron has written on Digging Deeper, this truly is a "We Are" moment — and we want to hear your "We Are" stories.
Visit news.psu.edu/WeAre to share how you or other Penn Staters are supporting each other to overcome the collective challenges presented by the novel coronavirus. We are!