Two ceremonies to be held to celebrate graduate accomplishments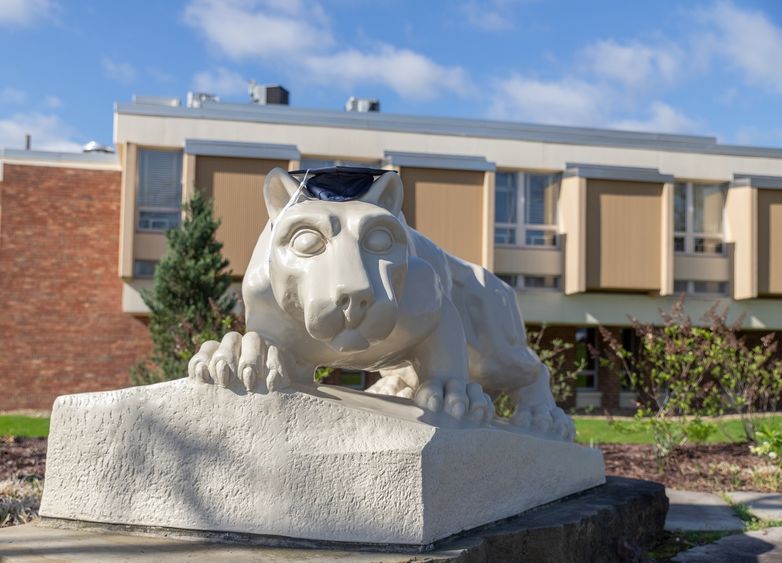 NEW KENSINGTON, Pa. – Penn State New Kensington will honor its spring 2021 graduates on May 8 during two commencement ceremonies, one at 10 a.m. and the other at 1 p.m.
Both in-person ceremonies will follow COVID-19 pandemic safety regulations that all graduates and guests of the in-person events will be required to follow. These regulations include masking, distancing, required tickets for entry and other protocols.
Livestreaming options will be available for each campus event, and a University-wide virtual ceremony will also be held on May 9 at 6 p.m. for all graduates.
Individuals can share their photos by tagging the campus and using #PSUgrad. A full gallery of photos from the campus ceremonies, including graduate portrates, will be posted to the campus Facebook page the week following commencement at http://facebook.com/pennstatenewkensington.
Information for Penn State New Kensington graduates related to the in-person campus ceremonies, including livestream links, can be found at newkensington.psu.edu/graduation. Questions related to commencement can be directed to the Office of Academic Affairs at 724-334-6030 or [email protected].
10 a.m. ceremony
Degrees will be conferred to graduates in the Administration of Justice; Business; Electro-Mechanical Engineering Technology; Psychology; and Radiological Sciences degree programs at the 10 a.m. ceremony on May 8.
The ceremony will feature speaker K.R. Bridges, professor emeritus of psychology at Penn State New Kensington. Bridges began his career at the campus as instructor of psychology prior to earning assistant professor, associate professor and then full professor status through his years of academic service and prior to his retirement in Dec. 2020. He holds a bachelor's degree from Indiana University of Pennsylvania, a master of arts degree in experimental psychology from Temple University and a doctorate degree in child development from the University of Pittsburgh.
1 p.m. ceremony
Degrees will be conferred to graduates in the Biobehavioral Health; Biomedical Engineering Technology; Communications; Information Sciences and Technology; Letters, Arts and Sciences; Nursing; and Project and Supply Chain Management degree programs at the 1 p.m. ceremony.
Marissa Russo, Penn State class of 2016, a governance, risk, and compliance (GRC) consultant at Seiso LLC, will be the featured speaker. In her role, she assists clients in becoming compliant with various security standards and frameworks. She also performs IT risk assessments for clients in the Pittsburgh area. Previously, she was a senior IT security consultant at PwC, where she worked with various Fortune 500 companies in the U.S. and internationally. She has a passion for hands-on work and problem solving and enjoys mentoring other women who would like to become consultants or join the IT field. Russo also is the director of communication at Womxn in Tech Pittsburgh (WITPGH). She earned her bachelor's degree in information sciences and technology with a minor in security and risk analysis at the New Kensington campus, where she also served as the Student Government Association president, a student-worker at The Junction coffee shop, and a Lion Ambassador. She also studied abroad at the University of Limerick.
Class of 2021
Baccalaureate Degrees
College of Engineering, Bachelor of Science in Electro-Mechanical Engineering Technology – Hugh Donnelly, Alec Eshenbaugh, Brian Flasik, Luke Koprivnikar, Nickolas Mcgrath, Sean Peck, Robert Piskor, James Pompei, Sedona Rogers, Jonathan Schofield
College of Nursing, Bachelor of Science in Nursing – Taylor Bohaychick, Lea Davis, Leslie Fallen, Karlee Galcik, Lindsey King, Julie Klemens, Shannon Kosarich, Allison Matava, Morgan Mccaslin, Jessica McLean, Samantha Nolan, Aubrey Simpson
University College, Bachelor of Science in Administration of Justice – Valente Caruso, Mitchell Kuczynski, Joshua Zakrzewski
University College, Bachelor of Science in Biobehavioral Health – Elian Buchi, Emily Dambrosia, Bailey Klaus, Marcella Moore, Emily Yourish
University College, Bachelor of Science in Business – Mitchell Carr, Olivia Ferrante, Jacob Timko, Brandon Weltz
University College, Bachelor of Arts in Communications – James Binnix, Melissa Sedlacek, Janet Surma
University College, Bachelor of Science in Information Sciences and Technology – Moriah Kromer
University College, Bachelor of Science in Project and Supply Chain Management – Jared Haldeman, Alex Kennedy, Moriah Kromer, Phillip Thomas
University College, Bachelor of Arts in Psychology – Cailyn Dumas, Samantha Kravits
University College, Bachelor of Science in Psychology – Riplee Burkhart
Associate Degrees
College of Engineering, Associate of Science in Biomedical Engineering Technology – Nathaniel Brazelton, Nicholas Hwostow, Matthew Szarmach
University College, Associate of Arts in Letters, Arts, Sciences – Rachel Klazon, Gabrielle Rapp
University College, Associate of Science in Radiological Sciences – Alexis Cailor, Natalie Clayton, Nicole Deaner, Tyler Fedak, Ronni Fetterman, Amber Hall, Daniel Perla, Shayna Prahl, Aurora Stover, Nicole Weiblinger