ACD, Banner Engineering, Ectobox, Premier Automation and Siemens partnering with new lab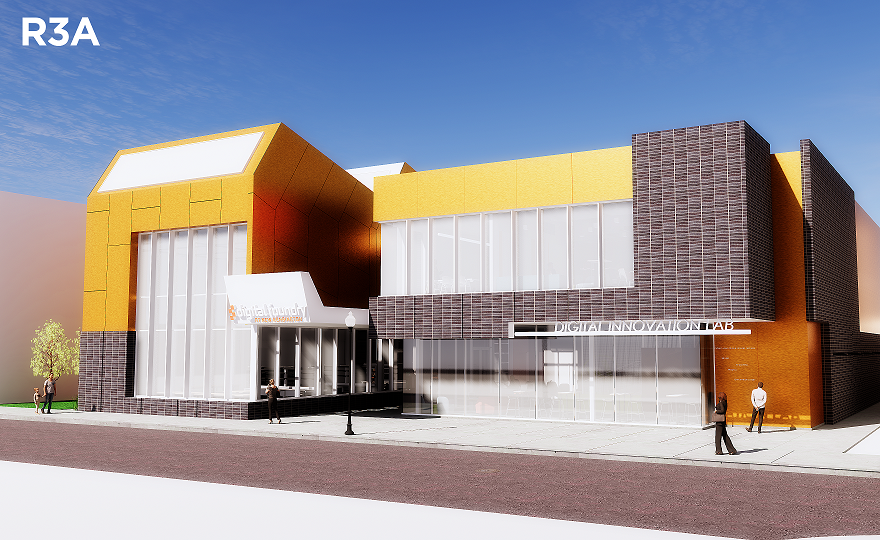 NEW KENSINGTON, Pa. — The Digital Foundry at New Kensington, an initiative of Penn State New Kensington and the Economic Growth Connection of Westmoreland, has announced its new partnership with five regional and national companies that will bring access to state-of-the-art technologies and expertise to its digital innovation lab, which is expected to open in spring 2022.
"Our founding technology partners are recognized leaders, locally, nationally and internationally in their respective fields and will bring the latest in digital manufacturing technologies to the Digital Foundry at New Kensington," said Sherri McCleary, inaugural executive director of the Digital Foundry. "This includes things like advanced sensors, edge computing, IIoT, data analytics and visualization, advanced automation and control systems and computational modeling of products and processes to allow for full digital twins and digital threads."
The companies, ranging from small to large-scale organizations, include Advanced Controls and Distribution (ACD), Banner Engineering, Ectobox, Premier Automation and Siemens USA. Each technology partner will provide access to specialized software or digital technologies at the Digital Foundry so that manufacturers, students and current and future workforce members can gain awareness and future-ready skill sets needed for a technologically-driven environment.
In addition to providing their advanced tools and resources, the companies share their commitment to the Foundry's vision to improve lives and strengthen businesses through access to digital technologies.
"Siemens is proud to support Penn State's efforts to drive future workforce development in the New Kensington and Westmoreland County region," said Barbara Humpton, president and CEO of Siemens Corporation, USA. "The Digital Foundry at New Kensington will be a unique facility where workers and manufacturers will be exposed to digital technologies from local, national and international providers to help maintain worker employability and employer competitiveness in southwestern Pennsylvania and surrounding areas."
Mike Holtkamp, who has been part of the project at the local level and serves as enterprise account executive with Siemens Digital Industries, echoed Humpton's sentiments. "Siemens know that the transformational businesses of tomorrow will likely be hatched out of the small to medium sized businesses of today. We want to place our industry leading tools in the hands of these thinkers as they dream big in a way that benefits people, communities and businesses for generations to come."
The Richard King Mellon Foundation awarded $5.5 million in funding for the Digital Foundry at New Kensington. The lab, a collaborative effort between the Economic Growth Connection of Westmoreland and the New Kensington campus support and advisement from the Westmoreland County Industrial Development Corporation (WCIDC) and a priority project identified in the Westmoreland County Comprehensive Plan – Reimagining Our Westmoreland, is currently being built along the city's Corridor of Innovation, a five-block stretch of Fifth Ave. between the campus' innovation hub, The Corner, and Westmoreland County Community College-New Kensington. In addition to the foundation's support, Penn State has also provided a $1 million matching gift, which will help create an endowment for ongoing operating support of the facility, through the Economic Development Matching Program, an initiative of its current campaign, "A Greater Penn State for 21st Century Excellence."
The new technology partners also share the Digital Foundry's motivation to make local and regional impact.
"We are excited to join the Digital Foundry so that we can be part of a community of like-minded manufacturers and technology partners," said Kevin Jones, president and CEO of Ectobox Inc. "Our purpose at the Digital Foundry is to drive thought leadership across our region with the hope that we can have a major impact on our local economy for everyone in our region."
Lou Dellemonache, president and CEO of ACD, added, "ACD looks forward to impacting the preservation of manufacturing in western Pennsylvania along with building a digital future by making new technologies available to small-to-mid-sized manufacturers."
The Digital Foundry, which held its award-winning virtual groundbreaking event in October 2020, plans to serve a variety of stakeholders such as regional manufacturers and industry, K-12 school districts, college students, entrepreneurs, makers and workers in need of retraining or new job skills. Each of the technology partners will assist with the goals of the regional lab, which is part of the New Kensington campus-led NextovationTM initiative, to serve as the epicenter for training and access to modern software tools by integrating digital data into new product development, manufacturing, operations and overall business management in a variety of fields.
"With their personal and professional roots in our region, they are very invested in our vision to improve lives and strengthen businesses through access to digital technologies," said McCleary. "This commitment and buy-in from our tech partners will be a true differentiator for us and a key to our success. We couldn't be more grateful for their commitment to the Digital Foundry, but more importantly their commitment to the future of our region." 
Contact
Corinne Coulson
Manager of Strategic Communications and Marketing