'STEM Challenge' for middle schoolers highlights students' engineering prowess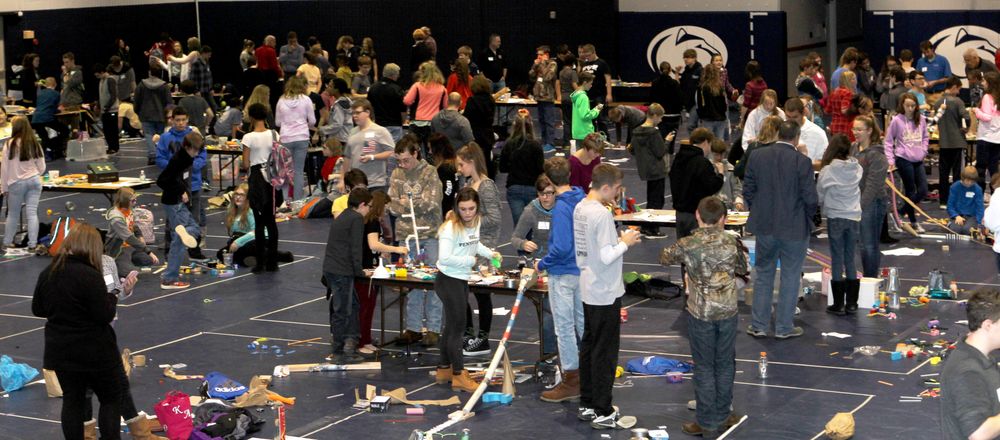 NEW KENSINGTON, Pa. -- Performing a facile task in the most convoluted way with a labyrinthine machine was the quest of middle school students Nov. 22 for a Rube Goldberg competition at Penn State New Kensington.
More than 200 seventh- and eighth-graders from four local school districts — Burrell, Franklin Regional, Kiski Area and New Kensington-Arnold — honed their critical thinking and engineering skills at WEDIG's fourth annual "STEM Challenge." The students designed and built their own Rube Goldberg machines to ring a cowbell.
"It's always exciting to see the creativity and teamwork that goes into completing the Rube Goldberg challenge," said Debbie Novak, STEM and youth programs coordinator at the campus. "Every year students come up with innovative ways to accomplish the challenge."
Prior to the competition, students learned about career paths in the science, technology, engineering and math (STEM) fields from STEM professionals representing a variety of occupations. The professionals shared their career stories, including successes and obstacles for their chosen vocations.
After the presentations, the students were divided into five-person teams, featuring students from all of the school districts. The STEM professionals served as coaches, sharing their expertise, demonstrating the Rube Goldberg process, encouraging collaboration and analytical thinking, and supervising brainstorming and planning sessions.
The teams were given basic items, including pulleys, blocks, tubes, screws, duct tape and dominos for their projects. The task was to build at least three simple machines to entice the clapper of the idiophone percussion instrument to strike the resonator, producing a solitary tone.
One of the coaches was New Kensington campus student Hannah Albright, a sophomore agricultural sciences major. She was impressed with the way students thought of a new solution if their original idea was not feasible.
"I tried to give the students guided questions to make them think, without telling them directly what they should do," Albright said. "Some of the things I would ask is 'if you follow through with that idea what do you expect to happen?' From there they would communicate as a team to figure out if it would do what they wanted to happen."
Albright supervised four teams, each with a different approach to the project. Ingenuity was the trademark of Albright's groups.
"Some teams worked back from the bell ringing to the start, which I thought was very creative," Albright said. "Some teams kept it simple while others tried to think out of the box and use materials I wouldn't have even thought of using."
Serving as a Rube Goldberg coach was a natural progression for Albright who participated in the inaugural challenge in 2013 as a junior at Valley High School. At the time, the challenge was geared to high school students and there was no intermingling of schools to form teams.
"I really liked how this year's students got to work with students from other school districts and make new friends," Albright said.
Rube Goldberg, who died in 1970, was a world-renowned cartoonist who used his sculpting and engineering background to draw complicated contraptions that needed numerous steps to performed easy tasks, such as ringing a bell.
The event was sponsored by Westmoreland Economic Development Initiative for Growth, better known as WEDIG, and the New Kensington campus. Other patrons were Rotary International, Westmoreland County Community College, Five Starr Catering, Byers Taxi Service, Bozzone Family Foundation, Burrell Group, Don and Debbie Kinosz, U.S. Rep. Keith Rothfus, and state Rep. Eli Evankovich.
WEDIG is an organization of more than 100 business and government officials who work together to achieve economic growth and global competitiveness through private-public partnerships. Kevin Snider, chancellor of the New Kensington campus, spearheaded the establishment of the group in 2009 to foster quality development in communities throughout the county.
For more information, email Debbie Novak.
Contact
Bill Woodard
Alumni and Public Relations Specialist