$328k Advancing Grant to accelerate work with 14 school districts and strengthen Industry 4.0 focus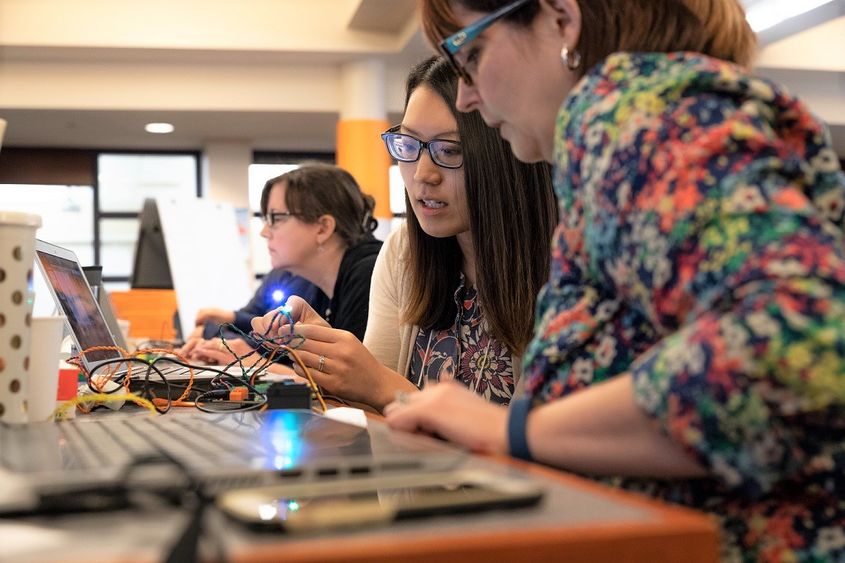 NEW KENSINGTON, Pa. — Rapid advances in technology, projected growth of STEM-related jobs, and a stronger focus on education and industry partnerships led to the creation of a statewide movement aimed to help Pennsylvania students and workers prepare for jobs now and in the future.
"Workers in all types of jobs increasingly need to use computers and technology," said Gov. Tom Wolf in a press release. "In order to meet that demand, I launched PAsmart last year to expand science and technology education."
Wolf's PAsmart recently awarded $30 million in funding to organizations throughout the state in the form of Advancing and Targeted Grants. The Penn State New Kensington-led Alle-Kiski Best Practices Collaborative CREATE Lab Regional Satellite Network Hub, known by its acronym of ABC CREATE, was awarded a PAsmart Advancing Grant totaling $328,944.
"The PAsmart funds will enable ABC CREATE to accelerate and advance the collaborative work that is underway and work that has posed a specific challenge and has needed additional support," explained Colleen Smith, STE(A)M outreach coordinator at the New Kensington campus.
Formed in 2014 as a way for school districts in the campus' local region to work together to integrate technologies and project-based learning, ABC CREATE has grown into a community of hundreds of educators from 14 school districts learning and growing together to provide thousands of students opportunities and preparation for a rapidly-changing world. Coordinated by Penn State New Kensington, the effort also includes partnerships with the Grable Foundation, the Arconic Foundation and the Community Robotics, Education and Technology Empowerment Lab (CREATE Lab) at Carnegie Mellon University's Robotics Institute.
Smith continued, "ABC CREATE has reached a level of maturity as a collaborative to be ready to move forward in partnership with our school districts, business, industry and government to be the change agents for the Alle-Kiski Valley region."
In addition to the Advancing Grant, Smith was named one of 31 ambassadors in the 2019 Pennsylvania STEM Ambassador Program, which aims to shape the future of STEM education throughout the Commonwealth. The nine-month program is an initiative of the Pennsylvania Statewide afterschool and Youth Development Network (PSAYDN). Inclusion in the cohort will allow Smith to represent ABC CREATE and the New Kensington campus as she takes part in training and policy development opportunities with stakeholders to help shape STEM education and workforce policies.
"Our ongoing work through ABC CREATE, along with our strengthened efforts in the city of New Kensington, allows us to work with many cross-sector leaders to create a well-rounded groundwork for a prosperous future for everyone in our region, including students, entrepreneurs, workers, business, industry, government and community members."

—Kevin Snider, Penn State New Kensington chancellor
The recent PAsmart funding will assist ABC CREATE in five areas, including increasing the skills and confidence of teachers in using text-based programming languages to help students transition to programming languages used in the workforce; accelerating the development of K-12 learning pathways focused on STE(A)M modules; developing more strategies for addressing equity and access concerns within and across school districts; engaging educators with business and industry to prepare students for the skills needed for the current and future workforce; and providing continued support to facilitate and manage the collaborative group.
The work of ABC CREATE and the focus of the PAsmart initiative also align with the New Kensington campus' increased attention to bringing innovation, entrepreneurship and related skillsets to campus students and community members.
Under the leadership of Kevin Snider, chancellor of Penn State New Kensington, the campus has been working on strengthening collaborative efforts with industry, schools and government directly related to Industry 4.0, the expected next industrial revolution founded upon innovative and entrepreneurial skill sets in the workforce.
"Through our work with our partners, we are increasingly learning that innovation and Industry 4.0 provides tremendous opportunities and challenges for students and communities, especially those small Rust Belt towns like New Kensington," said Snider.
Since the opening of The Corner — one of 21 Penn State innovation hubs across the state — in downtown New Kensington, the campus has expanded its efforts in using entrepreneurship and education as drivers for economic development in revitalizing a city. With the addition of an Industry 4.0 focus, Snider hopes that a replicable model can be created. 
"Our ongoing work through ABC CREATE, along with our strengthened efforts in the city of New Kensington, allows us to work with many cross-sector leaders to create a well-rounded groundwork for a prosperous future for everyone in our region, including students, entrepreneurs, workers, business, industry, government and community members," continued Snider. "It is our hope that we can create a collaborative model for other small towns to follow as they navigate the changing innovative landscape."
Contact
Corinne Coulson
Manager of Strategic Communications and Marketing