Campus reaches Level 2 certification for reducing waste and saving energy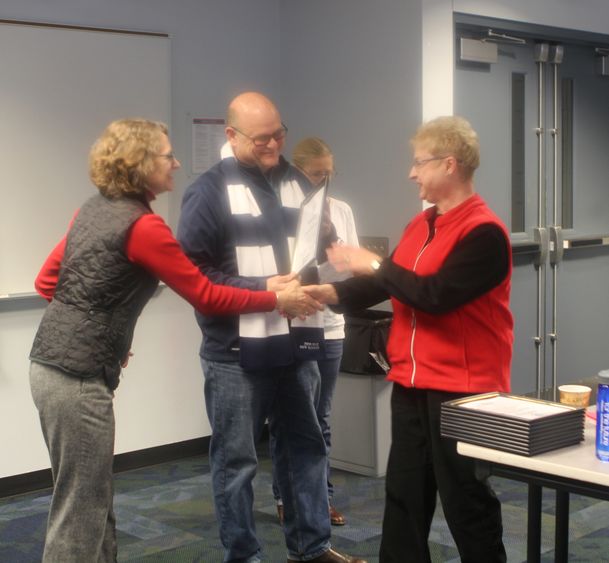 NEW KENSINGTON, Pa. — A year after becoming the first campus to complete successfully Level I certification, Penn State New Kensington duplicated the feat in November by earning Level II certification from the Penn State Sustainability Institute's Green Paws program.
For the past two years, campus teams have been reducing waste and saving energy. New Kensington is believed to be the only Penn State campus with 100 percent participation by its faculty and staff.
"The need for sustainability has never been greater. We can succeed in improving our overall sustainability on campus with simple, relatively easy steps that require only small changes on our part."

— Kevin Snider, chancellor, Penn State New Kensington
Green Paws are teams of faculty and staff volunteering to take specific actions to help their offices or departments operate in a more efficient, innovative, and healthy way. The groups work in conjunction with the institute's Green Paws program to earn certificates of achievement.
"I'm proud of our staff and faculty for continuing to participate in the program and achieving the goals we've laid out," Snider said. "This is even more impressive given all of the additional work staff and faculty are doing to implement new systems, compliance procedures, and personnel changes. It is a testament to their commitment to sustainability."
To celebrate the campus achievement, the institute sponsored a reception on Dec. 16, in the campus Conference Center. Lydia Vanderbergh, associate director of employee engagement and education for the Sustainability Institute, awarded certificates to each team.
Campus faculty and staff were represented by team captains — Jennifer Wood (Arts and Humanities), Tracy Gustafson (Athletics), Candee Christy (Development, Continuing Education, Chancellor's Office), Patty Brady (Enrollment Management), Frank Santimauro (Gang Green), Jeff Roth (Loop Group), Sean Bridgen and Ruth Herstek (Success Center), Kevin Churik (Team IT), Susan Dale (Academic Affairs Team), Bonnie Godfrey (Business Office), Joan Kowalski (Engineering Faculty) and Paula Dove (Student Affairs).
"These teams not only provide support and structure for engaging in sustainability efforts, but they help keep people involved and make it an overall group effort," Snider said. "I really appreciate the team captains and what they do to help keep us on track. These folks are led by Ruth Herstek, who makes sure that sustainability remains on our radar screens. She deserves special recognition for getting us through levels one and two and for putting level three up as the next campus sustainability target."
Green Paws is organized into four levels of certification for resource efficiency in the office. Each level comprises nine sustainability categories: energy, recycling, waste reduction, purchasing, outreach and production, events and meetings, transportation, kitchens and break rooms, and publications. Each category has a checklist of certain criteria to meet, and each level makes the office "greener." Certification is bestowed upon those who complete the checklist at each level. University-wide, more than 1,200 faculty and staff participate in the program.
The Level 2 criteria included:
— Determining what items in offices use electricity, especially those with a "phantom load," which are products that use energy, even when turned off.
— Establishing an office "sharing center" of supplies (paper, binders, envelopes, paper clips and folders) that can be reused by anyone in the office.
— Reducing unwanted mail by unsubscribing to unnecessary printed mailing lists (catalogchoice.org)
— Recycling small electronic office waste, such as cell phones, CDs/DVDs and cases, audio/video tapes and cases, cables, keyboards, mice, pagers, answering machines, radios, telephones and other telephone equipment.
— Knowing the difference between compostable and biodegradable materials and knowing that neither will break down in a landfill. Compostable items break down in a compost facility and provide nutrients for soil and plants. Biodegradable materials break down into tiny pieces, but may not provide nutrients to the soil.
— Using at least 30 percent recyclable paper for printed publications.
To view the requirements, visit Level Criteria.
The New Kensington Green Paws program operates under the auspices of the campus Green Team, led by Herstek, assistant coordinator for the Academic and Student Success Center. The group of students, faculty and staff volunteers are committed to reducing waste and exploring ways to use resources responsibly.
"The Penn State New Kensington Green Team was privileged to be able to collaborate with the Sustainability Institute on customizing our Level Two activities to better suit the needs of our campus," Herstek said. "The institute has been instrumental in helping us work toward achieving our campus' strategic plan goal of completing one level each year, over four years. We are currently half-way to our original goal."
Sustainability is a key initiative of the chancellor's five-year strategic plan that was unveiled two years ago. It cuts across several of the strategic goals and highlights the campus' intent to become a recognized leader in the community. Sustainability, poverty initiatives and STEM programming are the main ingredients in the campus plan, and the campus is engaging the community in these critical areas.
Penn State has been the leader in sustainability initiatives among colleges and universities. The Campus Sustainability Office promotes and ensures environmentally-safe activity at Penn State. Its initiatives protect and enhance the financial, human, and ecological resources of the University and the planet.
Contact
Bill Woodard
Alumni and Public Relations Specialist