Ryan Long earns $1,000 scholarship after receiving degree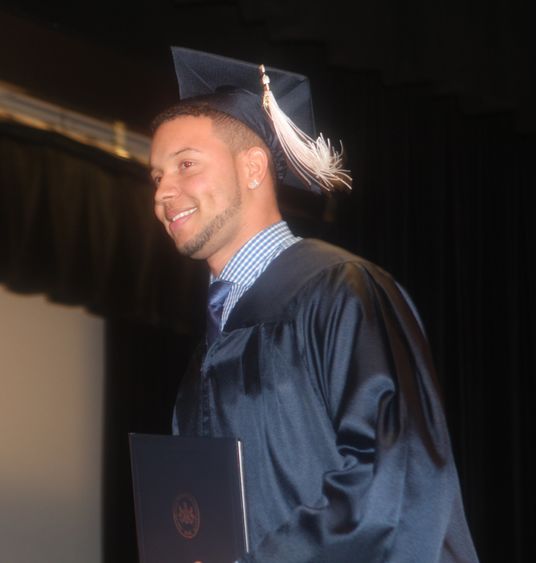 NEW KENSINGTON, Pa. — Ryan Long, a fall 2016 Penn State New Kensington graduate, earned scholarships as an undergraduate at the campus. He also earned a scholarship as an alumnus of the campus.
When Chancellor Kevin Snider conferred a corporate communications degree on Long on Dec. 17, the Penn Hills resident became the first campus student to receive a $1,000 ASPIRE scholarship. In a twist on the traditional scholarships that are awarded to students, Long was awarded an ASPIRE scholarship as a graduate.
Believed to be the first of its kind at any Penn State campus, the ASPIRE (A Scholarship Program Inspiring Responsible Economics) program was established in 2012 as a support system to educate students on the importance of making healthy financial decisions.
The focus of the program is to teach students about managing finances, spending responsibly, and borrowing wisely. The goal is to help students to save money while attending college and to graduate with less debt.
Students in the program learn from financial professionals during on-campus workshops held twice each semester. The workshops are designed to help students make informed decisions about their finances while they are attending school and after graduation. Topics included budgeting money while in school, the importance of saving, dangers of debt, explanation of interest rates, and loan repayment strategies. ASPIRE participants also can get advice from the financial aid office throughout the year.
"The sessions helped me a great deal as I have learned how to manage my personal money much better," said Long, a product of Central Catholic High School in Pittsburgh. "Also, I learned the best way to go about dealing with loans after graduation."
The ASPIRE program is open to students in the campus' 10 four-year degree programs and five two-year degree programs. Enrollment begins in the fall. Undergraduates who complete the program and earn a degree from the campus are awarded $1,000 for a bachelor's degree or $500 for an associate degree to help pay down debt after graduation. The program began when Long was a freshman.
"Honestly, my spending habits were never bad before I joined ASPIRE," Long said. "I was always good with my money. I learned to cut down on spending so much unnecessary money, especially on food."
Long helped keep his education costs under control by earning scholarships from the St. Vincent de Paul Society and working at St. Benedict the Moor School, a Catholic grammar school in Pittsburgh. In addition, he held a work-study position in the campus' athletics department.
Between studying and working, Long also managed to participate in extracurricular activities at the campus. He was a member of the Multicultural Club, a student organization that promotes the awareness of cultural diversity.
Armed with a bachelor's degree, the newly minted alumnus is ready to join the workforce. He seeks a position in the mass communications industry.
"I would like to get a job in sports broadcasting," said Long, who covered New Kensington sports as an intern in the campus' public relations office. "It has always been a dream of mine to be a sports broadcaster or get involved with something behind the scenes."
He credits his experience at the New Kensington campus for the prospects of a career in media.
"I really enjoyed my time at Penn State New Kensington," Long said. "I met so many wonderful students, staff and professors."
Long is a part of New Kensington's 57th graduating class. Since 1960, the campus has 5,270 alumni.
For more information about fall commencement and a list of graduates, visit the Class of 2016 online.
Contact
Bill Woodard
Alumni and Public Relations Specialist