Campus designated military friendly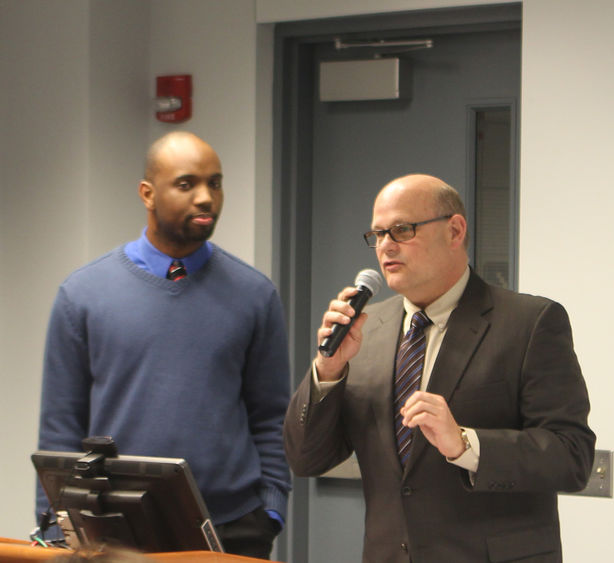 NEW KENSINGTON, Pa. — Penn State New Kensington will hold a series of special admissions events from 9 a.m. to 4 p.m. Nov. 7-11 as part of Veterans Week at the campus. The week will be highlighted by the administration of justice (AOJ) program open house scheduled for 6:30 to 9 p.m. Wednesday, Nov. 9, and the Financial Aid 101 workshop at 6:30 p.m. Thursday, Nov. 10.
With nearly 400,000 service members leaving military service each year, and more than a third attending college, the week is designed to help veterans and adult learners navigate the many challenges associated with the higher education decision. The number of adult learners, those classified as at least 24 years old, is growing as more displaced workers look for a career change or seek additional education.
The New Kensington admissions staff encourages nontraditional students to make appointments for personal meetings to discuss the educational benefits available. There are numerous academic options for veterans and adult learners, including selecting from more than 200 noncredit, certificate and degree programs; choosing full- or part-time status; and scheduling day or evening classes. Assistance with the application form also is available and the $65 application fee will be waived during the week. Appointments are recommended but not necessary, and walk-ins are welcome.
To make an appointment, call the Admissions Office at 724-334-LION or 888-968-PAWS.
AOJ program
One of the featured events of the week is the administration of justice open house. Participants can learn about the potential of the degree as guest speakers discuss the flexibility of the AOJ bachelor's degree, the technological aspects of the security and risk analysis minor, and hands-on internships in local communities.
Faculty in the AOJ program will talk about various aspects of the criminal justice field, the current job market, and recent research. An optional campus tour will be provided prior to the program.
AOJ focuses on the interrelated components of the criminal justice system — public and private sector enforcement and investigation, legal systems, correctional treatment, and community services. Through a combination of formal classroom instruction, practical training in laboratory courses, individual study, and field experience, students can be prepared to pursue an array of career opportunities in federal, state and local law enforcement and correction agencies, court-related services, probation and parole services, and private-sector security.
For more information, visit the AOJ program online.
To register for the open house, call 724-334-LION or 888-968-PAWS, or visit the AOJ Open House online.
Financial Aid 101 workshop
Seminar participants can learn how financial aid awards are determined and the types of student aid that are available. The challenge of filling out the Free Application for Federal Student Aid (FAFSA) can become less daunting.
Parents and students can get an in-depth look at the FAFSA and receive an explanation of the logic behind the questions. Instructors will provide tips on how to complete the form from a home computer.
FAFSA is the first step in the financial aid process. Families need it to apply for federal student financial aid, such as Pell Grants, student loans and college work-study. Most states and schools use FAFSA information to award their financial aid. Penn State recommends that the FAFSA be completed by Feb. 15 for fall enrollment.
To register for the workshop, visit Financial Aid 101 online.
Variety of military students on campus
Last year, the New Kensington campus was designated a Military Friendly School, an honor conferred upon the higher-education institutions exhibiting leading practices in recruiting and supporting post-military students. Veterans at New Kensington easily integrate into the campus community and hold prominent positions in student organizations. Most of the campus' military students have fulfilled their service obligations, but some are still on active duty.
Aaron Holness, a senior airman in the Air Force Reserves, and Jack DelloStritto, a sergeant in the Army National Guard, are working toward their respective degrees at the campus. Both decided to attend college to pursue future careers, and both settled at the New Kensington campus because of the quality of the programs and faculty.
"I chose to go to college while remaining in the military to better my understanding of the world, to receive a quality education, and become a positive role model for future generations," said Holness, a senior communications major at the campus and a logistics planner in the Air Force. "I greatly appreciate the dedication that the professors have to delivering a quality education to their students."
"I wanted to further my education to get a job that I would enjoy," said DelloStritto, a second-year student in the biomedical engineering technology (BET) program and a mechanic in the Army. "I have always been great with my hands, and the biomedical engineering technology field seemed to fit my wants perfectly. I love the BET program, especially my professors, who obviously love what they do, and do their best to ensure that we fully understand the materials."
A two-year associate degree program, BET is known for producing well-qualified and knowledgeable technicians. Health care providers, including hospitals and clinics, rely on biomedical engineering technicians to operate, maintain, troubleshoot, and repair medical equipment. Technicians' tasks include inspections and calibration. The campus' program is one of only four programs in the nation to be accredited by the Technology Accreditation Commission for the Accreditation Board for Engineering and Technology.
"It's a prestigious accreditation and another reason I chose Penn State New Kensington," DelloStritto said.
The Monroeville resident graduates in 2017 and plans to begin his second career at a health facility in the Pittsburgh region. Holness earns his degree in December and intends to stay in the military and apply for officer training.
"I don't want to make a lifelong career out of the military, but I want to learn as much as I possibly can while I'm serving," said Holness, whose mother served in the Army Reserves. "Overall, I believe I made the right choice about coming to Penn State New Kensington, and I know that my experience in the military will give me opportunities that I never thought possible."
Campus resources for veterans
New Kensington provides additional support to suit the needs of veterans. The main resource is the Veterans Services office. Diana Hill, veteran certifying official at the campus, helps veterans with the requirements of benefit programs.
Another support feature is the Adult Learner Resource Center and Lounge. It gives veterans and adult learners their own space on the campus. The lounge includes a small library of resource books, coffee maker, refrigerator, microwave, a computer and printer, white board, table and chairs for small group study, and comfortable chairs for relaxation. Hours are 8 a.m. to 11 p.m., seven days a week.
Veterans and adult learners comprise approximately 28 percent of the student population at the campus. New Kensington strives to support military veterans in reaching their academic goals while maintaining a healthy life balance. For more on Veterans Services, contact Hill at 724-334-6047 or [email protected].
For more on the campus' educational benefits for veterans, visit Veteran Students online.
Contact
Bill Woodard
Alumni and Public Relations Specialist