Ashley Traini feels 'at home' on campus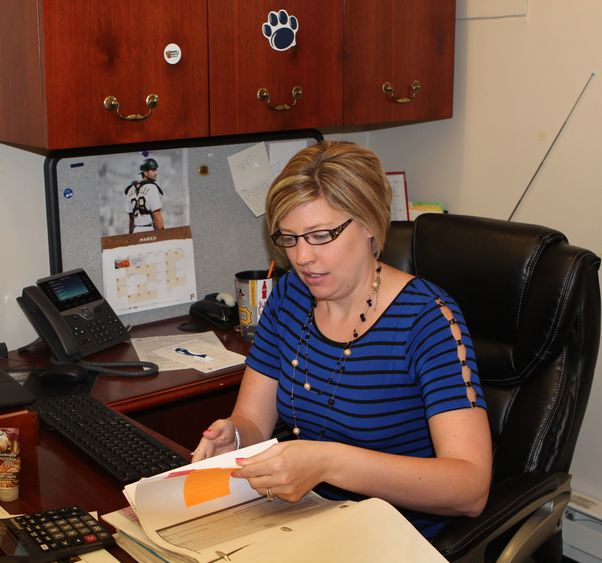 NEW KENSINGTON, Pa. — Ashley Mazur Traini, a Penn State New Kensington alumna, is the new financial aid coordinator at the campus. Traini joined the campus community on March 20.
As a part of the Enrollment Management department, the financial aid office oversees four types of student aid — grants, scholarships, loans and work-study. Traini's duties include working with prospective students and parents on completing the Free Application for Federal Student Aid (FAFSA) form, the first step in applying for student aid.
"I help students and parents with financial matters," Traini said. "I provide information on FAFSA and administer the campus scholarship program."
The campus offers a variety of financial aid programs throughout the year. Traini will head the workshops that delve into the financial aid process, such as filling out the FAFSA form. April is Financial Aid Month and every Wednesday is Financial Aid Wednesday. Geared to accepted students, the events run from 9 a.m. to 3 p.m. on April 5, 12, 19 and 26. Traini will be available to discuss the economics behind students' decisions to attend the New Kensington campus and review financial aid packages and answer questions.
"I am very excited about this new adventure, and I hope to bring a lot of my past business experience and knowledge to this position," Traini said. "Helping students and their families is going to be very rewarding to me."
Another of Traini's responsibilities is supervising the campus' ASPIRE (A Scholarship Program Inspiring Responsible Economics) program. ASPIRE teaches students about managing finances, spending responsibly, and borrowing wisely. The goal is to help students save money while attending college and to graduate with less debt. Undergraduates who complete the program and earn a degree from the campus are awarded $1,000 for a bachelor's degree or $500 for an associate degree. The scholarship helps pay down debt after graduation.
Prior to returning to campus, Traini worked for 11 years at Allegheny Technologies Inc. in Brackenridge, Pennsylvania. As the supply chain planner, she was responsible for managing inventory, providing lead times, and ordering applications.
Traini earned a bachelor's degree in business administration in 2005. During her four years on campus, she was involved in numerous extracurricular activities, including orientation leader, member of the stage band, and outfielder on the softball team. Her three years with the softball team featured two state titles, in 2003 and 2004.
After graduation, the Lower Burrell native remained connected to the campus as a director on the board of the Penn State New Kensington Alumni Society for the past nine years. She served as treasurer for four years and recently completed a two-year term as vice president.
In addition to education, alumni activities and career, the campus served as a conduit for her marriage. Ashley met Dewey Traini on campus and they were married in 2007. Dewey, who received a bachelor's degree in electro-mechanical engineering technology from the campus in 2006, played on the campus baseball team and also was a part of the Orientation Leaders program. The couple resides in Plum Borough.
For more information, contact Financial Aid at 724-334-6066 or email Ashley Traini.