Brad Klauss one of seven scholarship awardees from organization in 2018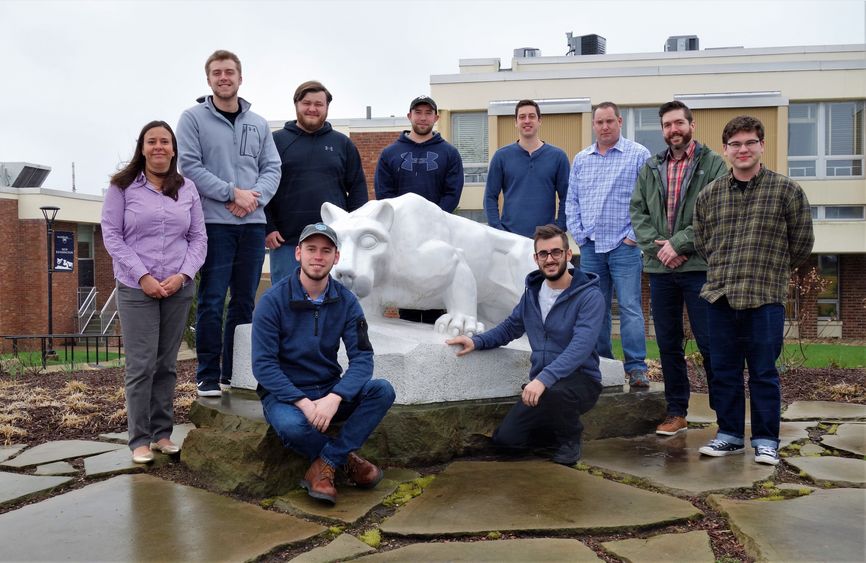 NEW KENSINGTON, Pa. — After working in appliance and equipment repair for about eight years, Brad Klauss learned about the biomedical engineering technology (BET) degree program at Penn State New Kensington. Now, almost two years later, Klauss is completing a full-time internship at UPMC Presbyterian hospital in Pittsburgh leading up to his anticipated August 2018 graduation. He also has been named one of just seven recipients of a national scholarship from the Association for the Advancement of Medical Instrumentation (AAMI) Foundation.
"I heard about the field while doing work for a cardiac rehabilitation clinic in West Virginia," said Klauss. "After looking into it further, I realized it just suits everything I was looking for. I chose Penn State New Kensington specifically because it is the only accredited program in the area, and therefore, the best place to get an education in the field."
Biomedical engineering technologists graduating from the New Kensington campus are trained professionals who operate, maintain, troubleshoot and repair medical equipment to ensure proper functionality and patient safety. The campus's associate degree program is one of only a few programs of its kind in the United States to be accredited by the Engineering Technology Accreditation Commission of the Accreditation Board for Engineering and Technology (ABET).
"Graduates of our program often work in clinical engineering in hospitals, but some also go on to work for medical device companies or continue their education," said Joie Marhefka, assistant teaching professor and program coordinator of BET at the campus.
The hands-on learning in and out of the classroom has been Klauss' favorite part of the program.
"While I knew this was the field I wanted to go into, the variety of experiences I've been presented with, along with the guidance of my advisors and teachers, have really helped me set personal goals and shape the path I want to take within my future career," shared Klauss.
Marhefka has been impressed with Klauss' ambition during his time in the program.
"I'm proud of him for sure," said Marhefka. "He put a lot of work into the application, but also getting into the position to deserve something like that. He's been an excellent student since he started, but I think he has really taken an initiative to look for opportunities this year. He has spent a lot of time volunteering and shadowing at West Penn Hospital, which is not required for the program, so he has taken a lot of initiative to learn more."
The AAMI scholarship has made it possible for Klauss to focus solely on his summer internship.
"I hope to work with a wide array of equipment in order to prepare myself for my future career," said Klauss. "I chose UPMC Presbyterian specifically because it has a reputation of being the best training hospital in Pittsburgh and should provide a lot of opportunities and experience."
Marhefka noted that New Kensington's BET program has had a near 100 percent job-placement rate for program graduates over the last several years because of its reputation and students. After his internship, this is one of the goals Klauss hopes to achieve upon commencement in just a few months.
"I'm hoping to get an immediate job at a hospital, ideally with a focus on neonatal intensive care unit (NICU) equipment," said Klauss. "My long-term goal is to study information technology and work on the IT side of medical equipment integration."
To learn more about Penn State New Kensington's BET program, visit https://newkensington.psu.edu/2-year-biomedical-engineering-technology.