Dalynn Park named Frederick J. Berger Award recipient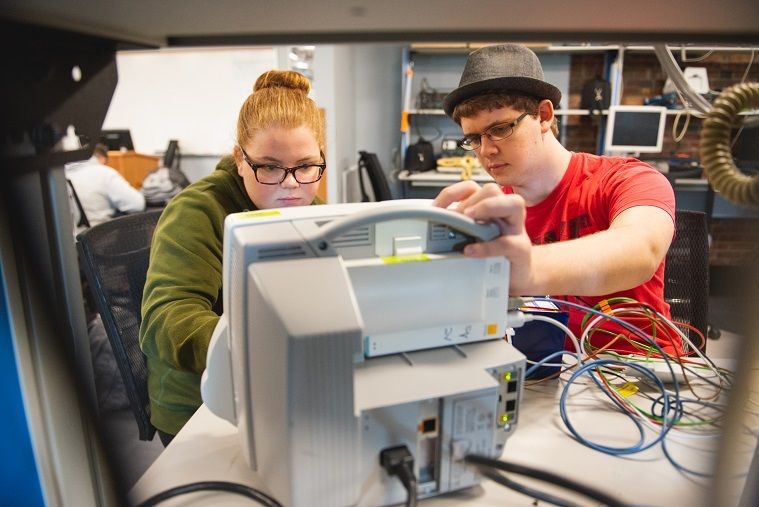 NEW KENSINGTON, Pa. – A scholarship is bringing one Penn State New Kensington student's dream closer to reality.
Dalynn Park, a second-year, dual-major student at Penn State New Kensington, has been named the recipient of the Frederick J. Berger Award. The award, which is presented by Tau Alpha Pi, the national honor society of engineering, and includes a $500 scholarship, is given to students who have shown leadership qualities and have made significant contributions to engineering education within their respective accredited institution. It was founded and named after Frederick Berger, who endowed the award at Penn State, in 1990.
"The goal is to become a pediatric prosthetist practitioner," said Park, whose late uncle served as her biggest inspiration in pursuing a career in health care and prosthetics. "I want to fit prostheses and help with rehabilitation."
Park is currently finishing her second and last year in the biomedical engineering technology (BET) associate degree program offered exclusively within Penn State at the New Kensington campus, while also pursuing a bachelor's degree in biobehavioral health (BBH) at the campus.
Joie Marhefka, program coordinator and assistant teaching professor of the BET program, reinforced Park's dedication to health care in and out of the classroom.
"Dalynn is an excellent student, but it goes beyond that," said Marhefka, who, in addition to teaching Park, works alongside her as part of an ongoing project to redesign the introductory class for the BET major.
In a field that is as hands-on as BET, Park noted that there are few things more valuable than faculty and staff, like Marhefka, who are always within a student's reach offering help and guidance.
"The faculty at Penn State New Kensington has my best interest at heart and have always tried to get me to where I want to go," Park noted. "It's just nice to be recognized by your professors and to have a sit-down conversation with the chancellor and for him to know who I am and what my plan is."
Marhefka continued, "[Park] is very focused on her career goals, and I've really enjoyed working with her. In addition to her dedication to her studies, she is enthusiastic about the campus and the school as well."
The campus' BET program prepares students to maintain, troubleshoot and repair medical equipment. The program is one of only seven Accreditation Board for Engineering (ABET) accredited biomedical engineering technology programs in the United States, but what makes it truly special, according to Marhefka, is the relationship the program has to the hospitals in the surrounding Pittsburgh region. Graduates of the program have seen a 100% job placement success rate over the last few years, something Marhefka credits to the knowledge and job preparation students receive in the program.
"I get calls every week from people looking to hire our graduates," Marhefka noted. "Our students get a lot of one-on-one attention from faculty and the opportunity to work hands-on with real medical equipment - the kind you'd see on the job."
Although Park will graduate from the BET program this year, she plans to continue working toward more academic and professional goals. She has secured a summer internship at UPMC Children's Hospital of Pittsburgh where she will work with the biomedical engineering team and receive direct work experience in the field.
"The most impactful thing that anyone has ever told me about BET is that the doctors are the heroes, but that we are the heroes behind the heroes because no doctor can work without equipment," concluded Park.
Anthony Palyszeski, a communications student at Penn State New Kensington, contributed to this story.