Sustainability Institute's Green Paws program features four levels of certification that signify higher and higher levels of efficiency, health and environmental sustainability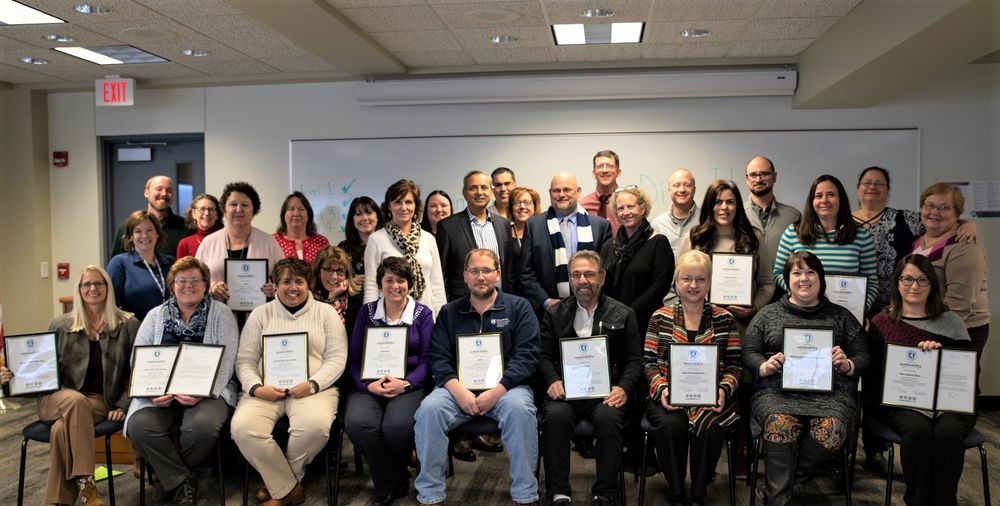 NEW KENSINGTON, Pa. — Penn State New Kensington faculty and staff celebrated a campus and University milestone last week that has been in the making for four years. The campus is the first in the Penn State system to boast full completion of all four levels of the Penn State Sustainability Institute's Green Paws Program.
"I appreciate the efforts that everyone has made," said Kevin Snider, chancellor at Penn State New Kensington. "It's been a long, sustained effort, and every year, we've made progress toward a really important goal of becoming more efficient [and] more aware of our environment, our climate and our world in ways that make a difference."
The Green Paws program helps members of the University learn how to use resources to promote greater resource efficiency, improved health and environmental sustainability. Each of the four levels of the program features numerous action items requiring increasing levels of learning and personal commitment. To earn certifications at each level, at least 75 percent of all employees in a unit must complete the action items. The Green Paws program typically is implemented by an individual department or unit's Green Team, which meets periodically to discuss efforts and strategies for creating a healthier and sustainable workplace.
"Sustainability for Penn State is about people."
— Paul Shrivastava, chief sustainability officer at Penn State
While many Penn State campuses have teams working on the Green Paws programs, New Kensington's efforts are unique in that the entire campus committed to completing all four levels of Green Paws. When praising New Kensington's success at the celebration, Paul Shrivastava, Penn State's chief sustainability officer, director of the Sustainability Institute, and professor of management in the Smeal College of Business, noted the uniqueness of its accomplishment.
"I'm thankful for what all of you are doing," Shrivastava told attendees. "Not only have you all finished the Green Paws Program, but the participation rate [had] almost everyone on the campus being involved."
The New Kensington campus' deeper participation in sustainability efforts began about four years ago when the Sustainability Institute awarded the campus a Reinvention Fund grant to support educational activities and develop a composting program.
Ruth Herstek, assistant coordinator for academic and student success, led the project that resulted in new composting and recycling stations throughout campus, along with hydration stations that encourage using refillable water bottles and containers. She continued her leadership role with sustainability efforts on campus by leading implementation of the Green Paws program. 
"I can't believe it's been four years, and we're done!" said Herstek at the celebration.
During the ceremony, Shrivastava noted that promoting sustainability is not just about helping campuses.
"Sustainability for Penn State is about people, and in order to create a sustainable world, we need people to be in balance with their environment," he said. "It's about why we do this. We want to do this because we want a better world for our children and our grandchildren."
To echo Shrivastava's comments, Snider added that the campus has already begun work on spreading sustainability education into the local community.
"The next step for us is to start to extend the concepts of sustainability into New Kensington," explained Snider. "We've already started with being awarded a sustainability grant from the West Penn Power Sustainable Energy Fund. Now we're stepping out in the community to teach them how they can be more efficient in their businesses and their homes, all while helping the planet."
The West Penn Power Sustainable Energy Fund awarded Penn State New Kensington $75,000 to aid in incorporating sustainability and best practices to the campus-led Corridor of Innovation and revitalization efforts in the city of New Kensington. The first activity made possible by the grant was the reNew Kensington Community Workshop held on Sept. 27. It also served as the starting point for a community-driven planning process related to how sustainability can be implemented in the city.
Shrivastava reminded everyone that sustainability is multifaceted and that Penn State has adopted as its approach to the issue the 17 United Nations Sustainable Development Goals, which expand the definition of sustainability beyond just the environment to focus on human well-being and economic development.
"If you go down the goals, they're about creating jobs, cities in which people can live, communities that are healthy, gender equality, and economic equality," said Shrivastava.
To end the celebration, captains of each Green Paws team were given framed certificates of completion for Level 4 of the program, along with letters of appreciation from Penn State President Eric Barron. A photo gallery from the celebration can be viewed on the campus Facebook page.