Bystander intervention program promotes responsibility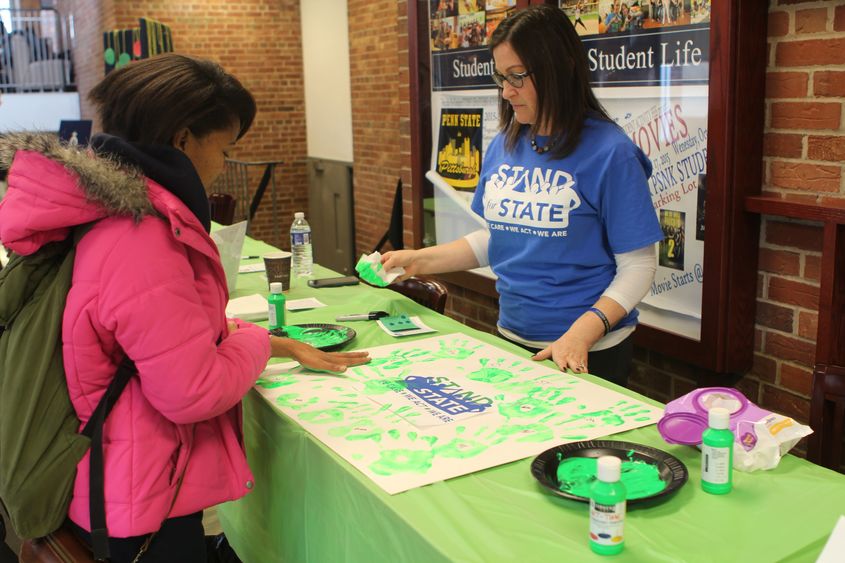 UPPER BURRELL, Pa. — Green is the new blue and white at Penn State New Kensington. Green as in Green Dot and Stand for State, an innovative Penn State program that empowers Penn Staters to stand up for one another.
Stand for State is a University-wide initiative that promotes bystander intervention and its place in preventing sexual and relationship violence. Bystander intervention is based on the fact that people make decisions and continue behaviors based on the reactions they receive from others. The program promotes a sense of responsibility, which gives the bystander motivation to step in and take action.
The culmination of two years of planning, Stand for State uses a bystander intervention curriculum created by Green Dot, a national leader in violence prevention education. Green Dot is built on the premise that in order to reduce harm in a community, a cultural shift is necessary -- that each person can play a role in creating a safe environment. A critical mass of people need to engage in new behaviors that will make violence and harm, called red dots, less likely in local communities. Red dots represent a moment when words, choices, or behaviors contribute to sexual assault, dating and domestic violence, stalking, bullying or abuse. The new behaviors are called green dots. A green dot is pulling a friend out of a high-risk situation, checking on a colleague who you are worried about, or telling someone to back off. Simply put, a green dot is an individual choice at any given moment to make the community safe. The key tactics for intervening and removing someone from harm's way are Green Dot's Three D's: direct, delegate and distract.
"Stand for State is a program for students, encouraging them to be positive bystanders," said Lauren Blum, assistant to the director of student affairs and coordinator of the campus' Stand for State program. "They will be given the resources to change the culture around dating and domestic violence, stalking and sexual abuse."
The New Kensington campus kicked off the movement Jan. 25 with a weeklong awareness campaign. Give-a-ways, games, Creamery ice cream, information booths and information sessions were a part of the festivities for making bystander intervention a part of Penn State's culture. In addition, students, faculty and staff had the opportunity to show support for the cause by signing a poster with a green handprint and making green buttons.
"We will be looking for faculty and staff to get involved and support the program by encouraging their students to be active in the program," Blum said.
Seven staff and administrators from the New Kensington campus joined 200 of their counterparts from across the University for Green Dot's bystander intervention training, where they learned techniques to combat sexual misconduct. The workshops focused on providing participants with the skills to recognize potentially problematic situations, step in and diffuse the situations when appropriate, and seek help when needed.
The campus trainers are: Wesley Sheets, public safety manager; Paula Dove; administrative support assistant for student affairs; Susan Dale, administrative support assistant for academic affairs; Tracy Gustafson, administrative support assistant for athletics; Sarah Conte, assistant coordinator of academic and career services; Theresa Bonk. director of student affairs; and Blum. The trainers will implement bystander intervention workshops for student leaders.
There are two upcoming training dates for students -- noon to 3 p.m. Friday, Feb. 26, and 6 to 9 p.m. Tuesday, March 22. To RSVP or for more information, contact Lauren Blum at 724-334-6063 or [email protected]

While the Bystander Intervention is initially focused on sexual and relationship violence, it will be expanded to include bystander intervention for mental health-related issues, bias-related incidents, and risky drinking and drug use.
Stand for State is part of a Penn State's effort to combat sexual assaults. In February, President Eric Barron endorsed recommendations, including creation of a bystander intervention program, presented to him by a University task force.
"Stand for State is an integral part of our strategy to fight sexual violence and establish Penn State as a leader in making campuses safer," Barron said. "It's encouraging that so many have taken time to attend sessions and be trained, and I commend them for being part of the solution. For Penn Staters looking to take a stand and make a difference, this initiative is an emphatic first step."
For more information on the University campaign, follow #StandforState on social media or email [email protected].
Contact
Bill Woodard
Alumni and Public Relations Specialist