Tickets available for New Kensington event benefiting cultural arts and programming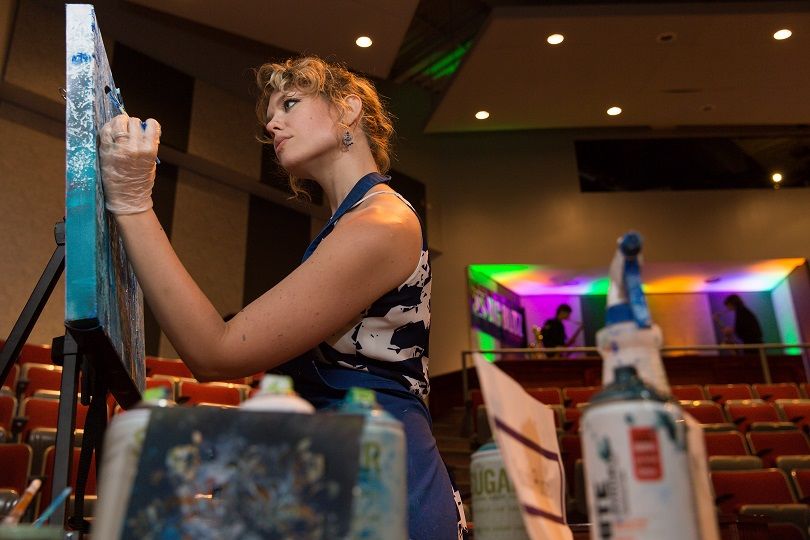 NEW KENSINGTON, Pa. — Art will intersect with technology, sustainability and community revitalization at Penn State New Kensington on June 14. Building on the success of its first two years, the annual Off the Wall pARTy at Penn State New Kensington promises an evening of unique, interactive activities bridging art and innovation, as well as highlighting local, regional and national artists in new and exciting ways. The event benefits cultural arts and programming at the campus.
"We are very excited about the pARTy this year because we are going to be showcasing industrial and upcycled art, which is a very new genre of art for us to feature," said Kary Milan, director of development and alumni relations.
The 2019 theme also coincides with the campus' ongoing work and focus on innovation and community revitalization, as well as Penn State's core values.
Milan explained, "We are assisting with revitalization and sustainability efforts in New Kensington, as well as embarking on the fourth industrial revolution, which involves a lot of education and outreach about what that means for citizens, students, businesses and organizations in small Rust Belt areas."
"One of the elements of the digital age is virtual reality and technology, so our featured artist's work aligns well with our vision," she continued. "We are also committed to working with local artists who live in our region's communities, as well as focus on sustainability. Community is one of our University's values, and this event and our campus' work shows our continued dedication and responsibility to our Alle-Kiski Valley and surrounding region."
The campus plays host to a special VIP Experience to kick-off the evening featuring artist Rodney Allen Trice, professor of practice in graphic design at the Stuckeman School in Penn State's College of Arts and Architecture.
"He's not only a Penn State alumnus, he is a well-known and accomplished artist in the New York City circuit, and we are thrilled that he is coming to our campus to showcase his industrial art, as well as some of his interactive virtual reality art," said Milan.
Trice, who recently won the Penn State Teaching and Learning with Technology Open Innovation Challenge, will bring some of his industrial art, as well as a provide guests with a one-of-a-kind art experience through a virtual reality look at a subway system.
The Vida Loves Donnie performance duo will provide live music during the VIP portion of the pARTy, which also promises delectable tapas and spirits, from 6 to 7:15 p.m. in the Forum Theatre.
The pARTy, which spans throughout various locations in the campus Administration Building, officially begins at 7 p.m. and includes nonstop activities until the event concludes.
"We like to create events where our audience is engaged and where they also get to experience art and be artists themselves," said Milan.
Guests will be able to create at least one piece of their own artwork with mosaic artist Stevo Sadvary, who will assist with custom glass mosaic coasters, and the Pittsburgh Center for Creative Reuse, which will provide reclaimed material projects at its "Reuse-A-Palooza" station.
Another new, prominent aspect of the pARTy is the opening of seven distinct pop-up galleries by local and regional artists all featuring different styles of repurposed and interesting art.
Artists who will be exhibiting include Sadvary, along with Michael Bestwick, an artist creating sculptural and functional items with repurposed materials; Dan Burfield, founder of Tilt Cycle, who creates art from broken and discarded pinball machines; Sal Greco, founder of SALvaged Artworks using reclaimed wood; Ryder Henry, a painter and sculptor working mainly with found cardboard; Bill Miller, a collage artist using vintage linoleum flooring; and Corey Pistininzi, owner of ModFinish in New Kensington and creator of furniture and décor from salvaged and reclaimed materials.
In addition, guests will experience Art Madness with speed painter George Williams, who will be creating and performing at three separate times to create a trio of paintings, two of which will be Pittsburgh-themed and one that will be related to Penn State, as music plays. The paintings will then be auctioned off during the live art auction.
Activities also include music by the band Belly Up, libation stations, a selfie station, and a silent auction.
In a short time, the pARTy has become a well-known facet to the regional summer arts events calendar and its impact is one much larger than the evening itself.
"Last year the pARTy supported student scholarships, and we were able to create a $102,000 scholarship fund from what was raised," said Milan. "This year, we are focused on our Penn State cultural arts, and proceeds raised will support and enhance our cultural arts and related programming at the campus."
For 2019 "Off the Wall pARTy" event and ticket information, visit newkensington.psu.edu/wall-party or call 724-334-6056.
Contact
Corinne Coulson
Manager of Strategic Communications and Marketing