Cooking, excavating and constructing provide cultural experiences at Native American territory in Arizona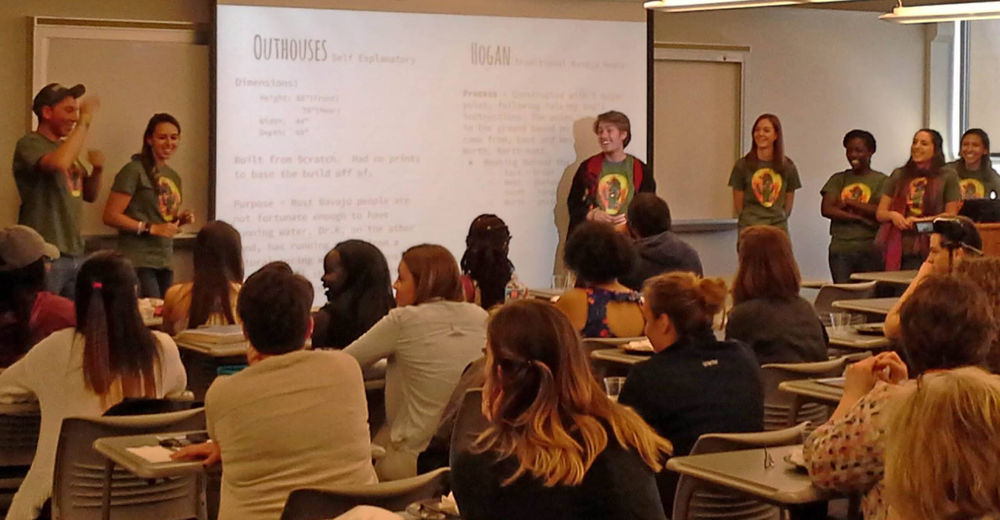 UPPER BURRELL, Pa. — It featured Penn State New Kensington student Trevor Guercio building an outhouse. No, it wasn't an episode of "Dirty Jobs" on the Discovery Channel. It was a spring break trip in Arizona.
Guercio, a sophomore engineering major, joined nine other campus students for a community service trip to Navajo Nation in northeastern Arizona to learn about the Navajo culture and history, while supporting underserved communities and contributing to environmental efforts. Outhouse development was on the list of activities that were scheduled for the week. When one of the program planners was looking for a crew supervisor for privy production on a local Navajo ranch, Guercio was chosen to "sweeten the pot" because of his experience with power tools.
"I went on this trip to get a different view of the world around us," said Guercio. "Now, building an outhouse might not sound fun to most people, but it was one of the best things I have ever done."
New Kensington students Bill Carney, Lynsie Headley, Shannon Josefoski, Wati Kumwenda, Jon McCabe, Brittany Miller, Vanessa Sacco, Ashley Worlds and Guercio, accompanied by staff members Lauren Blum, assistant to the director of student affairs, and Corinne Coulson, enrollment services specialist, made the journey March 4 to the Native American-governed territory. They performed a variety of functions at a ranch in Tuba City, which is located near the western edge of the 27,000-square-mile Navajo Nation.
The students helped with various construction projects, such as building a sweat lodge and taking part in a traditional Navajo experience. A sweat lodge is a hut made with natural materials that is used for purification ceremonies and prayer. Sacco, a sophomore business marketing major, was tasked with helping build the lodge and another dwelling. In addition, her culinary acumen was brought to the forefront as she assumed chef responsibilities.
"I cooked for the volunteers, and the meals included a lot of Navajo fry bread," said Sacco, a resident of O'Hara Township who attended Fox Chapel Area High School. "Additionally, I helped build a hogan and clean a sheep corral."
Fry bread is fried flat dough that can be eaten alone or made into tacos. It is a simple complement to meals. A hogan is the traditional dwelling of the Navajo people. Packed with earth, it is constructed in a variety of shapes with the door facing east to welcome the rising sun as an omen for good wealth and fortune.
The New Kensington students, along with fellow students from Penn State DuBois, participated in other Navajo ceremonies, including making alkaan, also known as Navajo cake. It takes teamwork to create the cake, which is made in a 3-foot-wide fire pit. Almost every act of Navajo life is ceremonial in nature, and each act is augmented by songs and prayers.
"The Navajo people have a beautiful way of living," Sacco said. "They are rich in their culture, which bonds them together to make an admirably loving community."
The nine-day goodwill journey also included sightseeing trips to the Grand Canyon and Dinosaur Tracts, a site in Tuba City where dinosaurs left their footprints more than 200 million years ago. Sacco's favorite excursion was an unplanned hike.
"I experienced the beauty of Arizona in a way that I will never forget," Sacco said. "There were more steep cliffs than I had anticipated, but the hike forced me to push myself as an individual."
The final project of the trip was a presentation March 30 to the campus community. The students showed photos and videos while talking about learning and working with the Navajo people. Both Guercio and Sacco, who serve as Lion Ambassadors and orientation leaders when on campus, recommend the trip for other campus students looking forward to expanding their collegiate experience.
"The trip will change you in so many different ways, and each of these changes is so good," Guercio said. "Navajo people are some of the nicest, kindest and caring people around."
"Viewing the way that other cultures live provided me with a new perspective on the importance of coexisting," Sacco said. "The trip changed me as a person. I will always appreciate the Navajo culture, and I plan to refer to its warmth in my time of need."
Using spring break to travel and help others is an annual rite for New Kensington students. Two years ago, Washington, D.C., was the destination, and Puerto Rico was the trendy hot spot last year.
Contact
Bill Woodard
Alumni and Public Relations Specialist