Upcoming events celebrate MLK, diversity, inclusion Jan. 27 - 31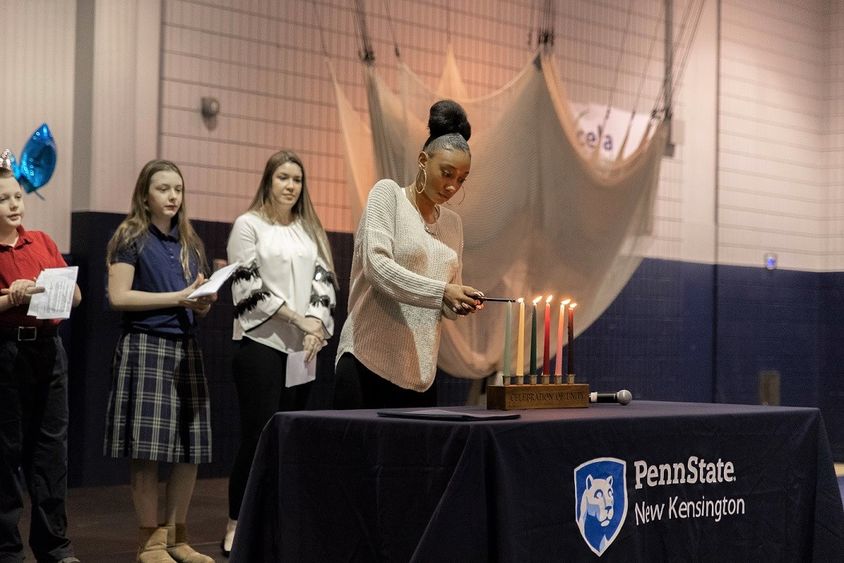 NEW KENSINGTON, Pa. — Penn State New Kensington will celebrate the work and legacy of Martin Luther King Jr. and promote diversity and inclusion through a series of events during the campus' Unity Week, to be held from Jan. 27 to Jan. 31.
The program series includes a variety of events open to the campus community and the public, with the highlight being the annual Celebration of Unity community dinner on Jan 28, co-sponsored by Penn State New Kensington and Hightower Scholars Inc. This year's dinner theme is "It's a New Day in Our Community," and will include the annual lighting of the unity candle. Winners of the annual elementary school student essay contest also will read their winning essays, and local middle school students will host a poster presentation on the topic of "Reimagining New Kensington and Lower Burrell" during the event.
Members of the public are invited to participate and attend the events below noted as "open to the public."
For more information, contact the Office of Student Affairs at 724-334-6062.
Monday, Jan. 27
Aman Batra, poet – open to the public
Hear Aman Batra, a nationally touring, Indian-American poet and writer, as she shares her poetry, which is related to her work as an educator, activist and intersectional feminist. A National Poetry Slam finalist and former member of the Hollywood Slam team, her work has been featured on All Def Poetry, Button Poetry, Vibe BeSe and the Huffington Post, as well as published in the Los Angeles Press, LA County Arts Commission and Fight Evil with Poetry Anthology.
12:15 p.m. in the Art Gallery
Tuesday, Jan. 28
Celebration of Unity dinner – open to the public; registration required
Co-sponsored by Hightower Scholars Inc.
Join the campus and members of the community for this annual dinner featuring speakers, annual elementary school essay contest winners' readings, middle school student poster presentations and lighting of the unity candle.
5 p.m. in the Athletic Center
Registration is required by emailing [email protected] or calling 724-334-6062.
Wednesday, Jan. 29
Volunteer and Human Rights Advocacy Fair – open to the public
Learn more about local nonprofit organizations and volunteer/internship opportunities.
11 a.m. – 2 p.m. in the Junction and Theatre lobbies
Thursday, Jan. 30
Stand for State Workshop: "Interrupting Acts of Bias and Discrimination"
Students, faculty and staff are invited to attend this workshop to learn how to be a bystander who can intervene against bias, hate and discrimination. Lunch will be provided.
12:05 to 1:05 p.m. – Art Gallery
Registration is required can be done via an online registration form or by stopping in the Student Affairs or Student Life offices.
Friday, Jan. 31
LGBTQ+ advocacy and information booth – open to the public
Representatives from the campus Office of Student Life will provide information and giveaways regarding gender and sexual identity diversity initiatives at the University. Students will also be able to register to attend a Study Ally Training workshop later in the spring semester.
11:45 a.m. – 1:15 p.m. – Junction Lobby