Communications major garners Penn State's highest student honor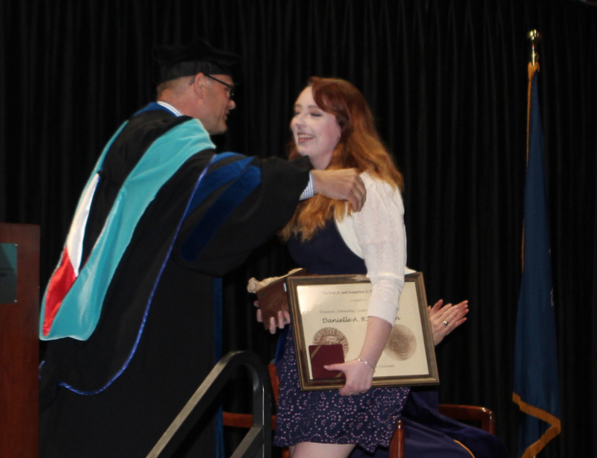 UPPER BURRELL, Pa. — Demonstrating excellence in the classroom, providing leadership on campus and displaying citizenship in the community are Penn State ideals. Danielle Richardson, a junior communications major, personifies these ideals.
Richardson was named the 2016 recipient of the Eric A. and Josephine S. Walker Award on April 29 at the Academic and Student Achievement Awards ceremony at Penn State New Kensington. The Walker Award is given to the student whose outstanding qualities of character, scholarship and leadership contribute to the prestige of the campus. The award was established in 1980 by Penn State President Eric Walker and is presented at each of Penn State's 24 campuses.
At the annual "Celebration of Excellence" ceremony, students, faculty and staff were honored for their achievements inside and outside the classroom. More than 100 students were recognized for their academic prowess and extracurricular accomplishments during the fall and spring semesters.
Three faculty members were honored with Excellence in Teaching Awards — LaVarr McBride, instructor in administration of justice (full time); Joshua Karelitz, instructor in psychology (part time); and Skip Laratonda, adjunct instructor in engineering (Continuing Education). Faculty have three areas of responsibility: teaching, research/scholarly activity and service. The award recognizes campus faculty contributions in teaching. The principle criterion is classroom performance, but excellence in other activities such as advising, supervision of learning outside the classroom, and course development are also considered.
Students received academic recognition for the highest grade-point averages in each major, as well as for earning memberships in honor societies and honors programs. Brittany Hydock received the President Sparks Award for earning a 4.0 GPA with at least 36 credits. Five first-year students — Dylan Clinton, Huating Lang, Kayly Lazaroff, Jiahui Lin and Thomas Sonnie — were recognized for earning 4.0 GPAs during the fall semester.
Student achievement honorees included: Trevor Guerico, Lion Ambassador of the Year; Tyler John, Emerging Leader; and Richardson, Penn State New Kensington Alumni Society's Penn State Spirit Award. In athletics, Louis Payne (men's basketball) was named Male Athlete of the Year, and Rachel Lojas (softball) was selected as Female Athlete of the Year.

Danielle Richardson
A member of the campus honors program, Richardson's academic prowess and leadership acumen provided solid credentials for a Walker Award. Richardson is vice president of the Lion Ambassadors, former vice president of the Student Government Association, student representative of the Student Activity Fee Committee, a New Student Orientation leader, and staff writer for the Nittany Pride, the student newspaper.
In addition, Richardson serves as an academic success coach. She is trained to assist students using academic resources and navigating the new class-scheduling tool, LionPATH. One nominator wrote, "Ms. Richardson's contributions to the work of the Penn State New Kensington Academic Success Center in the newly formed role of student academic success leader have been nothing short of invaluable."
When campus leaders are needed to serve as delegates on campus-wide teams, Richardson is the first name on the volunteer list. She designed a public relations campaign for the new "Common Schedule" at Penn State, helped a local community organization prepare training videos for displaced workers re-entering the workforce, and contributed to the Better Block initiative for the city of New Kensington.
The Kiski Area High School graduate presented two research projects at the campus' annual Research and Creative Exposition. She also helped plan Career Day, which is held in conjunction with the expo, and the Etiquette Dinner, which is designed for students as a workshop on proper business dinner etiquette and on best practices for networking and handling of awkward social situations.
"I am truly happy when I get to contribute to the well-being of the campus, the community, and to my fellow students," Richardson said. "To me, serving means more than just achieving personal and professional goals. To me, it is a way of life, and something that I will continue to do after I graduate."
For photos of the awards ceremony, visit http://psnk.smugmug.com/.

Contact
Bill Woodard
Alumni and Public Relations Specialist