'Celebration of Excellence' features academic, teaching and extracurricular achievements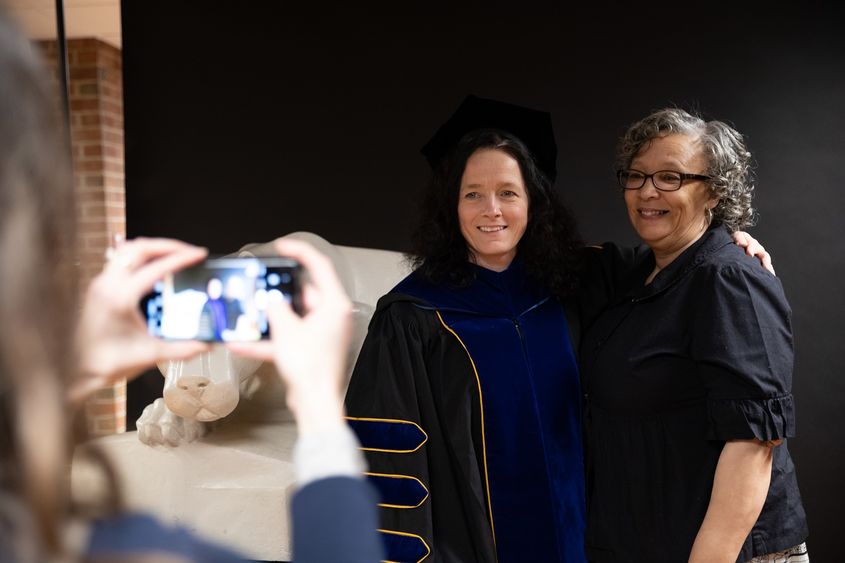 NEW KENSINGTON, Pa. — Academic, teaching and extracurricular honors were bestowed at the annual Penn State New Kensington Celebration of Excellence Awards on April 26. Approximately 50 awards were presented in the Forum Theatre, which was filled with campus faculty, staff, students and students' family members and friends.
Walker Award
The highest student honor presented, the Eric A. and Josephine S. Walker Award, was presented to Sedona Rogers, a sophomore electro-mechanical engineering technology (EMET) student.
When starting her college career at Penn State New Kensington, Rogers thought academics would be her sole focus, but quickly learned, with the reassurance of faculty and staff members, that participation in extra-curricular activities and opportunities could enrich her experience, as well as inspire herself and others and rekindle a goal of making service part of her life.
"I am a firm believer that everything happens for a reason, and there is something to be learned from every situation," said Rogers in her award personal statement. "This is why my experiences the past two years have impacted me so much."
A faculty member encouraged her to join the STEAM Outreach Club to work with youth in Alle-Kiski Valley area school districts where she has helped facilitate STEAM (science, technology, engineering, arts and math) activities, including an event that hosted more than 250 middle school-aged females.
"STEAM outreach is more than just teaching kids about tech opportunities; it is about being role models who can encourage them to realize obtainable goals that will impact their futures," said Rogers. "This entire experience has helped me grow personally as I have worked to inspire these kids to stay curious and dig deeper into their interests."
In addition to being a member of the outreach group, Rogers serves as a tutor in the campus Success Center and the campus-sponsored Homework Hotline serving local school districts. She also is communications chair of the Engineering and Innovation Club and a member of the Math Club, campus Honors Program. and Tau Alpha Pi national honor society for engineering technology. Rogers also mentors middle-school females in the campus-led COMETS (Courses on Math, Engineering, Technolgy and Science) Program, which aims to support the students as they develop impressions on their abilities in science, engineering, math and technology and discover related career pathways and fields that are traditionally male-dominated.
Multiple nominations for Rogers were submitted for this year's honor. One nominator wrote, "Sedona is a campus leader with integrity, hard-work and engagement as three key characteristics of distinction. She enhances the Penn State New Kensington campus through her involvements, her leadership and her work ethic."
"Sedona is gifted in recognizing and drawing out the talents of others and is able to bring the best from these students," stated another nominator. "It is rare to meet a college student who is so mature, organized and results-oriented."
As she continues her path in achieving her degree at the campus, Rogers will continue serving others.
"Penn State New Kensington has challenged me to realize that while my education is important and I am passionate about what I am studying, I am also passionate about so much more," said Rogers. "Having the chance to guide others through the same changes and struggles I have faced in college has helped me find even more success and fulfillment on my own journey. Being in a service role has added dimension to my education and drives my creativity. I don't know where I will eventually end up, but I do know that I will be committed to serving others."
The Walker Award is given to the student whose outstanding qualities of character, scholarship and leadership contribute to the prestige of the campus. The award was established in 1980 by Penn State President Eric A. Walker and is presented at each of Penn State's campuses.
Student Awards
Students receiving academic honors were recognized for having high grade-point averages in their respective majors or within the University, as well as participation in the campus honors programs. Eighteen students were celebrated for earning a 4.0 cumulative grade-point average.
Accolades for leadership and participation in athletics and campus activities were also highlighted. The Penn State New Kensington Alumni Society recognized senior Savannah Smith as this year's Penn State Spirit Award winner for exhibiting integrity and character while exuding Penn State pride. Ten students were celebrated for being campus "influencers" through out-of-class involvement.
A number of athletics awards were presented and included United States Athletic Association (USCAA) All-Academic and All-American honors and Penn State University Athletic Conference (PSUAC) Academic All-Conference and All-Conference honors. Andrew Perenic, men's soccer player, was chosen as the campus Male Athlete of the Year, and Kaylea Flick, women's volleyball, was named the campus Female Athlete of the Year. Wilson Rojas Jr. was presented the Robert Darby "The Darb" Sportsmanship Award, which was established in honor of Robert Darby, kinesiology instructor, athletic director and coach, who retired in 2006 after 38 years at the campus.
Teaching Awards
Two faculty members were honored with Excellence in Teaching Awards — Joseph Cuiffi, program coordinator and assistant teaching professor of EMET (full time), and Robyn Chotiner, adjunct lecturer of biobehavioral health (part time). Faculty have three areas of responsibility: teaching, research/scholarly activity and service. The principle criterion is classroom performance, but excellence in other activities such as advising, supervision of learning outside the classroom, and course development are also considered for the accolades.
A full photo gallery from the event can be viewed on the Penn State New Kensington Facebook page.
 "A Celebration of Excellence" 2019 Awards and Winners List
ACADEMIC AWARDS
ALTOONA COLLEGE (Baccalaureate Degree), History: Thomas Slancauskas
COLLEGE OF AGRICULTURAL SCIENCES (Baccalaureate Degree), Plant Sciences: Shelby Watt
SMEAL COLLEGE OF BUSINESS (Baccalaureate Degree), Finance: James Michel
COLLEGE OF ENGINEERING (Baccalaureate Degree), Engineering Science: Aaron Dominick; Electro-Mechanical Engineering Technology: Ian Flasik, Michael Ott , Sedona Rogers; Biomedical Engineering Technology (Associate Degree): Keith Meyers, Michael Signorella
COLLEGE OF HEALTH AND HUMAN DEVELOPMENT (Baccalaureate Degree): Kaylea Flick
COLLEGE OF NURSING (Baccalaureate Degree): Jalana Sigler, Cheyenne Swanger
THE JOSEPH A. AND MARY M. QUARATO NURSING PROGRAM AWARD: Leann Frederick, Arlene Graham
EBERLY COLLEGE OF SCIENCE (Baccalaureate Degree), Biology: Matthew Stanga
UNIVERSITY COLLEGE (Baccalaureate Degree) - Administration of Justice: Jacob Buck; Biobehavioral Health: Jesse Cenci, Carly Duncan, Marcella Moore; Business Administration: Brandon Weltz; Communications: Scott Sinclair; Information Sciences and Technology: Kyle Shellhammer, Logan Villella; Psychology: Caylyn Piovesan, Bria Schneiderlochner, Evan Yoder; Project & Supply Chain Management: Dylan Clinton, Tiffany Holzer; Radiological Sciences (Associate Degree): Tabitha Donaldson, Holly Pringle, Madison Sedilko
DIVISION OF UNDERGRADUATE STUDIES: Hannah Smith
HONORS PROGRAM - Four-Year Participants: Ashley Worlds; Three-Year Participants: Carly Duncan, Christopher Oberdorf, Sarah Peppler, Savannah Smith, Logan Villella; Two-Year Participants: Andrew Dauby, Aaron Dominick, Sedona Rogers, Alyssa Stewart, Jeffrey Will: One-Year Participants: Cameron Clark, Chloe Fellabaum, Kaylea Flick, Sienna McCoy, Kylie Meyer, Michael Ott, Dylan Rummel, Padma Sairam Reddy Tanuboddi, Jeffrey Thomas
THE EVAN PUGH SCHOLAR AWARD: Dylan Clinton, Tiffany Holzer, Michael Ott, Logan Villella
THE PRESIDENT'S FRESHMAN AWARD: Joshua Bowser, Matthew Coppolo, Kali Facemire, Chloe Fellabaum, Olivia Ferrante, Chelsea Harris, William Matthews, Nicholas Messina, Kylie Meyer, Thad Paunovich, Dylan Rummel, Colin Sames, Michael Signorella, Jeffrey Thomas, Maya Wirtz
THE PRESIDENT SPARKS AWARD: Aaron Dominick, Sedona Rogers, Thomas Slancauskas
EXCELLENCE IN TEACHING AWARDS
FULL-TIME FACULTY: Joseph Cuiffi
PART-TIME FACULTY: Robyn Chotiner
STUDENT ACHIEVEMENT AWARDS
ERIC A. AND JOSEPHINE S. WALKER AWARD: Sedona Rogers
TOP INFLUENCERS' AWARD: Aaron Dominick, Kathryn Durkin, Paulina Iniguez, Jessica Kurtz, Lauren Lizik, Nicholas Nicassio, Sedona Rogers, Scott Sinclair, Savannah Smith, Ashley Worlds
PENN STATE NEW KENSINGTON ALUMNI SOCIETY - PENN STATE SPIRIT AWARD: Savannah Smith
PERFORMING ARTS AWARDS: Best Performer: Hailey Dikun; Best Technician: Nicholas Hill
LITERARY AWARD: Scott Sinclair
LION AMBASSADOR OF THE YEAR AWARD: Thomas Slancauskas
EMERGING LEADER: Mitchel Ray
STUDENT GOVERNMENT ASSOCIATION AWARDS: Savannah Smith, President; Jessica Kurtz, Vice President; Shelby Watt, Secretary; Samual Carlson, Treasurer; Kathryn Durkin, Upperclassmen Faculty Senate Representative; Jesse Gover, Underclassmen Faculty Senate Representative; Jonathan Schofield, THON Chair; Lauren Lizik, THON Co-Chair
ATHLETIC ACADEMIC AWARDS
USCAA NATIONAL ALL-ACADEMIC TEAM - COED GOLF: John Raggiunti, Nicholas Roth; WOMEN'S VOLLEYBALL: Kaylea Flick, Lindsey Hessom, Cora Rejniak, Janet Surma; BASEBALL (SPRING 2018): Joel George, Marc Russo, Jacob Stackiewicz
PSUAC ACADEMIC ALL-CONFERENCE - COED GOLF: Eric Green, Adam Johnson, Kennington Knapp, John Raggiunti, Michael Raggiunti, Mitchel Ray, Nicholas Roth; MEN'S SOCCER: Nathan Andrews, Braden Braun, Eric Carpinello, Tyler Elliott, Nolan Johngarlo, Mitchell Kuczynski, Joshua Longwell, Benjamin Midlik, Nicholas Nicassio, Dylan Oditt, Andrew Perenic, Matthew Stanga, Christopher Zolet; WOMEN'S VOLLEYBALL: Kaylea Flick, Lindsey Hessom, Brittany Kotvas, Cora Rejniak, Janet Surma, Erin Tumas; MEN'S BASKETBALL (SPRING 2018): Ian Swartz; SOFTBALL  (SPRING 2018): Gina Batiz, Amanda Dynoske, Erika Finn, Kaylea Flick, Brittany Kotvas, Stephanie Schrecengost, Alyssa Slancauskas, Rebecca Wilhelm, Morgan Williams, Brittney Wolford; BASEBALL (SPRING 2018): Michael Dauer, Joel George, Tyler Kline, Justin Lindeman, Noah Oddis, Marc Russo, Jacob Stackiewicz, Dylan Wiley
ATHLETIC PERFORMANCE AWARDS
USCAA ALL AMERICAN: Andrew Perenic, Men's Soccer–Second Team; Kaylea Flick, Women's Volleyball–Second Team; Jacob Stackiewicz, Baseball (Spring 2018)–Second Team
PSUAC ALL CONFERENCE: Men's Soccer – Second Team: Braden Braun, Andrew Perenic, Christopher Zolet; Men's Soccer – Honorable Mention: Nolan Johngarlo, Zachary Rusek; Women's Volleyball – Honorable Mention: Kaylea Flick; Men's Basketball – Honorable Mention: Jakob Richardson; Baseball – Honorable Mention (Spring 2018): Jacob Stackiewicz
USCAA PLAYER OF THE WEEK: Christopher Zolet, Men's Soccer Goalie of the Week October 2 & 16, 2018; Andrew Perenic, Men's Soccer, October 16, 2018; Jamison Nee, Men's Basketball, December 18, 2018
PSUAC PLAYER OF THE WEEK – Fall 2018 - MEN'S SOCCER: Braden Braun, September 18, 2018; Christopher Zolet (Goalie of the Week), October 2 & 16, 2018; Nolan Johngarlo, October 2, 2018; Andrew Perenic, October 16, 2018; WOMEN'S VOLLEYBALL: Kaylea Flick, October 2, 2018; MEN'S BASKETBALL: Jakob Richardson, December 11, 2018 – Spring 2019 - WOMEN'S SOFTBALL: Abigail Michelucci (Pitcher of the Week), April 2, 2019
JOHN FRITZ SPORTSMANSHIP AWARD: Lindsey Hessom, Nicholas Nicassio, Wilson Rojas Jr., Nicholas Roth, Joshua Stuckley, Calle Zmenkowski
STUDENT ATHLETES OF THE YEAR: Male Athlete of the Year: Andrew Perenic; Female Athlete of the Year: Kaylea Flick
ROBERT DARBY "THE DARB" SPORTSMANSHIP AWARD: Wilson Rojas Jr.