'Celebration of Excellence' features academic, teaching and extracurricular achievements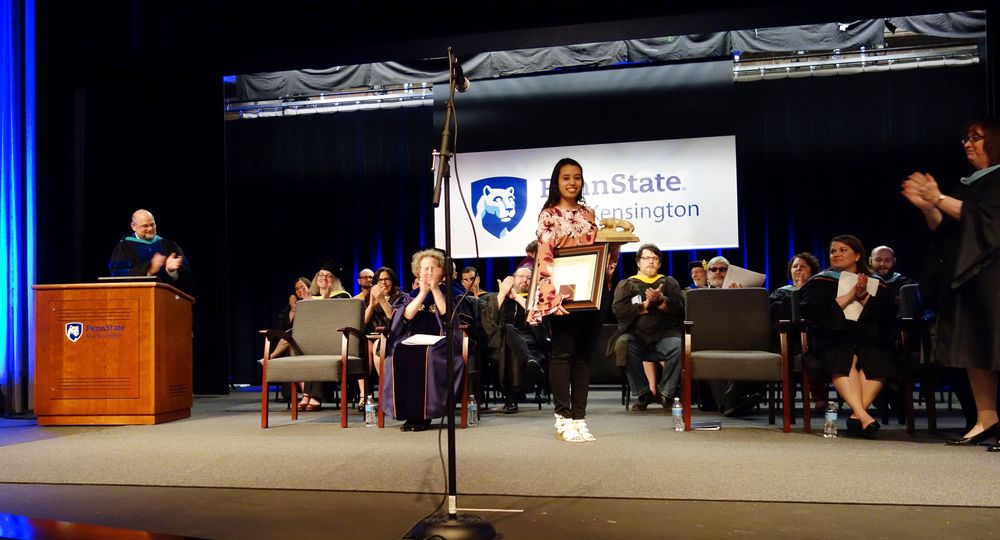 NEW KENSINGTON, Pa. — More than 40 academic and student achievement awards were presented to students on April 27 in a packed Forum Theatre at Penn State New Kensington. The awards included the highest student honor, the Eric A. and Josephine S. Walker Award, as well as the winners of the first-ever New Kensington Idea Challenge.
Paulina Iniguez, junior corporate communications major from Murrysville, Pennsylvania, was named the 2018 Walker Award winner. Iniguez, whose leadership and involvement at the campus spans through organizations such as THON, Lion Ambassadors, Orientation Leaders, Psychology Club and Spanish Club, exemplified excellence in the classroom, leadership on campus and citizenship in the community.
The Walker Award is given to the student whose outstanding qualities of character, scholarship and leadership contribute to the prestige of the campus. The award was established in 1980 by Penn State President Eric A. Walker and is presented at each of Penn State's campuses.
Along with Iniguez, students, faculty and staff were honored for their achievements at the annual "Celebration of Excellence" ceremony. Awards recognized those who showed academic commitment, leadership accomplishments, athletic success on and off the field and excellence in teaching.
Two faculty members were honored with Excellence in Teaching Awards — Melba Amador, lecturer in Spanish (full time), and Gregory DePalma, Adjunct Lecturer in Mathematics (part time). Faculty have three areas of responsibility: teaching, research/scholarly activity and service. The principle criterion is classroom performance, but excellence in other activities such as advising, supervision of learning outside the classroom and course development are also considered.
Four students and one faculty member were chosen as the first five winners of the inaugural "Idea Challenge." During the spring semester, students, faculty and staff were asked to submit their innovative ideas for a chance to win a cash prize, mentoring and spots to attend a four-week Idea TestLab during the summer in hopes of refining and pitching their ideas to make them a reality. The 2018 Idea Challenge winners are Brandon Fello, Rujirutana Mandhachitara, Jonathan McCabe, Sarah Peppler and Matthew Stanga.
The initiative is part of the campus' ongoing efforts reaching into the entrepreneurial realm, which includes the opening of its entrepreneurial center, The Corner, in New Kensington. The Corner is one of 21 University innovation hubs across the commonwealth through Invent Penn State.
Students receiving academic honors were recognized for having high grade-point averages in their respective majors or within the University, as well as participation in the campus honors programs. Twenty students were celebrated for earning a 4.0 cumulative grade-point average at the end of the fall semester.
Accolades for leadership and participation in athletics and campus activities were also highlighted. The Penn State New Kensington Alumni Society recognized Dylan Hamilton as this year's Penn State Spirit Award winner for exhibiting integrity and character while exuding Penn State pride. Nine students were celebrated for being campus "influencers" through out-of-class involvement.
A number of athletics awards were presented and included United States Athletic Association (USCAA) All-American honors and Penn State University Athletic Conference (PSUAC) All-Conference honors. Daniele Smith, a member of the golf team, was recognized for being named the National Student Athlete of the Year by the USCAA. At the campus-level, Pascal Bikanura and Dorian Broadwater were named New Kensington Male Athletes of the Year, and Morgan Williams was named New Kensington Female Athlete of the Year. Ryan Stanga, men's soccer player, was selected for the Robert Darby "The Darb" Sportsmanship Award, which was established in honor of Robert Darby, kinesiology instructor, athletic director and coach, who retired in 2006 after 38 years at the campus.
To view a photo gallery from the 2018 academic and student achievement awards ceremony, visit: facebook.com/pennstatenewkensington.
"A Celebration of Excellence" 2018 Awards and Winners List
ACADEMIC AWARDS
SMEAL COLLEGE OF BUSINESS: Jacob Stackiewicz (Junior), Kaleb Jewell (Sophomore)
COLLEGE OF ENGINEERING: Ryan Stanga (Sophomore); Electro-Mechanical Engineering Technology: Matthew Rzewnicki (Senior), Joshua Boyd (Junior), Michael Ott (Sophomore); Biomedical Engineering Technology: Bradley Klauss (Sophomore)
SCHOOL OF SCIENCE, ENGINEERING, AND TECHNOLOGY, PENN STATE HARRISBURG: Joel George (Sophomore)
COLLEGE OF HEALTH AND HUMAN DEVELOPMENT: Kaylea Flick (Sophomore)
EBERLY COLLEGE OF SCIENCE: Jamie Anuskiewicz (Sophomore)
COLLEGE OF NURSING: Mikaela Dunegan (Junior)
The Joseph A. and Mary M. Quarato Nursing Program Award: Diane Dudek, Allison Kuzneski
UNIVERSITY COLLEGE: Administration of Justice: Mia Gallippi (Junior); Biobehavioral Health: Ashley Worlds (Junior); Business Administration: Alexandra Clark (Senior); Communications: Milagros Barta De Brasser (Senior); Information Sciences and Technology: Rachael Goch (Senior), Evan Shaffer (Junior), Logan Villella (Sophomore); Psychology: Brittany Becker (Senior), Joshua Gump (Senior), Bria Schneiderlochner (Junior), Evan Yoder (Sophomore); Project & Supply Chain Management: Tiffany Holzer (Senior), Dylan Clinton (Junior); Radiological Sciences: Courtney Horner (Sophomore), Emily Smith (Sophomore)
HONORS PROGRAM: Four-Year Participant: Jonathan McCabe; Three-Year Participants: Isabella Bordonaro, Joshua Gump, Evan Shaffer, Ashley Worlds; Two-Year Participants: Bogdan Bordean, Carly Duncan, Christopher Oberdorf, Sarah Peppler, Daniele Smith, Savannah Smith, Ryan Stanga, Logan Villella; One-Year Participants: Andrew Dauby, Aaron Dominick, Jacob Geibel, Brittany Kotvas, Sedona Rogers, Alyssa Stewart, Jeffrey Will
THE EVAN PUGH SCHOLAR AWARD: Dylan Clinton
THE PRESIDENT'S FRESHMAN AWARD: Melissa Braun, Mario Dandrea, Andrew Dauby, Andrew Dickun, Aaron Dominick, Rory Farester-Hohl, Gabriel Gaertner, Stephanie Gainer, Jacob Geibel, Lindsey King, Allison Kuzneski, Kevin Litzinger, Marc Maromonte, Sean Peck, Amy Pink, Sedona Rogers, Thomas Slancauskas, Kyle Smith, Janet Surma, Tingting Zheng
THE PRESIDENT SPARKS AWARD: Jamie Anuskiewicz
EXCELLENCE IN TEACHING AWARDS: Melba Amador, lecturer in Spanish (full-time faculty); Gregory DePalma, adjunct lecturer in mathematics (part-time faculty)
MILTON S. EISENHOWER AWARD FOR DISTINGUISHED TEACHING: Jyotsna Kalavar, professor of human development and family studies
STUDENT ACHIEVEMENT AWARDS
ERIC A. AND JOSEPHINE S. WALKER AWARD: Paulina Iniguez
TOP INFLUENCERS' AWARD: Gina Batiz, Raven Brunner, Ian Cohen, Paulina Iniguez, Lauren Lizik, Sierra Maher, Nicholas Roth, Scott Sinclair, Ryan Stanga
PENN STATE NEW KENSINGTON ALUMNI SOCIETY - PENN STATE SPIRIT AWARD: Dylan Hamilton
PERFORMING ARTS AWARDS: Best Performer: Rory Farester-Hohl; Best Technician: Andrew Perry
LITERARY AWARD: Ryan Fiore
LION AMBASSADOR OF THE YEAR AWARD: Savannah Smith
EMERGING LEADER: Sedona Rogers
MOST OUTSTANDING CLUB OR ORGANIZATION LEADER AWARD: Nicholas Roth
STUDENT GOVERNMENT ASSOCIATION AWARDS: Raven Brunner, President; Bradley Lucas, Vice President (fall 2017); Jason Fruh, Vice President, (spring 2018); Jayleen Chagolla, Secretary; Kaleb Jewell, Treasurer; Carly Duncan, Upperclassmen Faculty Senate Representative; Ashton Caldwell, Underclassmen Faculty Senate Representative; Nicholas Roth, THON Chair; Paulina Iniguez, THON Co-Chair
ATHLETIC ACADEMIC AWARDS
USCAA ACADEMIC ALL-AMERICAN: Daniele Smith (co-ed golf); Alexander Conte, Ryan Stanga (men's soccer); Cora Rejniak (women's volleyball)
PSUAC ACADEMIC ALL-CONFERENCE: Jason Fruh, John Marold, Robert Piskor, Daniele Smith (co-ed golf); David Belitskus, Alexander Conte, Mario Dandrea, Alex Ferraccio, Gabriel G. Gaertner, Matthew Matsey, Cy Milko, Jorge Oliver, Andrew Perenic, Matthew Stanga, Ryan Stanga, William White (men's soccer); Gina Batiz, Melissa Braun, Kaylea Flick, Brittany Kotvas, Cora Rejniak, Janet Surma (women's volleyball); Stephanie Schrecengost, Alyssa Slancauskas, Brittney Wolford (women's softball); Joel George, Jacob Stackiewicz, Dylan Wiley (men's baseball)
JOHN EVANS SCHOLAR / ATHLETE MEMORIAL AWARD: Jason Fruh, John Marold, Robert Piskor, Daniele Smith (co-ed golf); Alexander Conte, Alex Ferraccio, Cy Milko, Ryan Stanga (men's soccer); Gina Batiz, Melissa Braun, Cora Rejniak (women's volleyball); Alyssa Slancauskas, Brittney Wolford (women's softball)
ATHLETIC PERFORMANCE AWARDS
NATIONAL STUDENT ATHLETE OF THE YEAR – USCAA: Daniele Smith, co-ed golf
USCAA ALL AMERICAN: Pascal Bikanura, men's soccer, Honorable Mention; Dorian Broadwater, men's basketball, Second Team
PSUAC ALL CONFERENCE: Pascal Bikanura, men's soccer, First Team; Dorian Broadwater, men's basketball, Second Team; Daniele Smith, co-ed golf, All Conference; Ryan Stanga, men's soccer, Second Team
CONFERENCE PLAYER OF THE WEEK: Daniele Smith, USCAA (co-ed golf); Pascal Bikanura, Joshua Zakrzewski, PSUAC (men's soccer)
JOHN FRITZ SPORTSMANSHIP AWARD: Gina Batiz, Cody Shoemaker, Alyssa Slancauskas, Daniele Smith, Wilson Rojas, Jr, Juwan Willis
STUDENT ATHLETES OF THE YEAR: Male Athletes of the Year: Pascal Bikanura, Dorian Broadwater; Female Athlete of the Year: Morgan Williams
ROBERT DARBY "THE DARB" SPORTSMANSHIP AWARD: Ryan Stanga