Annual celebration recognizes accomplishments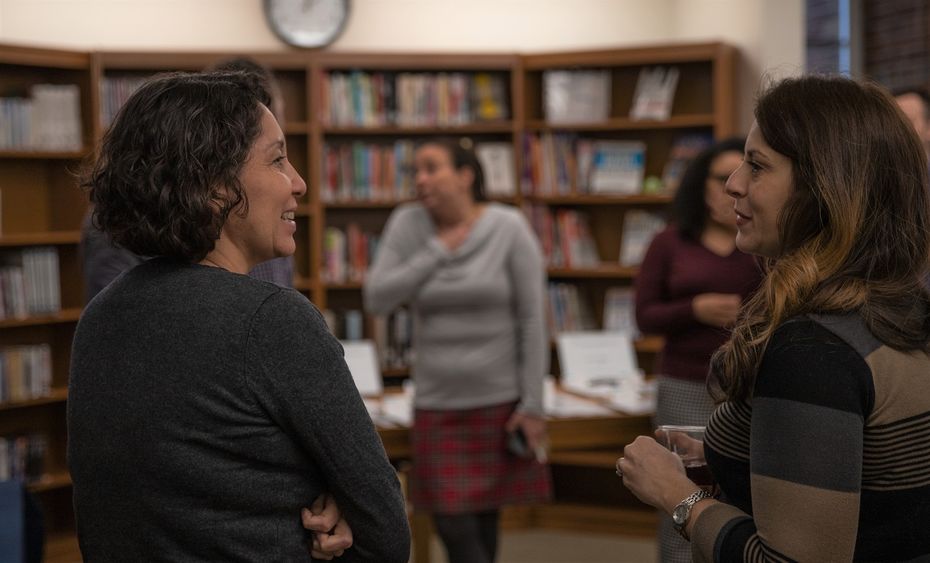 NEW KENSINGTON, Pa. – Faculty and staff gathered in the Penn State New Kensington Elizabeth S. Blissell Library for the 17th Publications Party on Dec.105. The annual celebration was organized and led by Jennifer Gilley, head librarian, to celebrate faculty and staff achievements throughout the year.
2019 Faculty and Staff Honorees
Publications
Donald Bruckner, associate professor of arts and humanities, authored two articles, including, "The shape of a life and desire satisfaction" for Pacific Philosophical Quarterly and "Philosophy and animal welfare science" for Philosophy Compass.
Javier Gomez-Calderon, professor emeritus of mathematics, authored "On cyclotomic subfields," for the Far East Journal of Mathematical Sciences.
Carley Gwin, assistant teaching professor of biology, co-authored "Conserved microbial toxicity responses for acute and chronic silver nanoparticle treatments in wetland mesocosms" in Environmental Science Technology.
Craig Hammond, assistant director of academic affairs and associate professor of arts and humanities, authored "Mid-continent borderlands: Illinois and the early American republic" for the Journal of the Illinois State Historical Society. The article was the winner of the Dorothy Schwieder Prize for best article published in Midwestern history by the Midwestern History Association. Hammond also authored "President, planter, politician: James Monroe, the Missouri crisis, and the politics of slavery" for the Journal of American History.
Richard Harnish and Robert Bridges, both professors of psychology, co-authored "Compulsive buying: The impact of attitudes toward body image, eating disorders, and physical appearance investment" for Psychological Reports.
Ruth Herstek, associate director of academic advising, presented "Adult learners, a closer look," for the NACADA Region 2 Conference. In addition, she co-presented "Adult learners in higher education: An examination of academic experiences" at the SoTL Commons Conference and "Developing undergraduate students through community volunteerism to become future leaders in civic and community engagement," with Joan Kowalski, assistant teaching professor of engineering, and Jake Boney, an adult learner in the campus' electro-mechanical engineering technology program, at the Gulf-South Summit 2019, Community Leadership: Educating the Next Generation
Rujirutana "Dr. A" Mandhachitara, associate professor of business and economics and program coordinator of the business program, co-authored "Stretching the performance quality-value-behavioural consequences chain: an empirical study of business and leisure segments in upscale hotels in Thailand" for the International Journal of Leisure and Tourism Marketing.
Joie Marhefka, program coordinator for biomedical engineering technology and assistant teaching professor of engineering, authored "Why you should consider education and credentialing in HTM," and "Growing a career: The (immense) value of student internships," for the Solutions for Healthcare Technology Management's 24x7 Magazine.
Robert Mathers, professor of chemistry, co-authored "SuFEx-based strategies for the preparation of functional particles and cation exchange resins" for Chemical Communications; "Uniform Biodegradable Fiber-Like Micelles and Block Comicelles via "Living" Crystallization-Driven Self-Assembly of Poly(l-lactide) Block Copolymers: The Importance of Reducing Unimer Self-Nucleation via Hydrogen Bond Disruption" for the Journal of the American Chemical Society; "Dyeing to Degrade: A Bioplastics Experiment for College and High School Classrooms" for the Journal of Chemical Education; and "Predicting Monomers for use in Aqueous Ring-Opening Metathesis Polymerization-induced self-assembly" for ACS Macro Letters.
Penelope Morrison, program coordinator and assistant professor of biobehavioral health, co-authored "Human Services Utilization Among Male IPV Perpetrators: Relationship to Timing and Completion of Batterer Intervention Programs" in Violence and Victims, and "Male Intimate Partner Violence Perpetrators' Perceptions of the Positives and Negatives of Peer Interactions in Group Batterer Intervention Programs" in Violence Against Women.
Lauren Pearce, assistant professor of physics, co-authored "Gravitational waves from fermion production during axion inflation" for the Journal of Cosmology and Astroparticle Physics.
Richard Wentling, assistant professor of administration of justice, co-authored "Assessing the Impact of Knowledge and Location on College Students' Perceptions of Gun Control and Campus Carry Policies: A Multisite Comparison" for the American Journal of Criminal Justice.
Awards
Joseph Cuiffi, Penn State New Kensington Excellence in Teaching Award (Full-Time)
Robyn Chotiner, Penn State New Kensington Excellence in Teaching Award (Part-time)
Promotions
Xiang Ji, associate professor
Debra Majetic, assistant teaching professor