Campus THON dancers, committee heading to University Park for annual marathon weekend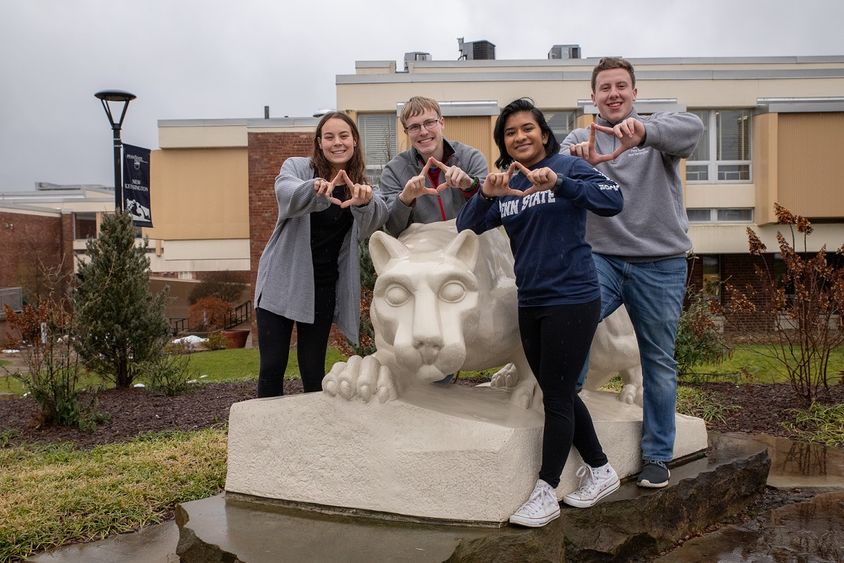 NEW KENSINGTON, Pa.— Four Penn State New Kensington students will join more than 700 other Penn State students on the floor of the Bryce Jordan Center as they stand and dance for 46 hours during the upcoming THON weekend.
"I plan on representing our campus by bringing the best energy and showing what Penn State New Kensington THON is all about," said Jonathan Schofield, junior electro-mechanical engineering technology major and first-time THON dancer. "I'm really excited; being a dancer is a really big honor for me."
Schofield will represent the New Kensington campus THON team along with Bradyn Claycomb, Gianna Foglia and Neeha Thulasiram.
THON, the largest student-run philanthropy in the world, has raised more than $168 million to enhance the lives of children and families impacted by childhood cancer. Each year, more than 16,000 students throughout the University, including those at the New Kensington campus, commit to yearlong efforts that culminate in a 46-hour dance marathon.
Claycomb returns to the floor as a campus dancer for a second time and has been a source of mentorship and advice for the others.
"I've been trying to answer any questions they may have and be as approachable as possible for them," said Claycomb, a junior electro-mechanical engineering technology major.
While Claycomb, Schofield and Thulasiram have all attended THON with the campus in the past, Foglia's very first THON experience will be as a dancer.
"I'm excited and it means a lot to me, especially because I'm a freshman," said Foglia, a first-year undecided student at the campus. "I think it's going to be an eye-opening experience, and I feel very lucky to have this opportunity along with the three other great people that I'm with."
THON weekend, which runs from 6 p.m. Friday, Feb. 21 through 4 p.m. Sunday, Feb. 23, completes the hard work of the New Kensington THON committee, which has been holding a variety of fundraising events since the fall. This year's fundraising total for New Kensington and the other participating Penn State units will be revealed at the conclusion of the weekend. Last year, the campus raised more than $27,000, helping it break into the Top 10 Commonwealth Campus fundraising teams of 2019.
"Going to THON last year opened my eyes to a lot of things and what Penn State does for the kids and Four Diamonds families," said Thulasiram, sophomore biobehavioral health major and first-time THON dancer. "Everyone knows Penn State New Kensington might be a smaller campus, but we're a tight group and really energetic. This is my family."
The campus and community will get a chance to send their best wishes to Claycomb, Foglia, Schofield and Thulasiram, as well as the entire THON team, during the annual campus send-off celebration at 5:30 p.m. Feb. 19, in the campus Conference Center. The evening will include a look back at the current fundraising year, as well as finding out the current campus THON total as they head into THON weekend.
For those who might not be able to make it to University Park for the event, a live webcast will be made available through THON's website at thon.org/livestream.
To support THON online and credit the New Kensington campus efforts, visit the New Kensington THON page.