Mike Cavazza's paper proposes solutions for acid mine drainage that helps industry and environment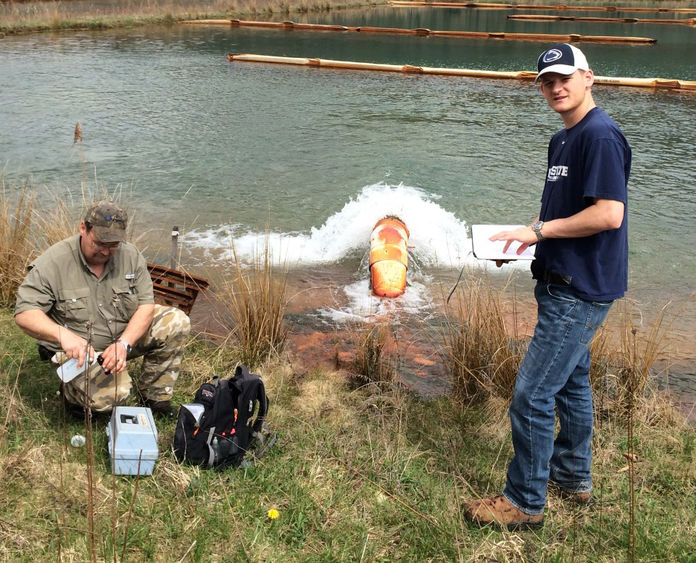 Michael Cavazza took on Penn State in March. Then he took on North America in April. Now he takes on the world in September. Cavazza, a former student at Penn State New Kensington, will compete in a student research paper competition against 14 international regional winners at the Society of Petroleum Engineers (SPE) conference in Dubai, United Arab Emirates.
Cavazza, who graduated from Penn State in May with a bachelor's degree in petroleum and natural gas engineering, earned the trip to the Middle East country for his paper on hydraulic fracturing, also known as fracking. Originally written as a thesis for the Schreyer Honors College at Penn State, Cavazza's paper, "Reducing Freshwater Consumption in the Marcellus Shale Play by Recycling Flowback with Acid Mine Drainage," argues the possibility of using acid mine drainage (AMD) to solve the industry's pollution and fresh water issues.
"Acid mine drainage is a source of pollution from abandoned coal mines that is present throughout Pennsylvania," Cavazza said. "The paper discusses the potential of using AMD in the hydraulic fracturing process to reduce the amount of AMD in local streams and reduce fresh water use by the oil and gas industry."
Turgay Ertekin, head of the John and Willie Leone Family Department of Energy and Mineral Engineering, professor of petroleum and natural gas engineering, and George E. Trimble Chair in Earth and Mineral Sciences at Penn State, served as Cavazza's academic honors adviser at University Park. According to Ertekin, Cavazza's paper can resolve three industry issues -- imposing less stress on fresh water resources; preventing surface flow of acid mine drainage; and securing storage of acid mine drainage while increasing the production efficiency of unconventional gas reservoirs.
"Mike Cavazza's work is an excellent example of how a good idea can provide a 'win-win-win' type of solution on three different problems," said Ertekin, who has extensive experience with the development and application of fluid flow models in porous media. "In his work, Cavazza demonstrates very effectively that using a multidisciplinary approach and bringing all the necessary components together with a good degree of creativity can result in a multi-faceted solution without generating another cadre of problems."
Li Li, associate professor of petroleum and natural gas engineering, was Cavazza's thesis adviser at University Park. According to Li, Cavazza stands out among the postdoctoral, doctoral, master's and honors students she has mentored.
"Mike Cavazza is a gifted student with excellent qualities for ground-breaking research," Li said. "He is very independent and has his own idea of how to move the research project forward. He is a great thinker and can quickly cut to the core of a problem. Importantly, he also knows how to communicate and teach his audience about what he has learned in his research. In my research career where I have advised more than 25 researchers, I rarely see such a perfect combination in one person."
Li's research bridges biogeochemical sciences with environmental engineering and petroleum and natural gas engineering, and has advanced research frontiers at the nexus of water, energy and environment. Her specific research interests include watershed hydrogeochemistry, contaminant reactive transport and fate across scales, sustainable energy production, and water quality and quantity.
"Mike is at the top of the interface of energy (petroleum) and environmental engineering," Li said. "He has successfully conveyed his interesting and practical idea to an audience that has very diverse education backgrounds. I am very proud of him. With his intelligence and diligence, Mike will go very far."
Cavazza's journey to Dubai for the SPE Annual Technical Conference and Exhibition began with a first-place award in the Penn State SPE paper competition. He followed up with the top prize at the Eastern North America Region competition at Louisiana State University.
The final leg of the journey features competitors from 14 regions of the world: Africa; Asia Pacific; Canada; Eastern North America; Europe; Gulf Coastal North America; Middle East; Mid-Continent North America; Rocky Mountain North America; Russia and Caspian; Western North America; South America and Caribbean; South Asia; and Southwestern North America. Cavazza sees the conference as an opportunity to build support for his proposal.
"I have been doing research for a little over a year now on the topic," said Cavazza, who also won the William Grundy Haven Paper Competition sponsored by the College of Earth and Mineral Sciences. "The contest allows me to present the research to a much larger audience."
Where it began…
Cavazza'a research acumen was honed as a freshman at Penn State New Kensington. He chose to attend the New Kensington campus before heading to University Park after he was awarded a Chancellor Fellowship, a program that allows students to collaborate with faculty on specific projects. Cavazza worked with Robert Mathers, professor of chemistry, and Stewart Lewis, adjunct instructor in chemistry, analyzing the kinetics of a soybean-based polymer that could be an alternative to petroleum-based polymers.
"It was a great idea to start at New Kensington," said Cavazza, who earned over 20 merit scholarships as an undergraduate. "The opportunities I was given at the campus, especially the Chancellor Fellowship that introduced me to research in Dr. Mathers' lab, gave me the confidence moving forward in my career. Also, I felt much more prepared entering my junior year because the professors I had at New Kensington were terrific."
Mathers' research projects, fueled by a number of national grants, provide students with the advantages of "on-the-job" experiences. More than 40 students have conducted undergraduate research with Mathers over the last 12 years. Although many projects are at the forefront of polymer chemistry and sustainability, Mathers tries to tailor projects to individual student interest.
"Mike is a fast learner who continues to excel and do great work," Mathers said.
Studying at Penn State and working in the energy industry is a tradition for Cavazza family. Mike's brother, Matt Cavazza, a 2013 Penn State alumnus with a degree in petroleum and natural gas, is a drilling engineer for Chevron in Midland, Texas. Matt also started at New Kensington in the Chancellor Fellowship program and studied under Mathers.
Their father, Eric Cavazza, attended Penn State DuBois before finishing his bachelor's and master's degrees in engineering at University Park. He is the director of the Bureau of Abandoned Mine Reclamation for Pennsylvania's Department of Environmental Protection. The bureau is responsible for resolving problems such as mine fires, mine subsidence, open shafts and portals, mining-impacted water supplies and other hazards, which have resulted from pre-1977 coal mining practices.
"My dad deals with acid mine drainage every day at work, so I grew up knowing about it," Mike said. "I tried to find a way to relate my research project to hydraulic fracturing."
On the road again…
Cavazza is as anxious to take on the role of a tourist in Dubai as he is of a presenter at the conference. Dubai is the largest city in the UAE with a population of 2.5 million, and the capital of the Emirate of Dubai. The city is internationally-renowned for its skyscrapers and high-rise buildings. The Burj Khalifa, a mixed-use 160-story structure, is the world's tallest building at 2,772 feet.
"I will try to see as much as I can during the week," Cavazza said. "It is a great opportunity to see a part of the world that I have never been to before."
United Arab Emirates is a federation of seven emirates on the eastern side of the Arabian Peninsula on the Persian Gulf. Akin to a principality ruled by a prince, an emirate is ruled by an emir, which is an aristocratic title. In addition to oil, UAE's diversified economy is based on a Western-style business model of tourism, aviation, real estate, and financial services.
Although he is traveling alone to Dubai, Cavazza will see a familiar face at the conference. Derek Shields, president of the student chapter of SPE at the University Park campus, will be there to accept the 2016 Outstanding Student Chapter award from the international SPE organization. Cavazza was a member of the award-winning group and graduated with Shields.
Deep in the heart of…
Big cities are becoming an attraction to Cavazza. A native of Indiana, Pennsylvania, which has a population of 14,000, Cavazza now resides in Houston, the biggest city in Texas and fourth largest in the country with 2.2 million people. He moved to the Lone Star State to accept a position as a petrophysicist for Shell Exploration and Production Company. Petrophysics is the study of physical and chemical rock properties and their interactions with fluids.
Moving to Texas was almost preordained as Cavazza spent the past two summers working for ConocoPhillips in Houston. ConocoPhillips is the world's largest independent exploration and production company, based on proved reserves and production of liquids and natural gas.
Although he is surrounded by Cowboys and Texans football fans, Cavazza's loyalty remains with the Steelers, and he looks forward to the upcoming season. His search for a place to watch games shouldn't be too difficult as the Steeler Nation blankets the country.
"I'll find a Steelers bar down there," Cavazza said.

Contact
Bill Woodard
Alumni and Public Relations Specialist