Two New Kensington graduates commit to serving communities through AmeriCorps VISTA program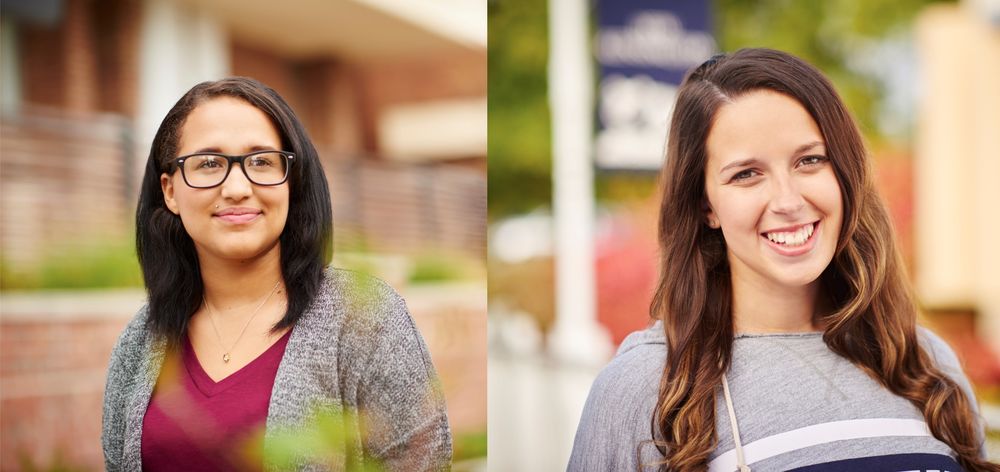 NEW KENSINGTON, Pa. — Shannon Josefoski and Raven Brunner, both members of the Penn State class of 2018 who attended the New Kensington campus, will begin serving separate communities as incoming AmeriCorps VISTA (Volunteers in Service to America) members.
Josefoski and Brunner join more than 80,000 Americans who participate in AmeriCorps each year. Those who serve through the national program commit to addressing critical community needs such as poverty, mentoring, sustainability, disaster relief and education. VISTA participants serve full-time for an entire year.
"In doing this, I'm able to use my quality education to make sure other people have a quality education," said Brunner, who majored in corporate communications. Brunner, who came to Penn State from Georgia, has accepted a VISTA position to work with the Great Oaks Tutor Corps program with Great Oak Charter Schools in Newark, New Jersey. Tutors work with groups of students to mentor and help close achievement gaps between students and prepare for success in college and beyond.
Josefoski, a business major and past recipient of the Eric A. and Josephine S. Walker Award, has accepted a development position in Indianapolis, Indiana, with College Mentors for Kids, which pairs college students with youth in first through sixth grades. The program aims to improve the likelihood that those youth living in poverty will reach their peak potential, while at the same time providing quality leadership experience to the college mentors. Josefoski's role as the Development VISTA will focus on fundraising, grant writing, event planning, and research and data analysis.
In addition to deciding to go a similar post-graduation route, Josefoski and Brunner also share being former campus Student Government Association (SGA) presidents (Josefoski in 2016-17 and Brunner in 2017-18). The experience helped shaped both into who they have become.
"I think I've definitely learned the most throughout all my college experiences through being the SGA president," said Brunner.
Both students were heavily involved in clubs and activities, as well as community service through the New Kensington campus. Along with SGA, Brunner led initiatives through the campus Diversity Club and attended numerous leadership conferences. Josefoski participated in three alternative spring break service trips, was a member of Lion Ambassadors and served as one of two THON dancers for the New Kensington campus in 2017.
"This has been my life and my family for the last four years," said Josefoski.
Their servant leadership qualities were apparent through their academics as well.
Brunner spent her major's required internship with the Ronald McDonald House Charities in Augusta, Georgia, in 2017. Josefoski completed multiple internships, including being a constituent advocate at the Pittsburgh office of U.S. Sen. Bob Casey.
Through her experiences in and out of the classroom, Josefoski went a step further when she learned about the University's civic and community engagement minor, an 18-credit concentration focused on public service and problem-based fieldwork. In fact, she became New Kensington's first student to graduate with this particular minor at the recent May 5 commencement ceremony. The program helped reveal her goal of wanting to work with nonprofits.
"It really allowed me to find who I truly want to be in the world and the kind of difference I want to make," said Josefoski.
When reflecting on their time at Penn State New Kensington, Brunner and Josefoski both noted the small campus environment, as well as its faculty and staff, for helping mold and elevate their undergraduate experience.
"My plan initially was to start here and transition to University Park, but then I honestly fell in love with the communications program here, and I decided to stay," said Brunner.
Josefoski added, "There hasn't been one person I've had a bad experience with. They're always willing to sit down and talk and help you explore and figure out what your life is going to be and can be."
Campus mentors and faculty also left lasting marks.
Brunner cited Theresa Bonk, director of student affairs, and Allen Larson, associate professor and communications program co-coordinator, as influences.
"I respect Professor Larson a lot," said Brunner. "He's always really challenged me. I know that I put in a lot of effort doing work, but he has always challenged me to do even better. That's something that I really appreciate."
Josefoski fondly remembered Lauren Blum, former assistant director of student affairs, as one of her numerous mentors.
"It's a long list, but Lauren Blum," answered Josefoski. "She's the one who got me involved and allowed me to explore."
Although both will long remember the lessons learned as Penn State students, their futures are bright as newly minted members of the Penn State Alumni Association.
"The ability I have had to work alongside the Alumni Association already has influenced my life beyond words, but continuing that for the rest of my life and having that large network will open even more doors," reflected Josefoski.
For both students, Penn State's values of integrity, respect, responsibility, discovery, excellence and community are deeply engrained as they move on to the next chapter of their lives as proud Penn Staters, and they hope students who come after them will also put them to practice.
"We're the future of America, and in order to live up to that, you have to be confident in your intentions and ability to accomplish anything," said Brunner. "As long as you're confident that what you're doing is going to improve the lives of not only yourself, but others, then there's nothing that should stop you from doing it."