Three campus students receive $2,000 apiece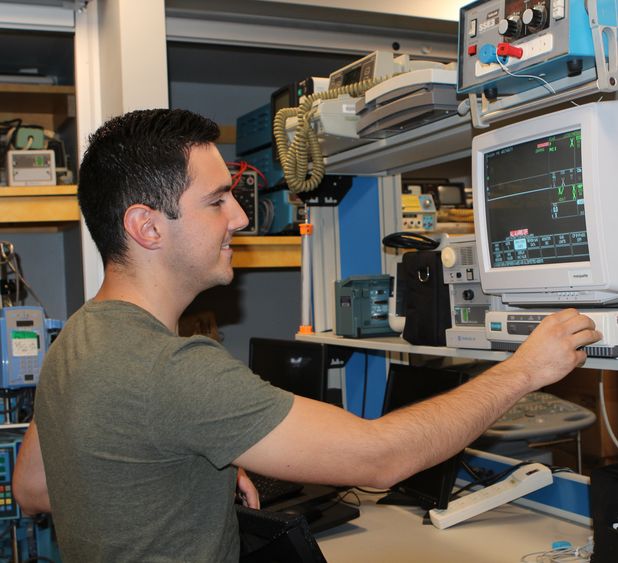 NEW KENSINGTON, Pa. — Like the United States' women sweeping three medals in 100-meter hurdles at the Rio Olympic games, Penn State New Kensington's engineering technology students swept three scholarships at the Penn State New Kensington Alumni Society academic competition.
With the alumni society's world-record total of $6,000 in scholarships at stake, Nathan Piluso, of Kittanning; Jack DelloStritto, of Monroeville; and Justin Dumm, of Penn Hills, tied for the gold medal, and each earned $2,000 awards. The scholarship total eclipsed the $5,500 given to campus students a year ago.
The students were chosen for the scholarships based on their academic status (sophomore, junior or senior), cumulative grade-point averages (3.0 minimum), county of residency (Allegheny, Armstrong, Butler or Westmoreland) and an essay question ("Why do you feel alumni are willing to give back to the New Kensington campus, and how do you feel you will give back after graduation?"). In their essays, they said they expected to stay connected to the campus as alumni because of the learning atmosphere at New Kensington.
"We are pleased, once again, to present scholarships to Penn State New Kensington students," said Vera Spina Greenwald, president of the society. "Our talented group of volunteers has worked tirelessly over the past year to do as much as we can for the students. I am tremendously grateful to the campus community for its support of our society. We look forward to continuing to grow our scholarship each year."

Nathan Piluso (Kittanning High School)
A senior in the electro-mechanical engineering technology (EMET) program, Piluso earned his second alumni society scholarship. Two years ago, he received a $1,500 award as a sophomore.
Piluso, who carries a 3.93 grade-point average, is a member of the EMET mentor program. Developed by the EMET faculty, the mentor initiative provides guidance for freshmen EMET majors.
"I volunteered to be a mentor to these new students in an effort to provide them with knowledge of my time spent in the EMET program," Piluso said. "It felt great to use my past experiences to help the next generation of students potentially enhance their own experience on campus."
The EMET bachelor's degree program emphasizes all fields of engineering technology related to typical, highly-automated manufacturing, production, or assembly plant processes. EMET graduates acquire the skills necessary to apply current methods and technology to the development, design, operation, and management of electro-mechanical systems.
Outside the classroom, the Kittanning High School graduate applies what he learned in his engineering courses to help in his community. He set up electrical wiring as a utility worker for the Fort Armstrong Folk Festival.
Piluso, who graduates in May, savors his "Penn State experience" at the New Kensington campus. In his essay, he cited the experience as "a commodity that anyone on campus has the chance to enjoy."
"At the New Kensington campus, the experience is simply an opportunity for each student to succeed and achieve their goals with all the given resources available," Piluso wrote in his essay, "Helping the Next Generation."
Sgt. Jack DelloStritto (Woodland Hills High School)
A sergeant in the Army National Guard, DelloStritto begins his second year in the Biomedical Engineering Technology (BET) program, where he has 3.4 GPA. The associate degree program is known for producing well-qualified and knowledgeable technicians. Healthcare providers, including hospitals and clinics, rely on biomedical engineering technicians to operate, maintain, troubleshoot, and repair medical equipment. The campus' program is one of only four programs in the nation to be accredited by the Technology Accreditation Commission for the Accreditation Board for Engineering and Technology.
As a member of the 28th Infantry Division, one of the most decorated infantry divisions in the Army, DelloStritto's military experience instilled a sense of pride in duty that he carried over to the campus. With graduation a year away, DelloStritto is looking forward to joining the alumni association and developing extracurricular activities for future students of the campus.
In his essay, "Pride: Giving Back," DelloStritto wrote: "Volunteering is a frequent activity of mine, and I would thoroughly enjoy sharing that aspect of my life with the University in the form of helping to run and plan student events as well as donating to these programs. Giving students an 'out' where they can relax with other students and release the everyday stresses of college is very important to me, and the alumni association is the best way to aid in keeping this possible."
DelloStritto backs up his talk of giving back to the campus with a history of community service. His faith-based activities include serving as a volunteer with the Monroeville Assembly of God youth group as a worship leader, along with his wife, at the Dream Center Church in Turtle Creek, Pennsylvania. He has participated in mission trips to Washington, D.C., Mexico and New York City, and gives out food and clothing at a homeless ministry in Pittsburgh.
Justin Dumm (Penn Hills High School)
Dumm, a sophomore EMET major with a 3.25 GPA, is a member of the campus "Honors Program."
Designed for the top students in all majors, the Honors program is rooted in academic achievement and scholarship commitment. Students design their first two years of study and work closely with professors and fellow honors students in honors courses and independent study. The program emphasizes developing stronger communications skills in writing, speaking, presentation, and discussion. Participants receive $3,500 honors scholarships each year.
Dumm's essay highlighted the commitment by alumni to the campus where their vocations were nurtured. While some alumni earned bachelor's degrees at the New Kensington campus, others used the campus as a springboard to an undergraduate degree at University Park campus.
"I believe that Penn State New Kensington alumni are willing to give back to the campus because Penn State has had a significant impact on their lives, and they understand what their support can do to change current and future students' lives as well. Whether alumni spent all four years at New Kensington, or spent two there and two at main (University Park campus), Penn State New Kensington helped them to learn the skills needed to start their careers, create their own lives, and continue the traditions and friendships they gained from Penn State," Dumm wrote in his essay.
More than 50 percent of campus alumni complete their undergraduate degrees at another campus. The program is called the 2 + 2 Plan, and University Park is the most popular destination.
When he is not on campus, Dumm is in the community volunteering at many nonprofit organizations, including Toys for Tots and Greater Pittsburgh Area Food Bank. In addition, he is an alter server at his church and an assistant teacher for CCD (Confraternity of Christian Doctrine) classes, also known as known as Catholic Sunday school.
Alumni society scholarship endowment
The alumni society's endowed scholarship was established in 1992 and fully endowed at $15,000 six years later. The society surpassed the $100,000 mark in 2015. Recently, the alumni group presented the campus a $10,000 check for the scholarship fund to increase the endowment to $120,000.
The endowment is funded through the proceeds of the alumni golf scramble in August at Arnold Palmer's Latrobe Country Club, and the bowlathon in March at Wildlife Lanes in Lower Burrell. The two events raised more than $23,000 this year.
As the scholarship fund grows, so does the amount of the annual awards. A total of $1,300 in scholarships went to the first campus recipients — Kelly Doyle, Tara Murrell and Nicholas Wichowski. This year's recipients each received more than the total of the inaugural recipients. Since 1998, the society has awarded $60,000 to 62 campus students. Besides, Piluso, only Danica Myers (2005, 2007) and Julie Arvay (2006, 2008) were multiple winners of an alumni society scholarship.
"Penn State New Kensington and our supporters have taken extraordinary steps to address the financial need of students. For the second consecutive year, tuition remained stable which ensures that all students will have access to quality academic programming," said Kary Coleman, director of development and alumni relations at the campus. "Our alumni and friends share this same vision and the will to sustain our tradition of affordability and access. Penn State New Kensington supporters made it possible for the University to award more than $304,000 last year. We are grateful for the support of the alumni society and their continued dedication to opening doors for our students by alleviating financial burdens through the scholarships they provide."
The three engineering students, along with all 2016-17 scholarship recipients from the campus, will be honored Oct. 20, with a reception at Hill Crest Country Club. The event gives the alumni society board members a chance to engage their scholarship recipients personally.
"We couldn't be prouder of our recipients this year, and we can't wait to meet them at the scholarship reception," Spina Greenwald said.
For more information, visit PSNK Alumni Society.
PSNK Alumni Society Scholarship Recipients, 1998-2016
1998: Kelly Doyle, Tara Murrell, Nicholas Wichowski
1999: Jillian Savko, Edward Lee, George Madalay
2000: Holly Bell, Karen Bridge, Kimberly Lowers, Theresa Smith, Toni Vokes
2001: Wendy Jarmul, Nicole Palucacos, Joseph Caliguri, James Dykes
2002: Ray Mastre, Matthew Marziale, Charlotte Caldwell, Dana Tolatta
2003: Pat Olstein, Kenneth Kocon, Charlene Barker, Shawn Vause
2004: Jeffrey Arvay, Krista Goch, Jamie Conrad, Crystal Gilliland, Kelly Mitchell
2005: Shirley Betush, Melissa Franklin, Danica Myers
2006: Jeffery Mangone, Marie Rosenberger, Julie Arvay
2007: Kristin Clyde, Danica Myers
2008: Julie Arvay
2009: Katie Shoemaker
2010: Melissa Gemballa, Ericka Watson, Jaclyn Burkett
2011: Gretchen Toy, Shanna Williams, Vanessa Peck, Justin Tinnemeyer, Corey Zell
2012: Lauren Richards, Brandi Ritenour
2013: Joshua Swinehart, Jennifer Phillips, Caitlyn Cody
2014: Nathan Piluso, Nathan Schartner, Justine Rojeski, Jay Eiler
2015: Lynsie Headley, Alissa Dolensky, Adis Juklo, Carley Carnahan
2016: Nathan Piluso, Jack DelloStritto, Justin Dumm
Contact
Bill Woodard
Alumni and Public Relations Specialist