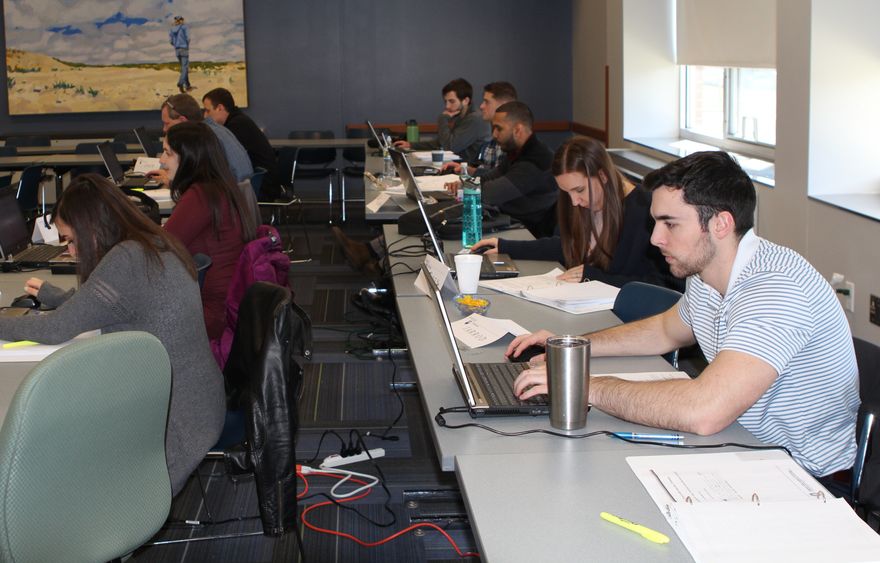 NEW KENSINGTON, Pa. — Besides educating traditional (18-to-24-year-old) students, Penn State New Kensington is at the forefront of providing educational choices for adult learners, including credit and noncredit courses for individuals already in the workforce.
The campus' Continuing Education office provides professional and personal development courses and seminars to meet the specific needs of businesses and nonprofit organizations. The resources of the world-renowned teaching and research University are available on- or off-campus.
Recently, Allegheny Technologies Incorporated (ATI) needed macro programming training for nine of its engineers. The employees from ATI plants in Vandergrift, Natrona Heights and Washington in Pennsylvania, Louisville in Ohio and New Bedford in Massachusetts, came to the campus for the three-day course, "Visual Basics for Applications (VBA)."
Taught by Skip Laratonda, adjunct instructor in engineering at the campus, the course was designed to help both the beginner and experienced Microsoft Office user write VBA application/command macros to manipulate data and facilitate data analysis on an Excel worksheet.
"Skip does an excellent job teaching basic to advanced levels of technology and computer-based training to our corporate clients and for our public offerings," said Pat Hollinger, director of continuing education. "He represents the University in a very professional manner, and is always attentive to the students' needs."
Laratonda, who teaches a variety of courses, joined the campus community in 1979. Besides educating business professionals, his pedagogy extends to personal development, such as training individuals on Excel and Word and other computer programs.
Last year, he earned the Excellence in Teaching award for adjunct faculty at the campus' annual Academic and Student Achievement Awards ceremony. The principle criterion is classroom performance, but excellence in other activities such as advising, supervision of learning outside the classroom, and course development are also considered.
The New Kensington campus' array of programming can help a company's employees with supervisory training, computer courses, or technical problems. Topics include autocad, geometric dimensioning and tolerancing, industrial blueprint reading, business programs, industry and manufacturing programs, and human resources. Adjunct faculty and staff partner with organizations to assess immediate and long-term needs, and custom design and implement training solutions to satisfy them.
"We have highly qualified and knowledgeable instructors who can help each student make marked achievements in the class," Hollinger said. "With our portable computer lab, all of these and many others can be offered on-site at a company or organization."
In addition to organizing macro training for ATI, the Continuing Education office is developing training in blueprint reading for Oberg Industries and industrial maintenance for PPG.
The campus also partners with WEDnet PA (Workforce and Economic Development Network of PA) to strengthen the business environment of the commonwealth. WEDnet PA offers free training to eligible manufacturing companies. A qualified business can access funds for training for basic skills, as well as information technology.
"Learning lasts a lifetime, and in order to keep your current skills sharp and upgraded, professional development is necessary," Hollinger said. "It is critical to remain up-to-date on the latest trends and skills so that you can advance and climb the career ladder. We can help individuals or corporations get their employees to the next step."
For more information, call 724-334-6110 or visit Continuing Education
Contact
Bill Woodard
Alumni and Public Relations Specialist