Five-session 'Business Fundamentals and Leadership Academy' explores entrepreneurship, essential skills to build future workforce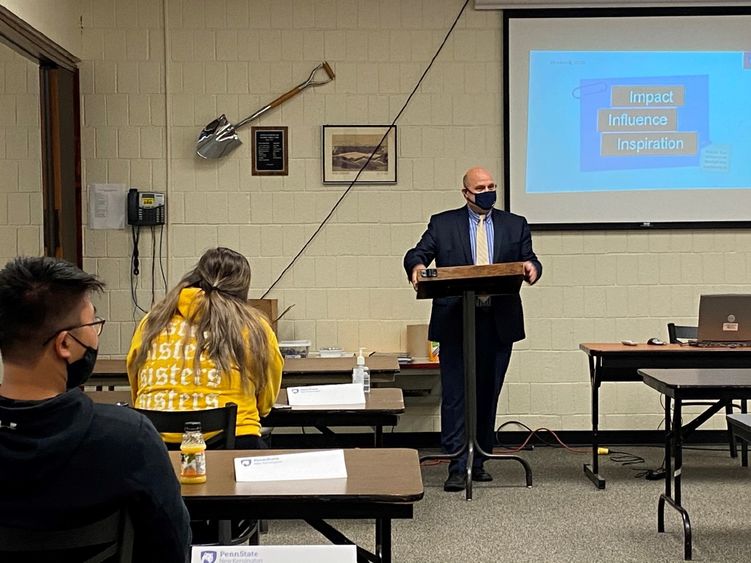 NEW KENSINGTON, Pa. – Fifteen seniors at the Northern Westmoreland Career and Technical Center (NWCTC) have strengthened important, essential skills to help prepare them for future, post-graduation plans or careers.
In partnership with the Westmoreland-Fayette Workforce Investment Board (WFWIB) and the NWCTC, Penn State New Kensington developed and facilitated the pilot five-session "Business Fundamentals and Leadership Academy."
"Because of our strong programming in entrepreneurship and innovation and commitment to helping bring future-ready skill sets to members of our community, this new program gives us a unique opportunity to expose and teach these students integral business and leadership skills through the lens of innovation and entrepreneurship," said Patricia Hollinger, director of continuing education at the campus.
Each session, which are held at the NWCTC following CDC-recommended health guidelines, has featured an overarching topic, guest speakers and instructors and activities aimed at teaching specific essential or soft skills. So far, the students have learned more about communication, public speaking, active listening, problem solving, customer engagement, the business model canvas, teamwork, creative thinking and time management.
"Regardless of what their future careers will be, we know that there are fundamental business concepts and personal skills that if they understand and cultivate early, it sets them up for greater success in whatever they do," added Hollinger.
During the academy's first session focused on effective workplace leadership and personal exploration, Kevin Snider, chancellor at the New Kensington campus, introduced the students to the importance of future-ready preparedness, an effort he and the campus has been leading in New Kensington since its establishment of the campus' innovation hub, The Corner, in 2017. Following the opening, Snider has worked to build collaborative partnerships with business and industry, the public sector and community members to use innovation as a foundation for economic revitalization and development in the small, Rust Belt city. Most recently, the campus unveiled its plans with the Economic Growth Connection for the Digital Foundry at New Kensington, a one-of-a-kind digital lab to be built a few blocks away from The Corner along the city's Fifth Avenue, known as the Corridor of Innovation.
"We wanted Dr Snider to express the need for forward thinking, digital technology and the need to plan for the future when they will be working in a technology-driven world, even in our local area," said Hollinger.
The pilot program, which was originally scheduled to be held over the summer, but was postponed due to the COVID-19 pandemic, is expected to formally end in December, when students will make a presentation on what they have learned and be presented with a Certificate of Completion from the University. Although certain facets of the program were altered to maintain health and safety protocols, Hollinger has been pleased with how the fall program has progressed.
"We innovated and pivoted to make the program work in a pandemic-restricted environment," Hollinger said. "Instead of field trips and walks along the Corridor of Innovation, businesses joined us at the NWCTC, and we have had an even better opportunity to engage all the students in meeting with and learning from the businesses who joined us. The students have become very engaged, and their responses and participation -- by providing a high school-aged student perspective during the program -- has been insightful and interesting."
Janet Ward, executive director at the WFWIB, added, "We were excited to still be able to provide the students with this opportunity to gain valuable skills that they can use wherever their futures lead them, hopefully here in Westmoreland County."
Funding for the initial pilot program was awarded to the WFWIB by the Community Foundation of Westmoreland County's Youth Philanthropy Internship Program to support teenage career development.