Event draws prospective employers with accompanying Career Day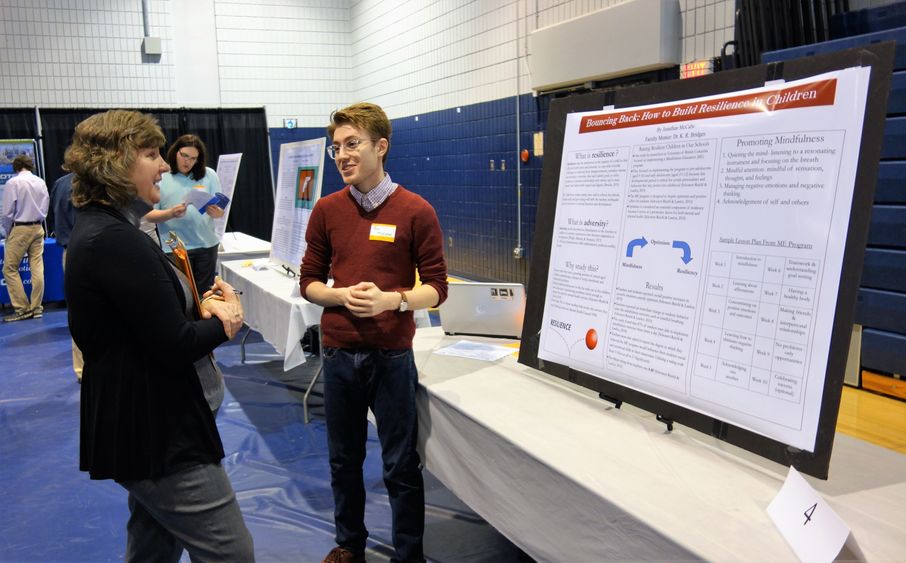 NEW KENSINGTON, Pa. — From smart home systems to space exploration to health care, the 16th Annual Undergraduate Research and Creative Exposition at Penn State New Kensington highlighted almost 50 unique research projects by undergraduate students at the campus. The event, in conjunction with the 10th annual spring Career Connections Day, was held April 10.
Students, under the guidance of faculty members, have spent time over the current academic year working on a variety of research topics and projects. The exposition is the culminating step in the process that allows them to present their findings and conclusions in a public setting. This year, 66 students completed 48 research projects under the direction of 19 mentors.
"It's a great experience because it's one they [students] can take with them and put on their resume," said Tracie Brockhoff, demonstration and equipment specialist in biology and chemistry and chairperson of the exposition committee.
Brockhoff, who has been part of organizing the event every year, continued, "They can network with people and they can share their ideas. This makes them talk and makes them reach out to people, and that gets them excited, and then they want to do it again."
At the exposition, students presented their research via a poster presentation that correlated to their comprehensive, written work. Participants were then judged on their research content, poster display and their oral communication and defense of the work.
Jonathan McCabe, senior psychology student, focused his research on resiliency in children and the potential positive impacts of mindfulness.
"To build resilience in children, we are trying to instill mindfulness," explained McCabe. "Mindfulness is critical in building optimism, which is a very important mechanism in resiliency."
McCabe, along with many of the student presenters, found connections with their research and projects beyond class requirements.
"Behavior disorders are on the rise for all populations, and less than 15 percent of those needing help get the proper services that they need," said McCabe. "I chose to study this because it takes a proactive approach to behavioral disorders."
The research and creative exposition assists McCabe and all student participants in a variety of ways, including hoping that the research goes beyond a class grade.
"In an event like today, I encounter a bunch of different classes of people," said McCabe. "If I meet someone from a local school, I'm going to definitely present them with this research and hopefully then maybe attend a school board meeting where I can present some of this information."
University Libraries Information Literacy awards given
Seven Penn State New Kensington students received University Libraries Information Literacy Awards at the research exposition. The winning students each received award certificates, as well as $50 gift cards for the campus bookstore, which were presented by Jennifer Gilley, head librarian, and Amy Rustic, reference librarian.
The 2018 winners from Penn State New Kensington include: Carly Duncan, Joshua Gump, Jonathan McCabe, Bria Schneiderlochner, Evan Shaffer, Savannah Smith and Ashley Worlds.
The award, given through Penn State University Libraries, recognizes the scholarly work of students who demonstrate care in relation to information literacy for their research and poster presentations. More information about the award can be found at https://libraries.psu.edu/about/awards-scholarships/information-literacy-award.
Career Day
In conjunction with the exposition, the campus's Office of Career Services organized a Career Connections Day, now in its 10th year. This year, 21 organizations participated by providing students with career information, as well as the opportunity for students to network and build their contacts. The career-focused aspect of the event also serves the purpose of showcasing the many research and creative projects happening at the campus to local business and industry.
"It's a natural chance for students to talk about what they've been doing, and it's a great impression they can leave on professionals they are talking with," explained Jim Shields, associate director for career services. "From the side of the employers, there's no better time than when students are already prepped to do their best. It's a different way of engaging outside of a traditional career fair."
Shields and his colleagues in the Academic and Career Success Center added a new feature to this year's career event. Before the exposition began, students had the opportunity to network with those from their fields of interest during "Pizza with Professionals."
"The idea is that before the actual event begins, we're giving students the chance to interact with some of the professional folks over lunch and hopefully break the ice," said Shields. "The hope is that by the time the event begins, there will be lots to talk about."
A full photo gallery of the event can be found at www.facebook.com/pennstatenewkensington.
Poster Presentations
Mentors: Melba Amador and Adam Robinson
"¡Sí Se Puede!: Effective Methods for Tutoring and Learning Languages" — Rachel Queck, Alan Biermann
Mentor: Megan Bardolph
"Space Exploration in the 21st Century" — Andrew Daub
"The Benefits of Drinking Coffee" — Brittany Kotvas
Mentor: K.R. Bridges
"Bouncing Back: How to Build Resiliency in Children" — Jonathan McCabe
"Is Violence in Media Affecting Violence in People?" — Chris Oberdorf
"Instilling Self-Efficacy in Children" — Savannah Smith
Mentor: Joseph Cuiffi
"Smart Home Systems and Technology" — Sarah Peppler
"Steer Logic" — Olivia Sribniak and Anthony Gyke
"Design of a Pool Monitoring/Adjusting System" — Travis Forrai, Drew Bertha, Marty Conroy
Mentor: Rick Harnish
"Mood and Body Posture" — Amy Pink
"The Effect of Color on Free Recall: Red, Blue, & White" — Bria Schneiderlochner
"Do Electronics Correlate with Social Anxiety?" — Kaylin Wall
Mentor: Xiang Ji
"Artificial Intelligence: Using Neural Networks to recognize handwritten digits" — Bordean, Matthew Adams, Cy Milko, Jared Mountan
Mentor: Jyotsna Kalavar
"Partial Hospitalization Programs: A Review of the Literature" — Joshua Gump
"Retrospective Accounts of Past Memories" — Savannah Smith
Mentor: Joan Kowalski
"Innovation in Aircraft Wing Design" — Paul Ehrenberger, Jacob Ehrenberger, Daniele Smith, Vincenzo Pugliese
"What is in an 'Out the Front'"? — Jorge Oliver, Sam Morlacci, Ryan Stanga, Cy Milko
"Centroid of a Static Object" — Sean Peck, Sedona Rogers, Karen Whittaker, Bradyn Claycomb
Mentors: Debra Majetic and Marcia Curler
"Stone Man: Fibrodysplasia ossificans progressiva (FOP)" — Morgan Ashbaugh, Destiny Hall
"Radiation to Pregnant Women" — Katie Petras, Chloe Hill
"Bones about Skeletal Surveys" — Emily Smith, Courtney Horner, Emilie Massimino
"Background Radiation" — Jesse Trigg, Branda Bonzani, Morgan Williams
"Elephantiasis 'The Flying Elephant'" — Emily Lowry, Ambar Truax
Mentor: Michael Manojlovich
"The Future of Social Engineering: How AI can Influence Behavior" — Evan Shaffer
"Drones to the Rescue" — Logan Villella
Mentor: Robert Mathers
"Oil Removal with Cross-Linking Film" — Jacob Geibel
Mentor: Rachel Moreno
"The Not so Ugly Truth About GMO's" — Caleigh Anderson
"Effects Basal Cell Carcinoma Has on the Human Body" — Matthew Stanga
Mentor: Penelope Morrison
"Male Perpetrators' Perspective on Domestic Violence" — Jesse Cenci
"Correlation Between Social/Family Support and Mental Health Outcomes" — Bilge Civi
"Thyroid's Role in Forming Kidney Stones" — Carly Duncan
"Milk. It does a Body Good! Or, does it?" — Marcella Moore
"Is there an Association between Health Literacy and Health Outcomes?" — Marcella Moore
"Exploring the relationship between usual source of care and health status" — Alyssa J. Stewart
"Tools male perpetrators have gained to manage anger and deescalate violence" — Alyssa J. Stewart
"Community Health Needs Assessment: UPMC St. Margaret New Kensington Family Health Center" — Sierra Maher
"The Social-Ecological Model: Culturally Addressing Sexual and Reproductive Health in Burkina Faso" — Ashley Worlds
"Does Insurance Play a Role When Deciding to Get the Flu Shot?" — Racheal Sunday
Mentor: Usha Raghu
"The Impact of Oxygen on the Body" — Aaron Dominick
Mentor: David Wohleber
"The Chemistry of Forge Welding" — Jeffrey Will
Mentor: Jennifer Wood
"Not the Usual Bad Boy" — Melissa Braun
"The NFL, CTE and the Persuasive Situation" — Ryan Stanga
"Class, Race, and Gender in the Modern Domestic Sitcom" — Isabella Bordonaro
Mentor: Yang Xu
"JCPenney: The Consequences of Ineffective Leadership and Marketing Decisions Made During the Tenure of Ron Johnson" — Alexandra Clark
"General Motors Ignition Switch Recalls" — Nicola DeIuliis
Apollo-Ridge High School PJAS Projects
"Do You Kiss Your Mama with That Mouth?" — Bri Hodack
"Are These Common Water Sources Potable or Non-Potable?" — Giovanni Cicala
"The Effects of Naturally Occurring Chemicals on Escherichia coli" — Dominick Cicala