Daniele Smith adds to accolades including USCAA Student-Athlete of the Year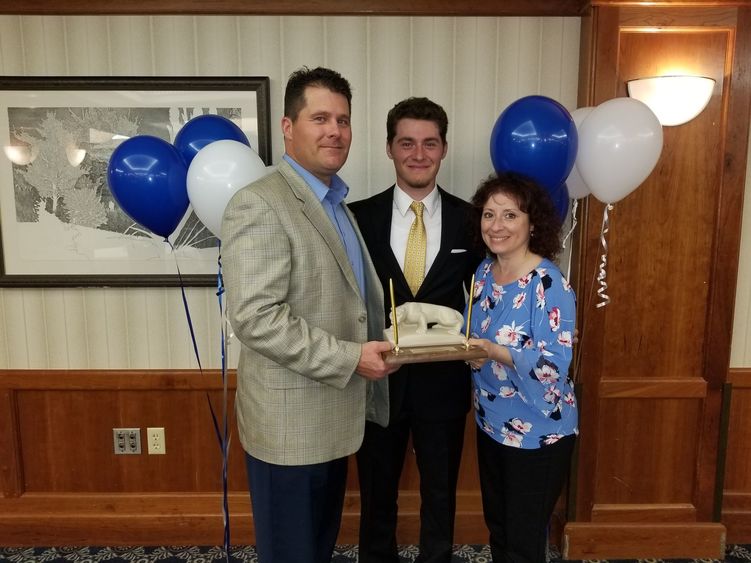 NEW KENSINGTON, Pa. — Being named the United States Collegiate Athletic Association's (USCAA) national student-athlete of the year was not the only accolade sophomore Daniele Smith received this year. Smith was recently recognized as the male recipient of the 2018 John S. Egli Outstanding Student-Athlete Award by the Penn State University Athletic Conference (PSUAC).
The Egli award is given annually to a male and female student-athlete in the PSUAC who exhibit great athletic ability, leadership and personal character outside of their respective sport.
"He just has earned so many different accolades this year that are all very much deserved," said Megan Bratkovich, athletics director at Penn State New Kensington.
Smith ended his first two years at Penn State New Kensington by collecting numerous awards and recognition from the USCAA, PSUAC and the campus.
These accolades include the previously mentioned national student-athlete of the year by the USCAA, as well as earning USCAA national All-Academic honors and being named a player of the week three times throughout his career. Within the PSUAC, Smith finished eighth among golfers during the 2017-18 season and was a two-time All-Conference winner and two-time medalist at the Bernie Guss Classic. At Penn State New Kensington, Smith also received the John Fritz Sportsmanship Award for the golf team, an honor given to student-athletes who show respect to the game, teammates and others.
Smith, who has been playing golf since he was six years old, respects the numerous awards, but doesn't take the role of student-athlete lightly.
"I would define a student-athlete as somebody who is both dedicated to their education and sporting interests," explained Smith. "These athletes devote their time towards representing their campus and must manage their academic and social lives accordingly."
The civil engineering major has been working toward earning his Penn State degree through the University's 2+2 plan. In addition to being a valued member of the New Kensington golf team, Smith participated in the campus's G.R.E.A.T. program (Growing Regional Excellence through Experience, Academics and Training), the Honors Program, and a member of the Student Activity Fee Committee. Off-campus, he was a volunteer for Toys for Tots. Now finished with his first two years at the New Kensington campus with a 3.81 grade-point average, Smith will finish the last two years of his degree at the University Park campus.
Although he has always been a good student, being noticed by the University for his recent Egli award win, as well as other accomplishments, is gratifying.
"I had always put in the work, but what I did not know was that, behind the scenes, people were working to recognize me for that," said Smith. "So, it feels heartwarming to know that people do care around here, and I thank them for the recognition."
Bratkovich believes the campus's participation in the USCAA helps student-athletes at the New Kensington campus realize their full potential with the University and campus.
"Us being a member of the USCAA provides really awesome opportunities for our student-athletes that they might not have gotten elsewhere," said Bratkovich. "Obviously Dan has won national recognition this year. We've also had two All-Americans this year. It really makes their time here really special, and it's just such a great opportunity for someone to continue their athletics and also get a great education with Penn State."
Even though he is headed to University Park in the fall, Smith credits the New Kensington campus for his strong foray into his college academic and golf career.
"I think the most significant benefit of going to Penn State New Kensington was being able to ease into my college and independent life," said Smith. "It has now given me the confidence to succeed."
He continued, "It gave me confidence. Success on the field somehow dwindled my stress in the classroom. Additionally, the people and places I've met will hopefully lead to lasting relationships."
The campus environment and personal attention to student success is something Bratkovich hopes Smith will always remember about the campus.
"The thing that we do really well is provide the one-on-one atmosphere where they're getting that support, and I think the many times I've interacted with Dan, he's so appreciative of that," said Bratkovich. "Looking back, I think he'll see that it was preparing him for his next steps. Those interactions, I hope, will have led him to have those same types of interactions with someone he may mentor in the future."
As for moving forward, Smith's goals at Penn State and after graduation are definitely on par for continued success.
"I'd first like to pursue minors in landscape architecture and business, then get out somewhere on the construction sites, preferably those building golf courses," explained Smith. "After that, I'd like to pursue a unique career, fueled by networking, in the area of golf course architecture. My other dream is engineering and real estate consultations. Either way, I have big plans, and I look forward to meeting new people and developing a positive reputation along the way."