New Kensington students, faculty, staff visit fully automated FedEx Ground facility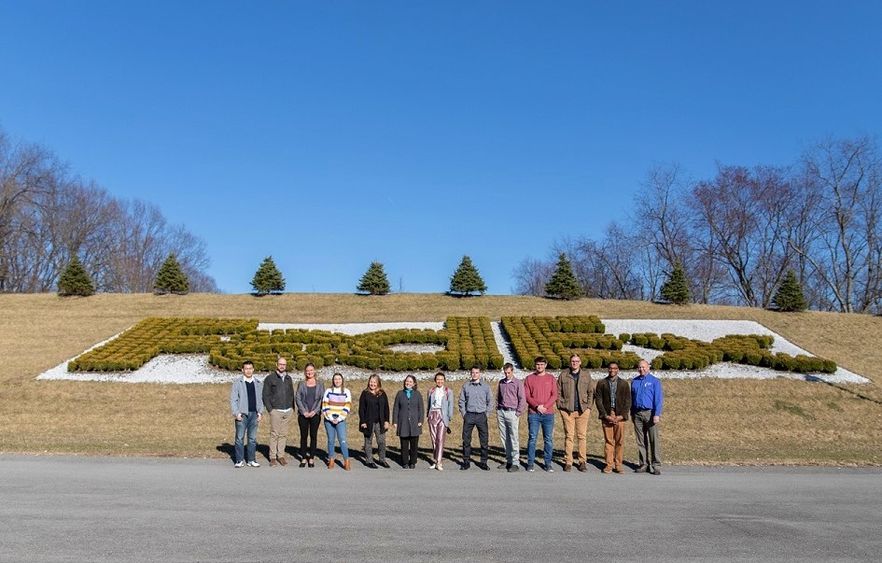 NEW KENSINGTON, Pa. – A term paper written in 1965 by college student Frederick W. Smith received an average grade, but laid the groundwork for the creation of an airfreight shipping industry intended to solve issues related to sending time-sensitive packages economically and efficiently. With the paper's idea always in the back of his mind, Smith created Federal Express, the precursor to the now global FedEx Corporation, just eight years later with 14 planes and the delivery of 186 packages to 25 U.S. cities during its first night.
"Everything we do here is rooted in innovation," said Henry Maier, president and CEO of FedEx Ground, to a group of students, faculty and staff from Penn State New Kensington.
Maier welcomed the group to FedEx Ground's fully-automated North Pittsburgh Ground Station as part of a trip organized by Rhonda Schuldt, the campus' innovation coordinator at its innovation hub, The Corner.
"This determination and his [Smith's] innovative and entrepreneurial mindset led to the creation of a unique startup that turned into a global industry leader all founded on his original idea," said Schuldt. "This is a great illustration of what we say at our Penn State LaunchBox innovation hubs like The Corner – don't quit your daydream!"
The trip also coincided with Penn State New Kensington's strengthening focus on innovation. For the past year, the campus, under the leadership of Chancellor Kevin Snider, has been strategically planning ways to embed and offer opportunities and experiences founded upon Industry 4.0 for students, the campus and local community.
"Our goal is to give students, faculty and staff as many opportunities as possible to see how innovation and technology is changing every facet of our lives."

-- Rhonda Schuldt, innovation coordinator at Penn State New Kensington and The Corner innovation hub.
"From a technology perspective, the facility we visited is an incredible example of the connection between the physical and digital worlds and how it creates data and processes that not only help the facility be more efficient, but also how the data generated creates a digital set of information that follows each package from the point of origin to its final destination to help the company deliver on its promise to customers," explained Schuldt.
She continued, "It also illustrated the importance of an innovative, entrepreneurial mindset no matter the career pursued or industry and the value it brings to many organizations."
The attendees, including students in the campus' business, electro-mechanical engineering technology (EMET) and information sciences and technology (IST) programs, not only heard from Maier and North Pittsburgh Ground Station leadership about the company's history, but also about how innovation and related mindset empowers its employees of all levels to constantly solve problems and strengthen processes.
"Innovation is a discipline," stated Maier, who defined innovation as the means of discovering and solving problems in new ways under conditions of uncertainty.
"As we witnessed during the visit, innovation is a key and critical aspect of all that they [FedEx Ground] do; they're not a technology company, yet technology and innovation are core to all they do," said Schuldt.
Students on the trip included members of a cross-discipline class of EMET and business students who are being taught by Joseph Cuiffi, program coordinator and instructor of EMET, and Rujirutana Mandhachitara, known as Dr. A on campus and program coordinator of business and associate professor of business and economics. The class has been learning about Industry 4.0 topics and how to take ideas and create products that solve problems while using innovative skill sets such as creative thinking, collaboration and critical thinking.
"Dr. A and Dr. Cuiffi have been teaching us how to develop our own products and be innovative," said Devon Anckle, an IST student minoring in business. "We've been able to see what they are teaching us in class, from artificial intelligence to big data, and this field trip has allowed us to see those things applied in the real world."
Schuldt, along with faculty members such as Cuiffi and industry and community partners, has been working on how to expand learning opportunities to students and the local area. Those involved are mapping out possibilities for the 2019-20 academic year.
"We're recognizing the importance of how innovation and the rapid pace of technology is changing everything around us and is critical for any discipline, and we want students to be prepared for jobs and careers they will need to be ready for when they leave us," said Schuldt.
She concluded, "Our goal is to give students, faculty and staff as many opportunities as possible to see how innovation and technology is changing every facet of our lives and see companies and organizations that illustrate this. We're hoping to have additional site visits, as well as continue to bring companies to campus for future New Kensington Spark Sessions."