Unique, virtual reality exhibit to be hosted at Penn State New Kensington throughout October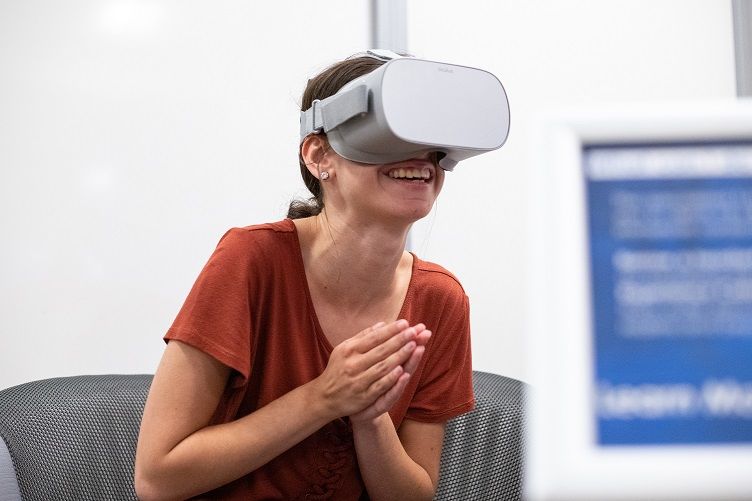 NEW KENSINGTON, Pa. — Imagine stepping inside Van Gogh's "Starry Night," walking through the gardens painted by Monet or having an entire room serve as the canvas for your own masterpiece. Throughout October, Penn State New Kensington campus and community members are invited to do those things and more by visiting a unique and immersive exhibit bridging technology and art in the campus' Art Gallery.
"It is a truly immersive feeling connecting viewers even more than gazing upon a 2-D image on a wall," said Shane Terrell, sales director for VirtualRealityRental.co, a virtual reality (VR) entertainment and experience company.
At the New Kensington campus, nine experiences will be available for guests to enjoy, create their own art or see famous works of art from the inside.
The exhibit will include six three-dimensional (3D) video experiences including works of Van Gogh, Monet and Dali.
"Visualize putting on a cordless headset and being taken into some of the classics or a recreated Van Gogh world from the comfort of a chair," explained Terrell.
In addition, three room-scale, interactive encounters will be available, including one of the company's most popular offerings, Tilt Brush, which allows guests to create and capture their own art, using the entire room as the canvas.
"You can get up and active, grab some wands (that become brushes) and let your imagination run wild by creating in either already-established cool backgrounds or in a totally blank canvas," he said. "With the ability to electronically save all the creations, they can be put on display utilizing various monitors around the space as well; so participants can walk around checking out some cool projects by others."
October's gallery highlight is the newest contribution that connects current campus initiatives focused on innovation. Led by Kevin Snider, chancellor, the campus and cross-sector partners have been working to bring awareness to skill sets and technologies that are the foundations of the next, fourth industrial revolution, also known as Industry 4.0. Snider and the campus also hopes to continue to strengthen its revitalization efforts in the local New Kensington community, with entrepreneurship and innovation at the efforts' core.
While some may associate Industry 4.0 with fields such as manufacturing, engineering or other technology-related industries, all fields, including art, are being transformed by the ever-changing technological landscape.
"From an educational standpoint, observing VR art does well to show how technology will continue to enhance all aspects of life," said Terrell, whose company has created displays and showcases throughout the U.S. "By understanding the vast capabilities of using VR in art, viewers' own boundaries are also expanded."
Terrell continued, "Computer tech has for a long time enhanced the graphic design field, but its impact was limited in other fields within the art world. Seeing its use and ties to more conventional methods, such as painting, can only help promote its use in other areas as well."
The exhibit, which opens Oct. 1 and runs through Oct. 30, can be viewed in the campus Art Gallery. Due to the gallery also serving as an educational space for academic classes and events, it is suggested that members of the public visit the showcase between 3:30 – 8 p.m. on weekdays and noon to 5 p.m. on weekends. As with all shows in the gallery, there is no admission charge to view the exhibit.
Penn State New Kensington's gallery features monthly multimedia works of local, regional, national and international artists. All exhibits are free to the public. For more information about the gallery and how to become a future exhibitor, contact Tina Booth, gallery director, at 724-334-6056 or [email protected]. More information can also be viewed at www.newkensington.psu.edu/art-gallery.
Contact
Corinne Coulson
Manager of Strategic Communications and Marketing