Josh Karelitz is first campus alumnus honored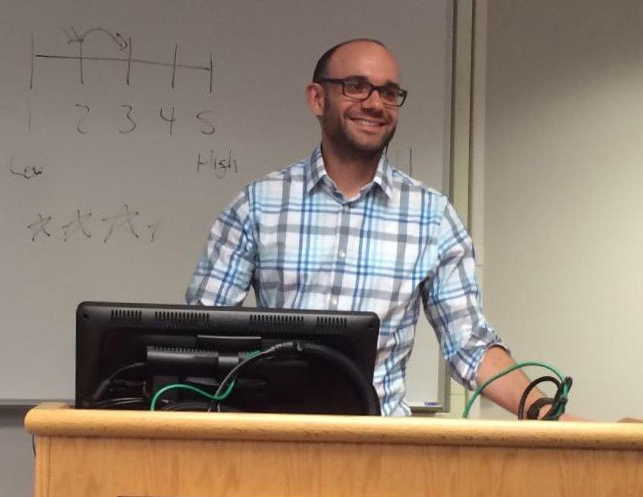 NEW KENSINGTON, Pa. -- As a Penn State New Kensington student, Josh Karelitz acquired his knowledge via excellent teaching. As a Penn State New Kensington instructor, Karelitz dispenses his knowledge via teaching excellence.
Karelitz, adjunct instructor in psychology, recently earned an Excellence in Teaching award at the campus' annual "Celebration of Excellence" ceremony. Karelitz is the first campus alumnus to receive the recognition, which is New Kensington's highest faculty honor. The accolade's principle criterion is classroom performance; however, activities such as advising, supervision of learning outside the classroom, and course development, also are considered.
"As a Penn State New Kensington alumus, Josh embodies the success that our students can experience after they graduate from our campus," said Andrea Adolph, director of academic affairs. "We are lucky to have him return to campus each year as a mentor and educator."
The Monroeville native was selected as this year's top adjunct faculty member. In addition to Karelitz, Excellence in Teaching awards were given to regular faculty member LaVarr McBride, instructor in administration of justice, and Continuing Education faculty member Skip Laratonda, adjunct instructor in engineering.
A staple of most colleges and universities, adjunct faculty specialize in a variety of disciplines and supplement the teaching loads of full-time faculty.
"Josh's background in areas of behavior and addiction allows him to teach classes like Neurological Bases of Human Behavior that are key components of our degrees in psychology," Adolph said. "That course will also support our new degree in biobehavioral health, meaning that Josh's teaching excellence will continue to benefit even more students across disciplines."
Karelitz chose to spend his undergraduate days at New Kensington because of the quality of the psychology program and its limited class size. With a faculty-to-student ratio of 18:1 and average class sizes of 25 students, the New Kensington campus was the perfect venue for the start of his research career.
"I liked the mix of a small school setting with a name that is widely known and respected," said Karelitz, who received a bachelor's degree in applied psychology in 2005. "The smaller scale seemed like it would more easily facilitate a close working relationship with the professors, which definitely turned out to be true."
New Kensington proved to be the genesis of Karelitz's research vocation. Rick Harnish, associate professor of psychology, and Rob Bridges, professor of psychology, served as his mentors.
"I wouldn't be where I am today without the guidance, support and mentorship from both Dr. Bridges and Dr. Harnish," said Karelitz, who received a master's degree in research and methodology from the University of Pittsburgh. "As a student, they provided the foundation for my career in research. Working with each of them inside and outside of the classroom, through independent study and attending research conferences, set me up for professional success."
Student research
During his junior year, Karelitz collaborated on a student project for a strategic plan for the city of Lower Burrell. The project was part of an upper-level psychology course taught by Harnish.
The applied psychology students developed recommendations and conducted resident surveys. Karelitz presented the results of the first phase of the project at the Greater Pittsburgh Psychological Association convention.
The student collaboration was recognized by the Smart Growth Partnership of Westmoreland County, a nonprofit organization that helps communities meet the challenges associated with growth and revitalization. At its annual dinner, the group presented the New Kensington contingent with a Smart Growth Award.
"The project that Josh and his classmates conducted was instrumental in the development of a strategic plan for the city of Lower Burrell," Harnish said. "Former Lower Burrell Mayor Don Kinoz and council were very appreciative of their work, and I was pleased that Smart Growth of Southwestern Pennsylvania acknowledged the importance of their efforts as well."
The following year, Karelitz's research acumen was utilized by his hometown. The Monroeville City Council wanted to revitalize the William Penn Highway business corridor. Working as an intern for the council, Karelitz studied the area and formulated recommendations. His suggestions prompted ideas for a beautification program. Karelitz presented the council's final report to the planning department.

Professional research
Six years after earning a bachelor's degree, Karelitz joined the campus faculty. His former professors and mentors were now his colleagues. He collaborated with Bridges and Harnish on journal articles, edited books, and conference presentations.
"As an instructor, Dr. Bridges and Dr. Harnish's continued mentorship and guidance have facilitated my success," Karelitz said. "I continue to attend research conferences with them, and their support for me as an instructor is seemingly unending and is deeply appreciated. I feel that we, as a campus, are lucky to have such great faculty, and I am lucky to have such great friends and mentors."
"It's been a real pleasure being able to work with Josh on multiple research projects," Bridges said. "And perhaps more importantly, he is a natural in the classroom. The psychology program is very fortunate that he has been able to work with us while having such a busy schedule."
Karelitz's educational journey continues as he works on a doctorate. Besides working as an adjunct at New Kensington, he is a predoctoral fellow in the biological and health psychology doctoral program at the University of Pittsburgh. The overarching theme of his research interest is to identify and elucidate behavioral mechanisms that contribute to the perpetuation of tobacco use.
Prior to being accepted into the doctoral program, Karelitz was the research coordinator for the Nicotine Research Laboratory at Western Psychiatric Institute and Clinic in Pittsburgh, under Dr. Kenneth Perkins. He has co-authored numerous papers in the domain of nicotine and tobacco research.
Psychology program
Penn State New Kensington offers both a bachelor of arts and a bachelor of science in psychology. The bachelor of science program prepares students for future careers in clinical, cognitive, developmental, health, industrial/organizational or social psychology. The bachelor of arts program combines the knowledge, skills and values of psychology with a thorough liberal arts foundation. For more on the psychology program, visit http://www.nk.psu.edu/Academics/Degrees/28550.htm.
Biobehavioral health program
The bachelor of science in biobehavioral health (BBH) program is a new four-year major that begins in fall 2016. The BBH program is an innovative and interdisciplinary program designed to explore health from all angles. Scholarship and teaching focuses on how biological, behavioral, psychological, sociocultural and environmental variables interact to influence health across time scales and levels of analysis. Research topics include physiological processes; health behaviors; genetics and epigenetics; chronic disease; neuroscience; global health; psychological states and processes; environmental exposures; bioethics; health disparities; and intervention science. For more on the biobehavioral health program, visit http://nk.psu.edu/Academics/Degrees/46351.htm.

Contact
Bill Woodard
Alumni and Public Relations Specialist