New Kensington students get real-world preparation in and out of the classroom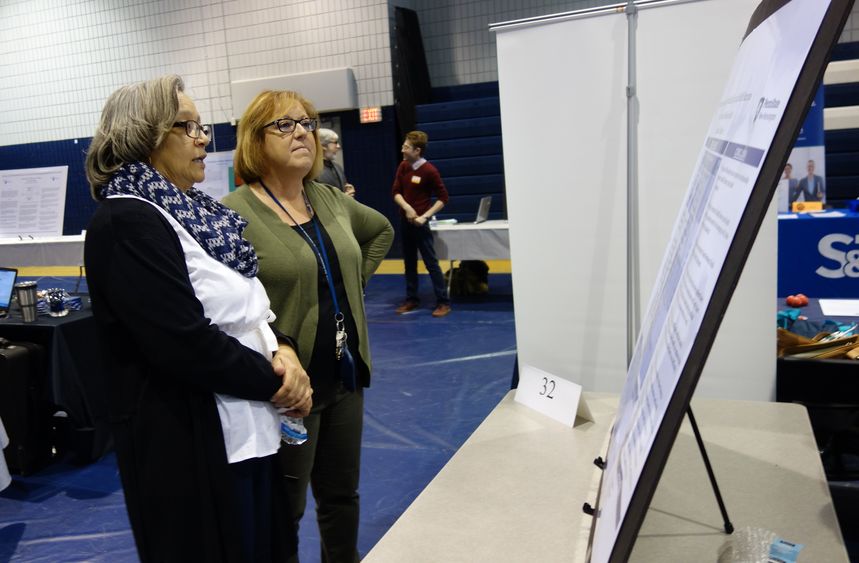 NEW KENSINGTON, Pa. -- While students in many majors must take a research methods or applications class, students in Penn State New Kensington's biobehavioral health (BBH) program are able to learn how to complete research in a real-world setting.
Students in Biobehavioral Health 411 (BBH 411), advanced applications in research, were not only able to learn the entire research process during the spring semester, but they were able to create questions, form hypotheses and collect their own data from patients at a local clinic.
"The idea is to give them the full experience of research data collection, but also do it in a way that is more meaningful than just giving them a data set and running numbers," said Penelope Morrison, assistant teaching professor of biobehavioral health. "This is data that they've collected and they are invested in."
Students spent four weeks collecting anonymous survey responses from patients at UPMC St. Margaret's Family Health Clinic in New Kensington. The survey used was a validated community health assessment from the National Institutes of Health. Students were then able to develop their own questions to add to the survey in relation to formulated hypotheses. They did not perform health care-related tasks while at the clinic.
Class participants echoed the importance of being able to collect their own data.
"It's really interesting that we can actually get closer and more in-depth views," said Racheal Sunday, senior BBH student at the New Kensington campus. "It's not just being outside and looking in."
"For one thing, we're getting the data ourselves instead of reading what someone else gathered," added Marcella Moore, fellow BBH student. "There's a different perspective now."
After data collection, the students analyzed and presented their findings through three formats: a formal research paper, a poster presentation at the campus' Research and Creative Exposition, and an oral presentation.
Working within the local community added an element of simulation for real-life experiences students may have later in their careers.
"It's really good for them to not only be involved in the community, but also for them to understand what it's like to have that one-on-one interaction with patients and see the provider-patient relationship," said Morrison. "I think it has made the act of research and data collection come alive for them."
In addition to the hands-on experiences, students get to apply their education in the communities in which they live.
"If there are any changes to benefit this community, I would like to think that I was a part of doing that," said Moore, who lives in the New Kensington area. "If something beneficial is going to come out of this, which I expect it to, I can say I had a part in that."
The biobehavioral health degree program
The four-year degree program in BBH at Penn State New Kensington is a shared program with Penn State Greater Allegheny. All courses for the 120-credit fulfillment are available at each campus via a combination of face-to-face and web-based instruction. The goal of the program is to provide students with multiple perspectives, approaches and methods needed to address and solve problems related to human health and illness.
"When people think of biobehavioral health, I think they think of either biology or they think behavioral health," said Morrison. "The program is both of those things, but it is so much more. The BBH perspective looks at health as the intersection of not just biology, not just a person's health decision-making, but it also looks at health from the perspective of social, cultural and environmental factors."
The curriculum is part of what attracted students like Moore to the program.
"It's a broad field," said Moore. "You're not just stuck in one aspect of it. The sky is the limit in this major. You can do things in a hospital or clinic, work in an office, work with people in need of mental health assistance; there's a lot of things you can do, you just have to figure out how you would like to move forward. Whatever it is you like to do, you can fit it into this major."
Graduates of the program can pursue careers or graduate school in a variety of different health-related fields.
"When our students leave here they are uniquely prepared to go into a wide range of health care careers," said Morrison. "Our courses are interdisciplinary in their focus. They're getting all these different perspectives that frame how we view health outcomes. Because they get all that background, they can go into public health, health administration, social work, health policy or clinical fields."
"In the vastly changing job market, this is where health services are going — a more holistic view of health," continued Morrison. "It gives our students the opportunity to be more competitive. It positions them not only to a variety of career paths, but because there aren't many programs like this, it gives them a bit more of an edge."
For more information about Penn State New Kensington's biobehavioral health program, visit https://newkensington.psu.edu/4-year-biobehavioral-health or contact Morrison at [email protected].