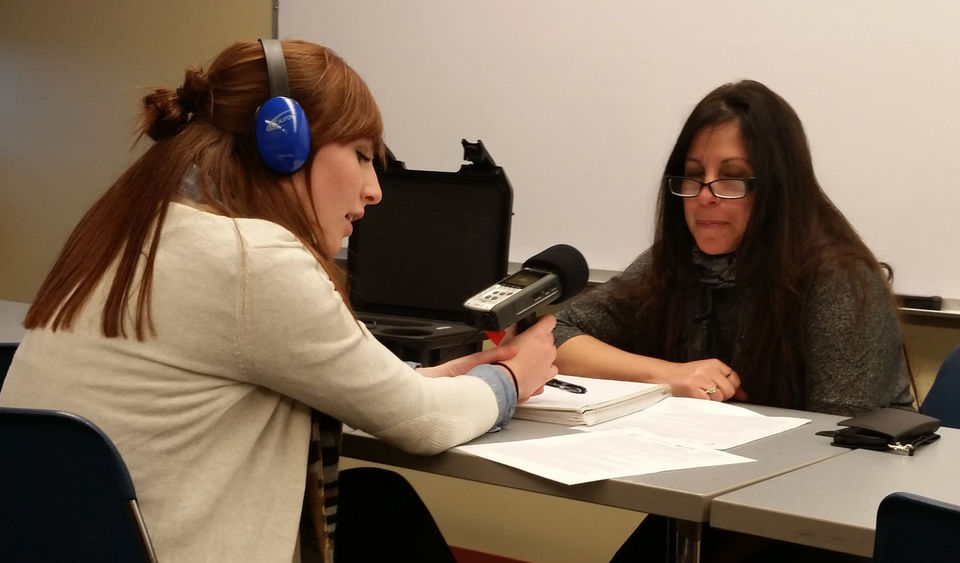 NEW KENSINGTON, Pa. -- Penn State New Kensington students recorded the thoughts and opinions of elementary and secondary students as a part of the nationwide Hear Me project.
Hear Me is an initiative of the CREATE (Community Robotics Education and Technology Empowerment) Lab at Carnegie Mellon University to give children a say in the educational process that impacts them daily. ABC CREATE (Alle-Kiski Best Practices Collaborative CREATE Lab Satellite Network Regional Hub), is a New Kensington campus STEM (Science, Technology, Engineering, Math) program that is funded by the Grable Foundation. The campus partnered with Carnegie Mellon to give students in the greater Pittsburgh region school districts an outlet for their views on gender bias and STEM.
Colleen Smith, outreach coordinator for New Kensington, and Jessica Kaminsky, project manager at Carnegie Mellon, facilitated the New Kensington program. They highlighted the Hear Me campaign in April at the National Summit for Educational Equity conference in Arlington, Virginia. Their presentation, "Me, Too! Student Voice as a Critical Component of Achieving Equity in STEM," captured the perspectives of K-12 students on gender bias and STEM. The children expounded on the subject through writings, drawings and audio interviews.
"The basis of this approach is the recognition that to give students what they need to engage and sustain within STEM education, we need to listen to them, to guide our practices and to make decisions with their input in mind," Kaminsky said. "This is a fresh tool for opening up dialogue and for utilizing the expertise of those most impacted."
During the spring semester, seven New Kensington students in the Business and Professional Communications course taught by Jennifer Wood, associate professor of communication arts and sciences, took an active role in the project. After undergoing training and practicing the Hear Me interview model, Ashton McGinnis, Shelby Wikert, Nicole Ruffner, Millie Brasser, Laura Gensamer, Isabella Bordonaro and Majid Elshorafa interviewed and recorded students from the Burrell, Fox Chapel, Kiski Area and South Butler school districts to get their perspective on gender bias in the STEM fields. Following the audio sessions, the New Kensington team utilized editing software to prepare the interviews for publishing.
"This was a wonderful project that enabled students to practice their professional communication skills outside of the classroom," said Wood, a member of the faculty for 16 years. "Students gained hands-on experience establishing rapport and actively listening to their interviewees. While visiting area schools, students represented Penn State New Kensington, so the project also gave them experience interacting with teachers and school administrators and dressing professionally."
The interviewees included a 14-year-old Knoch High School student talking about "Problems Girls Face in STEM," and a 16-year-old Burrell High School student's views on "How Sciences Can be More Interesting."
"Our students developed not only professional skills through their interview experiences, but they also extended the impact of their conversations about gender bias and STEM," Smith said.
Interviews by New Kensington students at schools in the Alle-Kiski Valley and by CMU's School of Computer Science members at schools in the Pittsburgh area combined to produce more than 160 conversations with young students. Administrators from the participating school districts will use the recordings as a foundation for further conversations on the subject. Excerpts from the student interviews are available on the Hear Me website
"The responses from the youth who were interviewed are being shared through audio media, published online, displayed in the community through interactive audio, and published as a podcast," Smith said. "The trends and insights from these interviews are also being shared with local superintendents, school boards, teachers, parents and equity professionals from across the country. Through these audiences and dissemination strategies, more people are engaging in conversations about gender bias and STEM education and careers. This paves the way for decision-makers (superintendents, university leaders), and practitioners (teachers, informal educators, and curriculum developers), and parents to intervene in STEM education practices at multiple levels."
Contact
Bill Woodard
Alumni and Public Relations Specialist