58th graduating class to receive degrees at 10 a.m. Saturday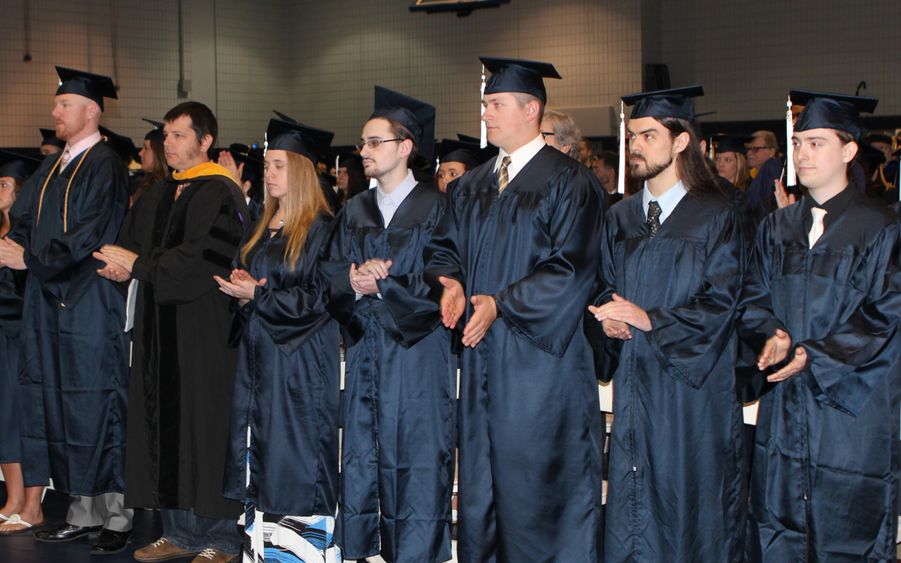 NEW KENSINGTON, Pa. — Seventy-five Penn State New Kensington graduates will earn their baccalaureate and associate degrees at 10 a.m., Saturday, May 6, in the campus Athletics Center.
Kevin Bode, financial adviser and founder of Knead Community Café in downtown New Kensington, will deliver the commencement address, "All We Knead is Love." The café is the first "pay-what-you-can" restaurant in western Pennsylvania.
Kevin Snider, chancellor, and Andrea Adolph, director of academic affairs, will confer the two- and four-year degrees. The new graduates will be inducted into the Penn State Alumni Association by Vera Spina Greenwald, president of the Penn State New Kensington Alumni Society.
Alexander Conte, a sophomore engineering student, will sing the National Anthem and the Alma Mater. Conte was the recipient of the Best Performer award at the Academic and Student Achievement Awards ceremony for his lead role as Ren McCormack in the campus' fall production of "Footloose: The Musical."
The chronicle of graduates from the New Kensington campus dates from 1960, when the campus graduated 28 students in its first class. Now, 57 years later, the New Kensington campus has 5,350 alumni.
List of Spring 2017 Candidates
BACCALAUREATE DEGREE
COLLEGE OF COMMUNICATIONS - B.A., Advertising and Public Relations: Jenna E. Highfield
COLLEGE OF EARTH AND MINERAL SCIENCES - B.S., Petroleum and Natural Gas Engineering: Sandra N. Muhhuku
COLLEGE OF ENGINEERING - B.S., Chemical Engineering: Claire N. Fisher, Kylie M. Kinlough
B.S., Electro-Mechanical Engineering Technology: Michael A. Dilascio, Patrick T. Fegan, David M. Marullo, Kirk R. McCardle, Nathan A. Piluso ##, Lawrence A. Russo, Brian L. Smith
COLLEGE OF HEALTH AND HUMAN DEVELOPMENT - B.S., Kinesiology: James B. Bistline, Jeremy P. Wyles
COLLEGE OF LIBERAL ARTS - B.S., Organizational Leadership: Leslie J. Davis ###; B.S., Psychology: Tyler W. Snider
COLLEGE OF NURSING - B.S., Nursing: Christina M. Chinchock *, Sarah M. Downing, Marcy R. Granata, Cathleen Miller
UNIVERSITY COLLEGE - B.S., Administration of Justice: Stephen C. Bertram, Moregan H. Coleman, Roya M. Fashandi, Matthew M. Morelli *, David A. Sadecky, John E. Sennett III, Kelsey A. Simon, Timothy J. Wakeley *, Jay G. Wu; B.S., Business: Shawna M. Fluhme, Nicholas P. Iducovich ###, Phillip C. Marra, Amanda N. Mohrbach #, Madison N. Tonarelli, James C. Simpson; B.A., Communications: Jevon Hankins, Danielle A. Richardson, Branna R. Wyant; B.S., Information Sciences and Technology: Benjamin I. Lesko, Jessica E. Logston, Lauren E. McFall ##, Noah M. Serafini, Justin R. Smith ###; B.A., Psychology: Charles J. Biedka, Elizabeth J. Legnine ###; B.S., Psychology: Hannah M. Barnes, William J. Carney, Alicia E. Carson ###, Channing A. Nolan, Jessica L. Vogel, Scout H. Young
ASSOCIATE DEGREES
COLLEGE OF ENGINEERING - Biomedical Engineering Technology: Kenneth P. Boyle*, Jack A. Dellostritto*, Jacob R. Kerlin*, Joseph A. Molinaro Jr.*, Cory R. Norton*, Joshua L. Pilarcik*, Jacob R. Smeresky*, Jacob A. Steffy*, Rostislav F. Tesler*, Cody L. Umbaugh*
UNIVERSITY COLLEGE - Business Admisinstration: Scott R. Moore, Michael D. Walkup; Letters, Arts, and Sciences: Brennan T. Rodden, Maggie M. Brook; Radiological Sciences: Bryan L. Bissell*, Maria E. Cecchi*, Bree A. Dudek*, Courtney L. Edgar*, Hannah R. Fugini*, Madison A. Graham*, Emily J. Hayes*, Alyssa J. Knepshield*, Ashley J. McMullen*, Terri A. Miller*, George F. Mitchell III*, Tori L. Mundy*, Ashleigh N. Piper*, Allison B. Nicklas*, Courtney Schons*
# Summa Cum Laude ## Magna Cum Laude ### Cum Laude
*Intends to fulfill degree requirements during summer 2017
Contact
Bill Woodard
Alumni and Public Relations Specialist