Ninth annual event celebrates Martin Luther King Jr., diversity, inclusion and community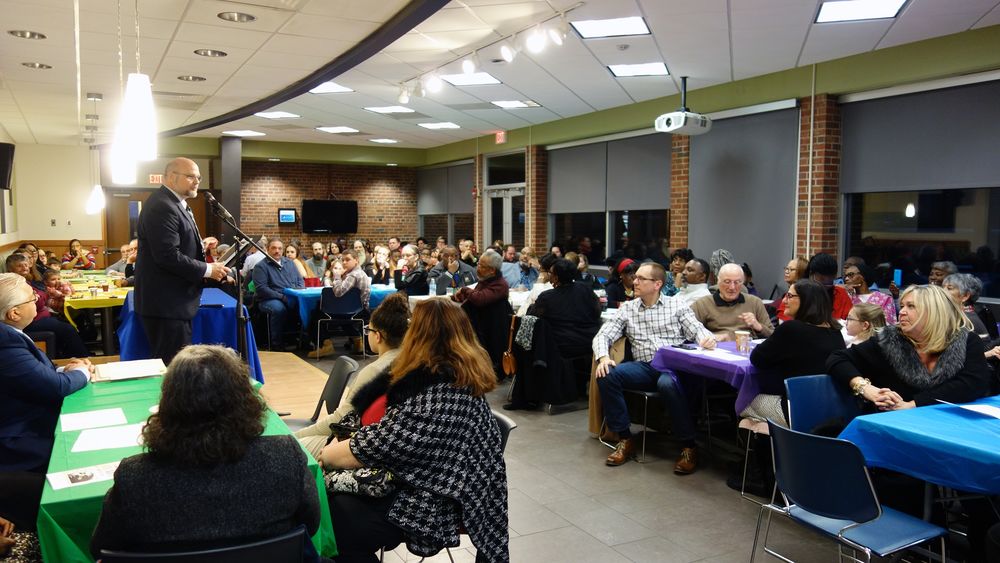 NEW KENSINGTON, Pa. — More than 160 members of the campus and New Kensington communities gathered at Penn State New Kensington for the ninth annual Celebration of Unity Dinner on Jan. 25. The event featured a community meal, as well as guest speakers, the lighting of a unity candle and essay readings by local elementary school youth. 
While the event's theme, "Marching Forward: A Call to Peace and Action," strengthened the evening's celebration of Martin Luther King Jr., the overarching messages of unity and community were heard and felt throughout its duration.
Kevin Snider, chancellor of the New Kensington campus, asked guests to ponder hope and perseverance as they enjoyed the night's festivities, especially when thinking about and interacting with the campus students and youth in the community. 
"I see these students that are here every day, and they're thinking differently than we did," thought Snider.  "They see each other differently ... they don't have some of the things that prevent them from interacting in ways that really make you believe that they're able to see what's right about everything instead of what's wrong. And they're thinking outside of the box like entrepreneurs. That's another thing that's given me great hope." 
Snider continued, "It's time for us to reach down and think about the grace and the compassion and the desire to understand what Martin Luther King Jr. brought to this work and use that."
Snider's impactful remarks were followed by the lighting of the unity candle where six members from the campus and local community shared their favorite quote or teaching from King.
Senior corporate communications major and student government president Raven Brunner stressed the importance of one's actions and words.
"It's important to let our love and our faith in one another speak louder than our fear of one another," said Brunner. "We should all aspire to have the same courage Martin Luther King Jr. had — to love each other, speak up against injustice and continue being brave even when times are hard." 
Marci Wiggins, local entrepreneur and New Kensington community representative, echoed the sentiments about King as she lit the candle.
"Dr. Martin Luther King, by no stretch of the imagination, was probably the most prolific orator of our time," thought Wiggins. "One where you pulled back so many layers of him, and you see unity, which is what we're here celebrating today and I think that is very appropriate."
After guests ate dinner, they enjoyed a special live gospel performance by Pittsburgh's Sister Sunya Wilson and daughters Kristan and Danielle.
Thomas Guzzo, mayor of New Kensington, followed with optimistic remarks about the city's revitalization and partnership with Penn State New Kensington, as well as noting the engaged community atmosphere shown at the unity event. 
"We're such a unique city with so many wonderful neighborhoods and so many remarkable people," said Guzzo. "We are now concentrating on the revitalization of our downtown. Over the last two and a half years, over 15 new businesses have opened in our downtown. All of this progress is occurring in large part due to the partnership that the city has developed with Penn State New Kensington and Penn State University."
The highlight of the night, however, may have been the point of the program where local elementary-aged youth read essays from a contest sponsored by Hightower Scholars, Inc. and the Penn State New Kensington Office of Student Affairs.  
Students from New Kensington-Arnold School District's Roy A. Hunt Elementary and Mary Queen of Apostles School participated in the second year of the competition. Participants were asked to answer this year's essay topic question, "If you were an entrepreneur, what would you do to transform the city of New Kensington?"  A committee of Penn State faculty and students served as judges and read more than 100 entries. The top two winners from each participating classroom read their compositions and were honored at the unity celebration with a proclamation from Mayor Guzzo and a gift bag. Winners were also surprised with a scholarship to attend a Penn State New Kensington Kids in College summer camp courtesy of the campus' continuing education department. 
Remarks from Diane Hightower, executive director of Hightower Scholars, who has collaborated with the campus for the event since its inception, closed the evening.
Hightower urged, "Dr. King's journey was remembered this evening, and I ask that we continue this walk with and for our young people."