Lady Caress and Jared Mahoney to take center stage in Café 780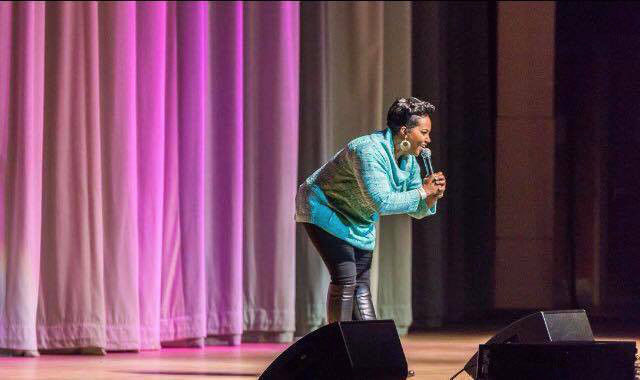 NEW KENSINGTON, Pa. — Grease is the word for the eponymous 1971 musical play, but locution is the word for Penn State New Kensington's "All In" cultural and diversity series in 2017. Performing artists and locution mavens Lady Caress and Jared Mahone will take the stage in the campus Café 780 during the final weeks of the spring semester.
Lady Caress, a spoken word artist, will bring her distinct style to campus at 12:15 p.m. Wednesday, March 22. Mahone, a musical word artist, will perform his own songs at noon Thursday, April 13. Both shows are free to the public.
A national poetry champion, Lady Caress melds poetry and public speaking into a simmering sauce of communication. Her brand of storytelling is a brew of comedy, music, beatboxing and theatrics augmented with a dash of poetic nuance.
Impressive off-stage as she is on-stage, Lady Caress also designs public speaking and performance workshops for at-risk youth and serves as a competitive poetry and prose coach for high school and collegiate students. A TV personality, she was featured at the "365 Black Awards" on BET and "Verses and Flow" on TV One. For videos of the artist, visit Lady Caress online.
"Spoken word is a performance art that always delivers thought provoking messages and leaves the audience mesmerized," said Theresa Bonk, director of student activities at the campus. "Lady Caress is an award-winning artist, and we are very pleased to be able to bring such talent to our students this month."
Mahone is a singer and songwriter with a Midwest "garage soul" sound. A native of Columbus, Ohio, Mahone draws on his Ohio soul roots and tells his story through poetry, pop melodies and classic hip-hop. His everyman persona connects with all audiences.
Mahone's followers influenced his 2012 album, Mixtape, which comprised tracks selected by his fans. The genesis of the album was a creative writing experiment called the Mixtape Project. Beginning in 2010, Mahone wrote and recorded a new song every week. After compiling a large catalogue of material, he allowed his followers to review the songs and rate their favorites. The result was the album Mahone describes as "crowd-focused and crowd-inspired."
Like Lady Caress, television provided Mahone with national exposure. He made his TV debut in 2016 on the Katie Kuric show and performed "California" from the Mixtape album. For video of the performance, visit click here. For more on the artist, visit Jared Mahone online.
The artists were chosen by the Campus Activities Board, a student club that plans events and activities. Members attend the annual APCA (Association for the Promotion of Campus Activities) conference to review performing artists and cultural groups for semester events.
"CAB members choose the entertainers that they feel will most broaden the horizons of our students culturally," Bonk said. "Both Lady Caress and Jared Mahone bring to the table unique cultural and artistic expressions that challenge our students, and provide firsthand experiences that they often do not get to see or hear."
The performances are a part of Penn State New Kensington's Cultural and Performing Arts series that supports the University's "All In" initiative. Unveiled in fall 2016, campuses across the Commonwealth foster a community-wide commitment to an evolving University that values its diverse student body, faculty and staff.
For more information on the Lady Caress and Jared Mahone shows, call 724-34-6062.
Contact
Bill Woodard
Alumni and Public Relations Specialist