Award to help Brunner attend the National Conference for College Women Student Leaders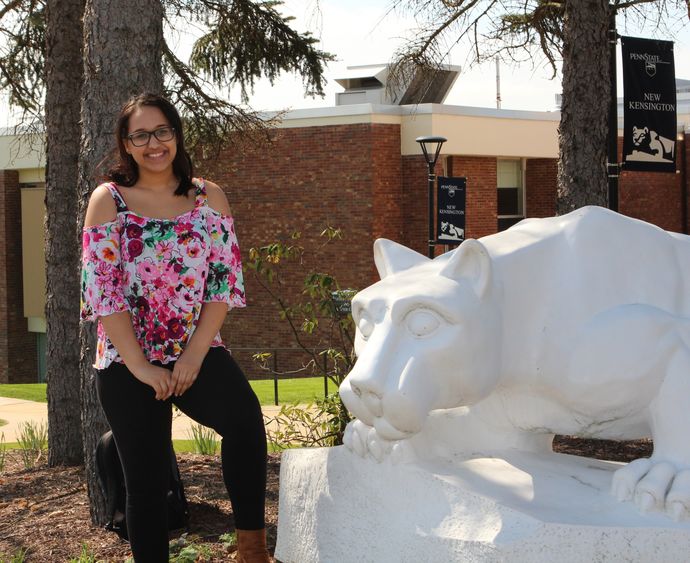 NEW KENSINGTON, Pa. — Penn State New Kensington student Raven Brunner earned a scholarship from the National Conference for College Women Student Leaders (NCCWSL) to attend the organization's annual conference May 31 to June 3 at the University of Maryland in College Park.
Brunner, a second-year corporate communications major from Augusta, Georgia, earned the national scholarship to cover the cost of attending the conference. The award was based on a series of essays on community involvement and leadership and diversity experiences.
"My application focused on the importance of inclusion and diversity," Brunner said. "I emphasized how coming out of one's comfort zone is the best and most effective way to become an accepting individual. It is essential to be able to acknowledge and adapt to cultural differences rather than become reclusive."
Brunner's passion for diversity was nurtured by the values of her family and her high school, John S. Davidson Fine Arts Magnet School in Augusta. Ranked among the top five high schools in Georgia, and the top 100 high schools in the nation, Davidson integrates into its curriculum a blend of fine arts and academic studies. Its culturally diverse setting fosters the understanding and appreciation of people from different cultures and backgrounds.
"I had the opportunity to meet a lot of incredible people," Brunner said. "I am very grateful for the privileges that graduating from Davidson gave me and all that I learned from my peers and past teachers."
The NCCWSL conference is designed for college women who want to hone their leadership skills, make lifelong connections, and affect change in the world. The conference features 40 skill-building sessions. Topics include leadership development, professional development, activism, women's issues, and identity and diversity. In addition to the workshops, the Career and Graduate School Fair hosts more than 100 recruiters from top schools and employers from around the country.
"I am excited to attend the graduate college and career fair," Brunner said. "It will be fun to explore different colleges and build connections among different organizations. Overall, I am hoping to meet like-minded individuals and learn leadership skills."
Nearly 900 university women and campus professionals from across the United States and around the world will attend the conference. Brunner is keen on two events — a seminar on the wage gap between men and women and an excursion to Washington, D.C.
"I'm hoping to learn more facts about the wage gap so I can grow confident in my ability to discuss the matter," Brunner said. "As a part of my scholarship, I was offered an opportunity to take an interactive trip to the U.S Capitol for a session focusing on working in politics."
Brunner is familiar with traveling, as she grew up in a military family and moved often. Her father is a sergeant first class in the Army, and the family pulled up its roots often.
Living in Upper Burrell makes Brunner a resident of six states. She was born in California, and lived for varying lengths of time in New York, North Carolina, Oregon and finally Georgia, where her family now resides.
"As somebody who grew up in a military household, I am very passionate about traveling," said Brunner, who has journeyed to Chicago and Los Angeles since coming to campus.
In keeping with her passion for travel, Brunner made her way to Upper Burrell via Great Britain. She studied abroad for a semester to "fully immerse myself into other people's cultures."
Her views on diversity were influenced by a global studies in film course she took in London. As a part of the class, she watched a video of Chimamanda Ngozi Adichie, a critically acclaimed Nigerian writer and MacArthur Genius Grant awardee. Adichie's talk, "The Dangers of a Single Story," discussed the harms of stereotypes and expectations.
"Her speech will always stick with me, and I remind myself of it every time I meet new people." Brunner said. "I know how easy it is to shy away from situations that make you uncomfortable. Diversity is uncomfortable. One cannot become a diverse person until taken from outside of their comfort zone, and being thrown into somebody else's. I shape much of my leadership style and reasoning around knowing that."
The New Kensington experience
After returning to the States, Brunner intended to start her bachelor's studies at the "small" New Kensington campus (700 students) and finish her degree at the "big" University Park campus (43,000 students). However, the academic quality at New Kensington, as well as the campus experience, altered her plans.
"I really enjoy the communications program, and I have met some of the most amazing people and professors," Brunner said. "With the campus being small, I am able to participate in more activities."
Even though Brunner will graduate from the New Kensington campus, her stay will be short-lived. She expects to earn her degree in spring 2018, a year ahead of schedule. A master's degree is in the offing.
"I'd like to go straight into graduate school, either Penn State or a college in New York City," Brunner said. "I want to get more involved with local politics, and I would like to work in event planning for a nonprofit."
She already has experience in event planning as she developed and coordinated three campus events — a tie-dye event promoting LGBT advocacy during Unity Week; Brazilian Carnivale Celebration: Capoeria; and Lunch and Learn: Latin America. Brunner credits Theresa Bonk, director of student affairs at the campus, for her success in organizing the programs.
"Being able to work with Theresa to plan events has been a great learning experience and resume builder," Brunner said. "Theresa has really helped me feel welcomed on campus, and I am forever grateful to have gotten to meet her."
Brunner will gain experience with nonprofit organizations when she returns home for the summer. She earned an internship, which is required of all communications majors, at the Ronald McDonald House Charities in Augusta. The internship will give Brunner a behind-the-scenes look at the nonprofit world.
"I met with the staff over spring break, and they were amazingly charismatic and welcoming," Brunner said. "The organization has a great impact on communities worldwide, and this opportunity means the world to me. I can't wait to work with fundraising, event planning, marketing, and all else that they throw my way."
Since matriculating at the campus, Brunner has thrived outside the classroom, as well as inside. She is active on campus as co-founder and president of the campus' Diversity Club and a member of the Campus Activity Board. She was selected for membership in "Who's Who Among Students in American Junior Colleges and American Universities." The honor is reserved for outstanding campus leaders for scholastic, cocurricular and community accomplishments. Brunner will be recognized April 28 at the campus' Academic and Student Achievement Awards ceremony.
Brunner is a volunteer for Penn State's initiative, "All In at Penn State: A Commitment to Diversity and Inclusion." Unveiled in fall 2016, campuses across the Commonwealth foster a community-wide commitment to an evolving University that values its diverse student body, faculty and staff.
"I am a part of the 'All-In' campaign council," Brunner said. "I work with student affairs on how we can encourage diversity and acceptance on campus."
Brunner also is a counselor for the COMETS (Courses on Math, Engineering, Technology and Science) program, a New Kensington campus initiative. The COMETS program targets seventh- and eighth-grade girls who have an interest in the STEM (science, technology, engineering and math) fields.
Helping youths has been the calling card for Brunner. Before arriving at the New Kensington campus, she was an assistant teacher at Discovery Zone Kids, a daycare in her hometown. She even worked there during the holiday break between the fall and spring semesters.
"Working with children is probably one of the most amazing opportunities that I've had," Brunner said. "I learn so much from them. It reminds me how important it is to pay attention to them, encourage them, and listen to them because they are our future."
When Brunner returns home in the summer, she will reunite with her mother, Tanya Brunner, and her sister, Valora Brunner. Her father, Sgt. 1st Class Christopher Brunner, is currently stationed in South Korea.
Contact
Bill Woodard
Alumni and Public Relations Specialist