Campus THON dancers and team heading to University Park for annual marathon weekend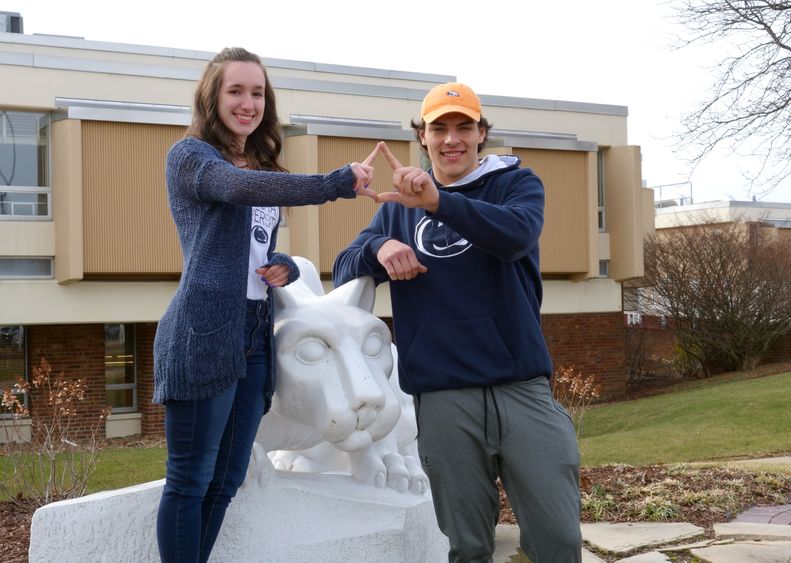 NEW KENSINGTON, Pa. — After months of fundraising and awareness events, two Penn State New Kensington students will join more than 700 other Penn State students on the floor of the Bryce Jordan Center (BJC) at the University Park campus for the annual IFC/Panhellenic Dance Marathon, known more widely as THON. The 46-hour no-sitting, no-sleeping event is set for Feb. 16-18.
New Kensington junior Nick Roth and sophomore Gina Batiz will represent the campus and the campus THON team during the world's largest student-run philanthropic weekend, which benefits Four Diamonds and the fight against pediatric cancer. An interview committee comprised of administrators, staff and alumni chose the campus dancers.
"I got involved early last year around this time," said Roth, an electro-mechanical engineering major. "The second I stepped into the BJC, it was electric, and the moment I left the BJC on Sunday evening, I was a changed person. THON has been a huge part of my life over the past year because of it, and I'm passionate about it."
Batiz, a chemical engineering major, said THON is something that has become personal.
"With my grandma going through cancer, I can't imagine kids going through what my grandma has gone through," said Batiz. "It's very impactful to my life, and I want to help out with anything I can do."
Both students have been preparing themselves for the weekend, even before knowing they would become dancers.
Batiz stated, "I have a sweet tooth, so I've been trying to cut my sugars. We're going to work out, so that's a major thing to build our endurance."
Roth echoed, "I decided I was going to start eating healthy again. It was kind of a New Year's resolution, but it worked out. Before I was chosen, I was preparing just in case, so I cut out caffeine, have been eating less sugars and trying to get as much sleep as I can."
Michele Marcks, assistant director of student affairs and student life coordinator, can't contain her pride for Batiz and Roth, as well as the rest of the THON team. She's already thinking about what she will tell them before THON weekend.
"I'm proud of them because they have done so much and have been going nonstop since the fundraising window opened," said Marcks. "Keep the mentality and spirit going. I know they'll be able to do it and hopefully have fun and live every moment of it."
Although they have been receiving lots of advice about how to stay energized throughout the entire 46 hours, the meaning of THON is what will keep them going.
"I just feel like we're doing this weekend, but we're not even feeling half the pain that these little kids are going through, so to go through that to raise so much money is just a little bit of their pain going away," said Batiz.
"I believe almost everyone has been touched by cancer in some way," said Roth. "I don't feel that those families should have to go through it alone."
THON: The Main Event
The University's year-long efforts culminate in the annual THON weekend, which begins at 6 p.m. Friday and runs through 4 p.m. on Sunday. In addition to supporting the dancers, spectators — who can attend for free — can expect lots of activities including musical acts, stories from Four Diamonds families, a pep rally and the big reveal of the year's fundraising total.
For those who might not be able to make it to University Park for the event, a live webcast will be made available through THON's website at thon.org/livestream.
This year's fundraising total for New Kensington and the other participating Penn State units will be revealed at the conclusion of the weekend. New Kensington's efforts have raised more than $200,000 over the past five years to support youth cancer patients, families and research efforts.
THON has raised more than $136 million through the University-wide collective efforts of more than 16,000 students.
The campus and community will get a chance to send their best wishes to Batiz and Roth and the THON team during the annual campus send-off celebration. This year's event is scheduled for 5:30 p.m. on Tuesday, Feb. 13, in the Conference Center.
To support THON online and credit the New Kensington campus efforts, visit the New Kensington THON page.
For more information about THON, visit the organization online at thon.org.
Contact
Corinne Coulson
Manager of Strategic Communications and Marketing