Campus THON dancers and committee heading to University Park for annual marathon weekend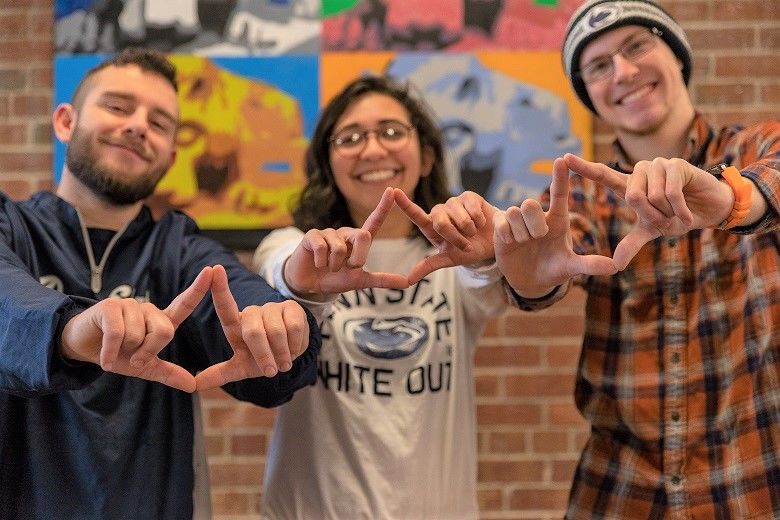 NEW KENSINGTON, Pa. — Understanding. Cherishing. Dancing. These three verbs are the first that come to mind for Penn State New Kensington students Bradyn Claycomb, Adam Johnson and Ashley Worlds as they think about the upcoming THON weekend at the University Park campus.
More than 30 New Kensington students are expected to travel to University Park for the marathon weekend — which runs from 6 p.m. Friday, Feb. 15 through 4 p.m. Sunday, Feb. 17 — and to cheer on the three dancers who were chosen by a committee of administrators, staff and alumni THON dancers from the campus during an interview and application process.
"As for explaining in detail what THON is, it's really difficult," said Claycomb, a senior electro-mechanical engineering major. "Anybody who's ever gone to THON, they'll tell you, 'You just have to go.' There are so many emotions you will experience."
The emotional connection is one that all three students cite as to "why they THON" at Penn State.
"I was a freshman when I heard about THON, and the message just hit me instantly," explained Johnson, now a senior administration of justice student. "I wanted to get involved on campus and felt it was a great place to start."
THON, the largest student-run philanthropy in the world, has raised more than $157 million to enhance the lives of children and families impacted by childhood cancer. Each year, more than 16,000 students throughout the University, including those at the New Kensington campus, commit to yearlong efforts that culminate in a 46-hour dance marathon.
"I want to show my support and dedication to the cause," explained Worlds, a senior majoring in biobehavioral health. "I want to see the kids and let them know that I'm here for them and that I care about them. I'm going to continue fighting for them."
For Worlds and Claycomb, their commitment to fighting against pediatric cancer has been have been strong since their time in high school. Worlds joined with other students at Armstrong High School to help a local boy battling cancer.
"Seeing the impact that it had on that family really pushed me to be involved then and for THON at Penn State New Kensington," said Worlds.
Claycomb was a co-founder of the mini-THON organization at Greensburg-Salem High School, and he still provides complimentary D.J. services for its event through his own mobile company, Ripcord Productions.
"What makes Penn State great is its community involvement. That's what Penn State is about, being charitable toward your community."

—Adam Johnson, senior at Penn State New Kensington and 2019 THON dancer
THON weekend crowns the hard work of the New Kensington THON committee, which has been holding a variety of fundraising events since the fall. This year's fundraising total for New Kensington and the other participating Penn State units will be revealed at the conclusion of the weekend. The campus team hopes to beat their goal of raising at least $20,000.
While the trio of dancers is anxious to be on the floor of the Bryce Jordan Center for 46 hours, they are also thankful to be going into the experience as friends.
"I'm just really proud to be doing this with my friends," said Claycomb. "These two are some of the most fun people I know at this campus."
Worlds continued, "I'm looking forward to spending THON weekend with both of the guys. They both listen and want to do things for us [THON committee], and I really appreciate that. They have really shown their support for THON."
The sentiments were shared by Johnson. "I think Bradyn is one of the most intelligent, well-put-together men that I've met in my entire life. Ashley, I love her to death and am happy to be sharing this experience with her."
In addition to showing their dedication to THON, the three students agree that their dedication to being Penn Staters at the New Kensington campus is just as strong.
"I always tell people that Penn State New Kensington is my second home," shared Worlds. "It's a small, friendly environment that I really enjoy. We're caring; we're a big family. No matter where you are, you'll find someone connected to Penn State, and they'll be there to support you."
Johnson echoed, "What makes Penn State great is its community involvement. Just seeing what Penn State has done in my hometown, New Kensington, is really impactful. That's what Penn State is about, being charitable toward your community."
The campus and community will get a chance to send their best wishes to Claycomb, Johnson and Worlds and the entire THON team during the annual campus send-off celebration. This year's event is scheduled for 5:30 p.m. on Wednesday, Feb. 13, in the Conference Center.
For those who might not be able to make it to University Park for the event, a live webcast will be made available through THON's website at thon.org/livestream.
To support THON online and credit the New Kensington campus efforts, visit the New Kensington THON page.