New Kensington students serve variety of organizations through new initiative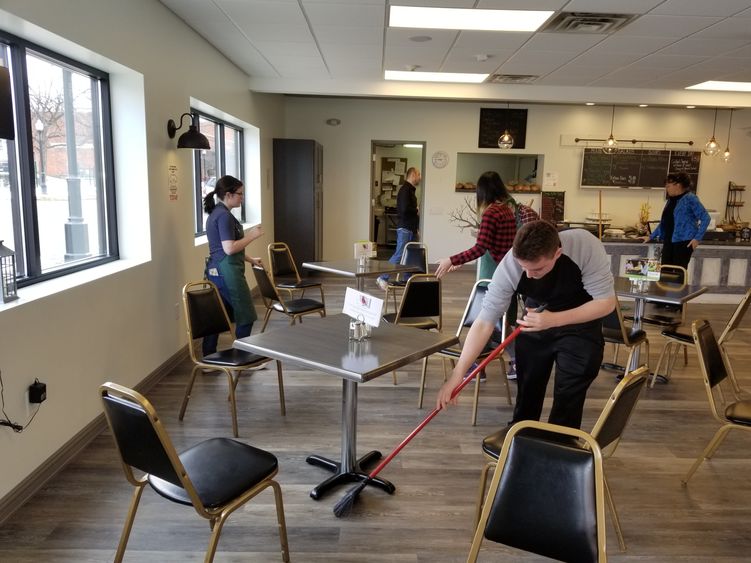 NEW KENSINGTON, Pa. — When the Penn State Council of Commonwealth Student Governments (CCSG) mandated that Commonwealth Campus Student Government Associations (SGA) host community service events during the last week of March, students at the New Kensington campus set a goal to organize two events. The goal was quickly surpassed, as campus clubs and organizations and other students, with the help of the Student Life office and Campus Activities Board (CAB), rallied to complete seven projects for an entire week of service on and off campus.
"Any given service opportunity is a good one," said Scott Sinclair, sophomore communications major. "We as a campus like to outreach to different groups and organizations."
Sinclair joined a group of about a dozen New Kensington students to assist Animal Protectors of Allegheny Valley, a no-kill animal shelter whose mission is to find safe homes for abused, abandoned and homeless animals in the Alle-Kiski Valley, as well as educate the public about responsible pet ownership.
The organization is currently in the process of renovating a newly acquired 10,000-square-foot building that will become the new home of the shelter, which has outgrown its existing 3,000-square-foot site. The new location, which housed a former school and adult care center, had been unoccupied for some time, so students helped clear out items from the building's basement rooms and sorted them into items that could be used, donated, or that had to be disposed. Students also delivered handmade puppy rugs that were created by students during orientation from recycled shirts.
The organization was thankful for the help, but also stressed the importance of having the students out in the community.
"To help any organization in the community, it gives them a very broad view of all the things that go on in the community," said Phyllis Framel, board president of Animal Protectors of Allegheny Valley. "There are a lot of nonprofits, especially in this area, and they do a lot of good work. To get students exposed, I think, helps them form an idea of what's done in the community, but also what they may want to do in the future in their communities as a professional or as a volunteer."
Prior to helping at the shelter, students from the campus organized seven other service activities with six organizations.
Members of the campus Biobehavioral Health Club volunteered at Knead Community Café, a pay-what-you-can restaurant in New Kensington, by cleaning and serving patrons. Another group of students not affiliated with a particular club also volunteered at the café on a separate day.
The Outdoor Adventure Club volunteered their time at the Murrysville Community Center's March for Parks 5K. Students completed arts-and-crafts projects with youth at the event.
A group of students visited Seneca Place skilled nursing facility to organize and play Bingo with its senior citizen residents.
SGA organized a toiletry collection for the Alle-Kiski Area HOPE Center, whose mission is to eliminate domestic violence through intervention, prevention and collaboration. Items collected by the campus were organized into care packages to be given to the center's emergency shelter residents.
The campus THON team held an interest meeting for students to learn about THON and its mission to impact and enhance the lives of children and families affected by childhood cancer. Those in attendance heard from this year's campus THON dancers, Gina Batiz and Nick Roth, and team officers.
With the help of Stella Milburn, campus nurse, a public blood drive was held on campus.
Ian Callender, junior information sciences and technology student, helped at multiple activities throughout the week including the animal shelter and Seneca Place.
"It really shows what Penn State is all about, helping our community and other people in general," said Callender.
Michele Marcks, assistant director of student affairs, echoed the sentiment.
"Just giving back is obviously very important, and it's one of our Penn State values to make sure we're part of the community, and we're getting our students to really embody that," said Marcks.
Marcks also hopes the week of service extends well into the future beyond the organized volunteer opportunities, especially when seeing that the students were so engaged with the organizations.
"That speaks to the service sites," said Marcks. "When they give a tour and explain the mission and they talk about the importance of the students actually being there, that builds on what we're getting to the students, and the prepping going to the project, the debriefing after the project, and all of that really underlines the importance for the students. They have a more fun and more meaningful time, and then they do want to return."
Framel summed up the week of service by simply stating, "I think it's good for the community, it's good for the students, and it's good for the organization."